The arrival of COVID-19 may have changed the travel industry forever. We've asked sector expert, and Webhelp Group Chief Sector Growth Officer, Nora Boros, to reflect on how far we have come and, most importantly, what the future holds for this most human of industries?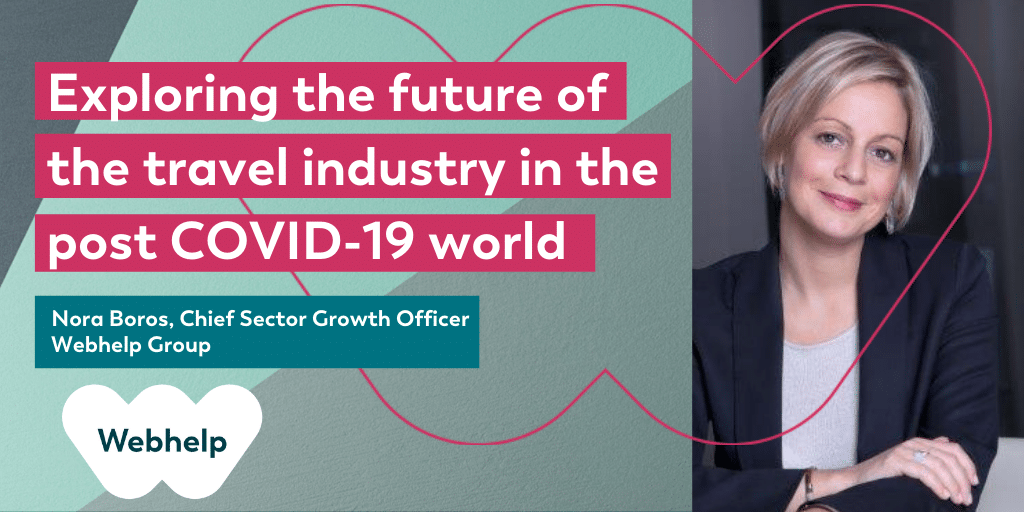 What was the travel industry landscape prior to COVID-19, were there any ongoing issues, or significant changes on the horizon?
Although it feels like an age away right now, looking back to 2019 the outlook for the travel industry was fairly optimistic and, on the whole, the industry was in a place of maturity in customer experience – especially when compared with other sectors which might be perceived as being weaker in this area such as financial services.
In fact, the industry had developed some depth in the ability to emotionally and personally connect with its audience, in order to deliver unique leisure experiences.  Brands were using new consumer behaviours to create buy in, especially in creating enriched customer journeys, something that I explored in a previous blog.
As travel is such a broad and diverse industry, some disruption was evident and there were emerging players and newcomers to the market, joining travel from competing sectors.
There was the growth of personalised, sustainable and eco-tourism, and its impact on the traditional value, luxury and price based travel campaigns – plus the continued arrival of start-ups, bringing new technology, fresh services and additional booking avenues to the industry.
Unfortunately, some areas of the travel industry were already financially fragile. For example, where low operating margins coincide with high cost in distribution or intermediation. This is especially apparent in models where there are go-betweens such as resellers, who are bridging the gap for providers and the consumers themselves, and draining income flows.
Alongside this, there was the growing financial challenge faced by the traditional retail brick and mortar travel providers from new players in digital technology.
And, there was huge impact from the way that technology can very quickly, change a regional provider to a global one – going digital provides the ability to easily disseminate an offer across multiple geographies and languages.
Interestingly, at Webhelp we are in the perfect position to provide support in this area, creating a unified customer experience across multiple markets.
What was the initial response to COVID-19 from the industry, and what challenges did Webhelp face as a company?
In the past decade, the travel industry has weathered many storms, including the ash cloud crisis in 2010 and the impact of the tragic events of 9/11. So when COVID hit, there was the awareness that it was going to hurt – but it was approached with a certain amount of resilience.
We saw a significant drop in sales volumes across our existing client operations, which we approached with a high degree of flexibility. As a people first company, we value our people and moved to protect them with swift workforce management measures like redeployment and adapted hours while working to reduce negative financial impact on our clients.
The travel industry has a substantial learning curve when producing the best customer advisors, particularly in the airline, tour-operating and hospitality segment. There must be a deep understanding of the sector, tools and processes – which can only be provided by time-served and highly trained advisors.
We focussed on retaining this wealth of experience; we knew that once the immediate challenge passed, our clients would need a highly skilled service.
And, it's important to note, that as sales volumes fell, customer service needs in areas like refunds, information and rescheduling rose dramatically.  We protected the industry and our clients by cross-skilling advisors, redeploying them and introducing homeworking, where possible, to protect our people and ensure continuation of service.
We have also deployed automation where possible to accelerate digital transformation at a lower cost.
We entered a crisis discussion with one of our clients, who were understandably deeply concerned for their business and were considering calling off their contract. In response we provided a clear and robust financial roadmap through the crisis, working with local legislation to retain our people, safeguard their salaries and reduce the financial drain on our client and the ability to re-invest the savings to the post-crisis situation.
And now, as the industry is gradually returning to business under the next normal, our client is in an ideal position to come back strongly – and appreciates the flexibility, cost reduction and value Webhelp brought to the long term relationship.
Can we touch on the impact of COVID from an air travel perspective?
Yes, obviously the global travel industry has a symbiotic relationship with the airline industry, because travel by its very nature is closely linked to transportation.
The past three months have created a highly unusual situation, with limited (or no) cross border transportation and grounding several airlines.  This is without a doubt one of the single largest crisis' to hit ANY industry, and we will see ripples and consequences for the next decade, if not longer.
There will be lasting consumer trends resulting from this, including a renewed interest in sustainable tourism and more purposeful, meaningful travel.
The recovery period for airlines may create a decrease in availability resulting in a potential price increase, both for the leisure market and particularly for business travellers. I think that for the corporate market, recovery will be much longer, and many companies will need to adapt their propositions to suit this new reality.
As a consequence we should see short term growth in domestic markets, as people have less in their pockets and less opportunity for international travel. There will be a return to travel as a simpler and more meaningful activity, with family relationships and new experiences assuming greater importance as some global destinations are limited.
The way ahead for the industry and your thoughts on the future of Travel under COVID-19?
Transformation and restructuring will be visible across the whole industry, which is already evident in the actions of Ryanair and British Airways and hotel chains like Marriott and Hilton. Travel companies will need focused customer experience during this difficult time and Webhelp can really support operational and digital transformation in this area.
Change is certainly ahead for the hospitality industry, and some independent hotels could struggle to comply with the new social distancing regulations, reduced guests and increased costs required to stay open while maintaining the bottom line.
Travel brands, like Airbnb, Booking.com and Expedia, with more diversified portfolios or private rentals where new regulations and safety measures can be introduced quickly, may be in a position to benefit.
As we live more flexible work lives, leisure travel will become blended with business needs, creating the new travel concept of 'Bleisure', something that we will be exploring in future blogs.
The real trends will become more apparent in the first quarter of next year, as the financial and social effects of COVID become clearer.
And finally, I think that the human experience of travel, the need for personal contact and connection will be increasingly valued and promoted.
Travel is the most universal way to unlock boundaries and understand how diverse and beautiful the world is, and I am confident that the industry will recover and remerge. It may be changed but will remain just as meaningful.
In future blogs we will explore the travel horizon in further detail, re-imagining the customer experience and looking at how this can unlock meaningful opportunities for the travel industry. Feel free to contact Nora Boros via LinkedIn and to explore more of our services.