South Africa provides a vibrant, enthusiastic and highly skilled base for many of Webhelp's clients who chose offshoring to deliver their customer service. Here Kevin D'Allende, recruitment manager for the region, shares our commitment to provide opportunity for the youth of South Africa, and their pathway to employment, in their customer experience provider careers.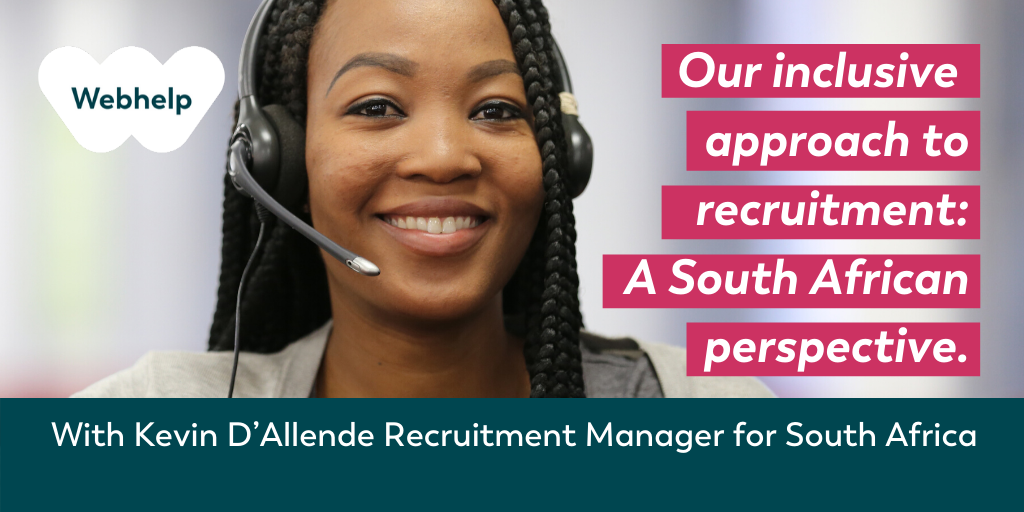 South Africa, behind India, is the second most popular global destination for offshoring, and as a location it is very attractive prospect for clients, due to our English language skills, time-zone compatibility with Europe, an advanced telecommunications industry, Government support for the industry and most importantly, reliable committed and cost effective workforce.
However, according to the World Bank, South Africa remains one of the most unequal countries in the World with unemployment teetering on 30%. Given this startling fact, it is understandable that the youth in the country may become disillusioned about the prospect of finding gainful employment and becoming economically active in society.
But encouragingly, there is growing recognition across the customer experience management sector, that despite this dire situation opportunities exist to play a more meaningful role to create positive impact. At Webhelp, we have a core commitment to make businesses more human and are a people-first organisation, so creating these opportunities to nurture youth potential is a long-standing and important priority for our organisation.
For me, this starts with identifying and attracting the best human talent by placing people at the centre, Webhelp can harness this untapped skill base and showcase to the rest of the world the innate ability of South African youth to excel in a customer service environment.
As the South African Youth make their way along the pathway to employment, the challenge is to keep these enquiring minds fully engaged and help them bring out their best.
As a result, we must make sure that their experiences in the pre-employment stage reflect how exciting and enthusing their professional journey at Webhelp can be.
Identifying, attracting and retaining the right new talent for Webhelp, and our clients can be a challenge which involves various strategies.
Firstly, we use our existing people (always our best advertisement!) to engage and educate our new recruits. Our brand ambassadors live and display the company values so passionately that others are drawn to the organisation.
We strive to create working communities that reflect the backgrounds and cultural touchpoints of our people, as everyone likes to work in a space that is more like them!
This dovetails with our organisational values too, and we are involved in various community initiatives like the Columba Leadership Programme, which aims to ensure that hundreds of thousands of young people realise their potential and recognize their ability to lead change in their own lives, their schools and communities.
This approach allows Webhelp an opportunity to actively participate in moulding and nurturing the future business leaders of the country. This ambition continues inside our organisation, with opportunities like the Deputy Team Leader Programme and Momentum training for middle managers.
We recognise that everyone has a unique set of financial and social circumstances that may have impacted their access to academic studies prior to their recruitment, so to help our people to realise their potential Webhelp makes Learnerships available that culminate in a formal qualification on completion.
These colleagues often start out as Customer Services Advisors at entry level but through the learnership and middle management training modules, they can become part of the team leader core whilst others venture into support roles like trainers and quality analysts.
Alongside this, close partnerships and strategic alliances with various external training providers are important to ensure that Webhelp is able to access talent that really have a yearning for learning, and will embrace our working culture. These prime candidates form a sourcing pool for Webhelp and their applications are fast tracked into the business; often as Technical Help Desk Advisors.
Finally, and something that is very close to our hearts at Webhelp, we support Impact Sourcing, via organisations like Harambee, to provide career development opportunities to people who otherwise have limited prospects for formal employment.
We work hard to remove the barriers to employment and bolster an inclusive approach to recruitment.
Acknowledging that the recruitment process can be a very daunting space for a first-time work seeker, this process allows for changes to be made to ensure the candidate feels comfortable to offer their best.
This atmosphere of transparency, involvement (inclusion) and mutual respect allows for a more relaxed and rewarding engagement. Positive feedback, whether the candidate is successful or not, becomes important, as we want to support everyone during their interaction with Webhelp.
At Webhelp we believe that recruitment should be ethical, transparent, fair and accessible and that the concept that 'Our people make Webhelp' is something that we live by every-day. Throughout our operation, its remains a priority for us to improve the experience of all our employees – at all stages of their career journey with us.
Look out for further blogs, sharing more of our people strategy, in the coming weeks.