Black Friday is an American consumer institution, where hordes of shoppers traditionally lined the streets waiting for the stores to open the day after Thanksgiving to pick up what they hope will be the bargain of a lifetime. In recent years Black Friday, closely followed by Cyber Monday, has heralded the global festive shopping rush. Here Brandon Aitken, CCO of Webhelp South Africa and India takes a look at how this year may be different, and the ways which our teams and the retail and logistics industries as a whole are preparing to meet an unprecedented online demand.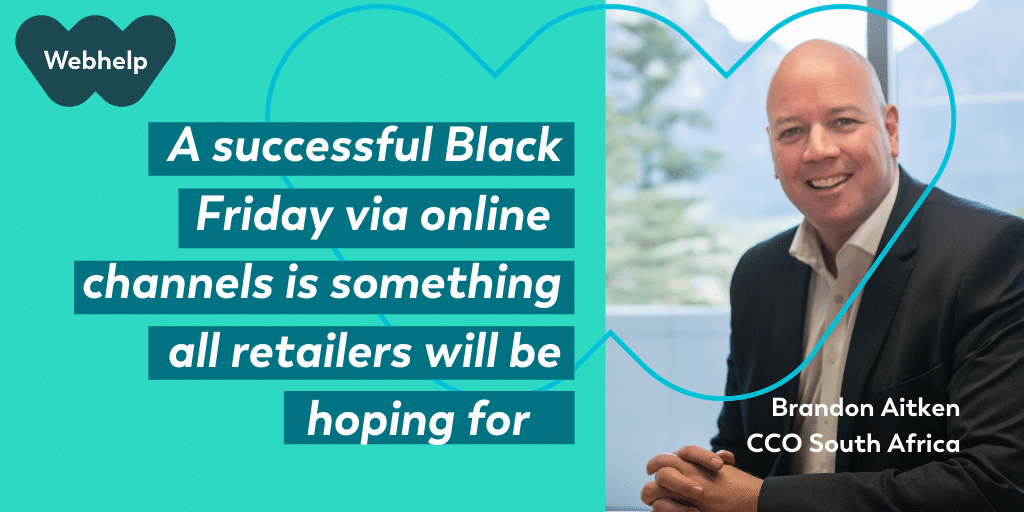 In the mainstream media, Black Friday is typically represented by crowded scenes of over-excited and frustrated shoppers, fighting it out for that last item on the shelf and stealing items from each other's trolleys. But in reality, a huge amount retail activity takes place online, and this figure has been steadily growing.
According to Adobe, in 2019 US Black Friday online sales beat all previous records, at an astonishing $7.4bn, up from $6.2bn in 2018. CNBC reported that Cyber Monday was an even bigger day for online shopping than Black Friday, with sales totalling $9.2bn, up 16.9% on 2018.[1]
And, Barclaycard data reveals that the story was the same in the UK too, with Black Friday sales climbing by 16.5% last year, while Cyber Monday transactions rose by 6.9%. Their CEO Rob Cameron said:
"Our data shows that consumers have not only been buying more, but also spending more than last year – which will no doubt come as welcome news to the retail sector"[2]
It doesn't take a huge leap to imagine that in 2020, Black Friday will drive even more customers onto their phones, tablets and laptops, as companies attempt to avoid crowded in-store events, to safeguard their customers in the COVID era, without losing retail sales.
With the global high-street restrictions still impacting on brick and mortar profits, a successful Black Friday via online channels is something all retailers will be hoping for.
At Webhelp, we are well prepared for this event. We have a highly successful track record of managing Peak Demand in customer service for the international retail and logistics brands we support. Behind the scenes, this success hinges on an incredible amount of preparation and hard work from our people and of course close collaboration with our clients. If you'd like to know more you can read just a few of our employee stories
We have four customer service centres in SA, offering a blended delivery solution with advisors both working from home and safely on site.  Every year, leading up to the peak period and during the 'eye of the storm' we create an exciting atmosphere to support and motivate our people during the toughest time of their working year. We focus on motivation and ensure we reward people for their hard work.
Along with the energy and commitment of our people; technology and adaptability will obviously play a huge part in any response to increased service demands, and have a robust and reliable solution that has performed well both at peak and under crisis during COVID.
Webhelp has over 1,000 people working from home supporting 8 different international retail and logistics clients to ensure we are able to sustain support for their customers, and this can be adjusted in response to the evolving landscape of the pandemic.
The skills and expertise that our teams have shown in quickly reacting to changing customer demands really does set us apart and is reflected in the incredible feedback that we have received from our client partners. Commenting on our joint response to the pandemic Michaela Simpson, Customer Experience Director at Yodel reported that:
 "Suddenly home shopping habits changed completely, as a result we have been effectively running at peak operation, which we usually spend a significant part of the year planning and laying out logistics for. However, we managed to switch this on in just a few hours and since then we have maintained very, very high numbers, well above our plan".
It's clear that this year, more than usual, Black Friday and Cyber Monday will create added pressures for the retail and logistics sectors, but in South Africa we have the talent and a stable infrastructure to help create success for our clients by providing their customers with an exceptional on-line shopping experience.
[1] Cyber Monday sales hit record $9.4 billion, Adobe says CNBC.com
[2] Black Friday 2019: What happened, where and why? Barclaycard.com