The state of the (onboarding) nation
The stakes have never been higher for the financial services sector, as organizations attempt to transform their businesses to offer the technological innovation that customers demand, all while fighting off disruptors, managing costs and winning the war for talent. This article looks at how these businesses can win by ensuring they have a laser focus on customer-first onboarding and integrate that as a differentiator into an entire customer journey.
Onboarding is one of the most cost-intensive parts of customer acquisition, where failures can result in lasting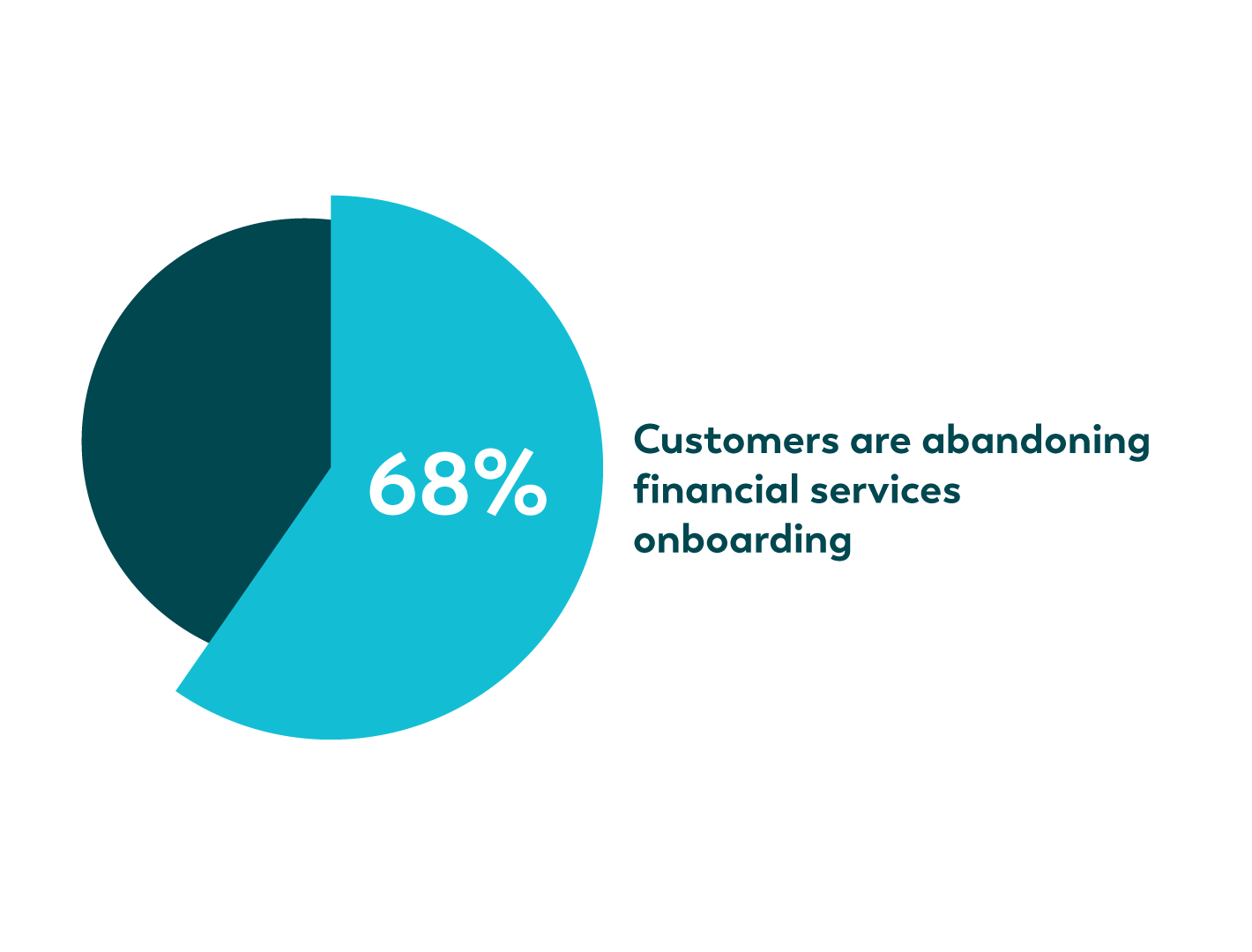 damage to reputations and bottom lines. It is estimated that around 5.7bn euros are wasted Europe-wide each year through unfinished banking applications, with 68% of customers abandoning financial services onboarding.
We'll look at the range of customer experience challenges that face the sector as it continues to try to improve onboarding processes. Then we'll look at how a focus on customers, whether it's a better use of analytics data or taking an end-to-end view of the customer journey, can be a game-changer that differentiates companies from the competition in a crowded marketplace.
Let's take a look at some of the key pain points causing friction in the onboarding journey.
The pace (and cost) of regulation and change
We know that organizations are struggling to match the pace of accelerating regulatory change, which demands they have a better understanding of their customer base. Reinforcing the threat of the speed of change are the fines that accompany failure to comply.
The cost of compliance and fines for regulatory breaches continue to be a real headache for the industry. In the UK, the Financial Conduct Authority (FCA) imposed fines totalling more than £500 million in 2021, and while last year was, by comparison, an improvement, 2022 still saw £215 million worth of fines issued, with 16 more fines levied than the previous year.
The cases of both Coinbase in the United States, which was forced into a US$100 million settlement with New York's Department of Financial Services (DFS) for AML (Anti-Money Laundering) failings, and Guaranty Trust Bank (UK) Ltd, which was fined £7.6 million, demonstrate how important it is to invest in robust compliance systems that can save money and brand reputations.
Steering a course through the ever-changing regulatory landscape takes time and resources, and can make onboarding harder for KYC activities like documentation collection, validation and checking services, which are all growing in complexity.
All of this compliance with regulation comes at a cost, whether it's investing in Know Your Customer (KYC) onboarding or customer risk profiling. Against this backdrop, few banks are offering seamless onboarding. Instead processes are disconnected, manual, and siloed, with the result that customer experience is poor.
Are digitalisation and automation working for customers?
Automation should give capacity back to the company investing in it, but it's questionable whether the true benefits of digitalization and automation have yet been fully realized by many banks.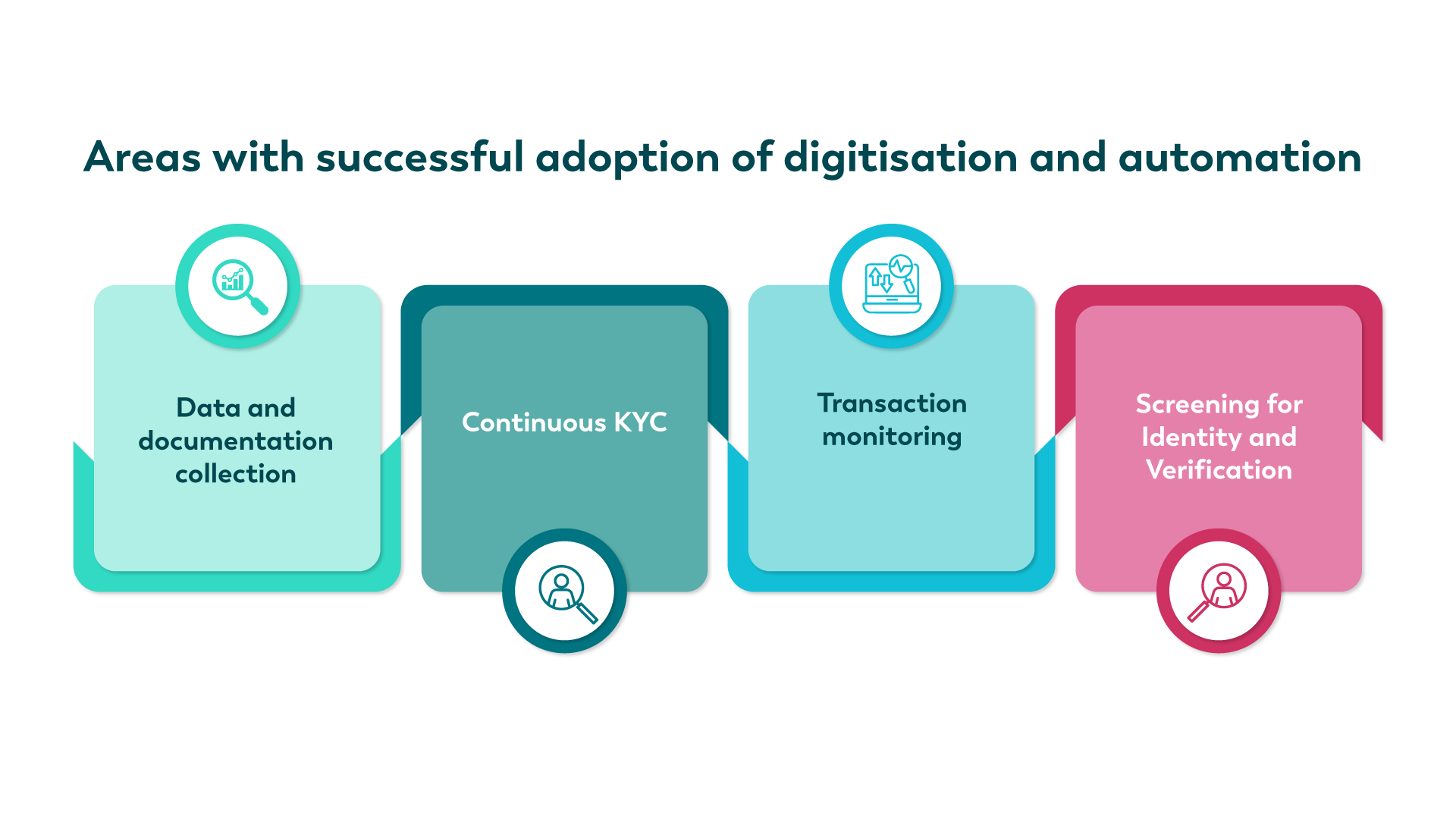 There has been lots of work done in this area, some of it accelerated by the global pandemic, and there are definitely some areas where adoption has been successful: areas like data and documentation collection, continuous KYC (ongoing monitoring to detect changes in ownership), transaction monitoring and screening for ID&V (Identity and Verification). 
There have been plenty of successes, with simple UX document collection portals and integrated KYC screening tools making it faster and cheaper to onboard digitally. Overall though, the results are still not consistent and often onboarding processes can feel disconnected from the actual customer journey. For customers themselves this might result in them being suddenly dumped out of the onboarding process and unable to get back into it without starting again.
Despite the technological improvements mentioned above, there are still elements of onboarding that are too complex or challenging, whether it's due to needing human intervention to check paperwork, or an inability to integrate newer digital onboarding workflow with existing older systems and processes. Clients – and by extension their customers – are still suffering.
How easy is it to resource onboarding processes while managing costs?
There is also the ongoing need to resource onboarding processes properly, while the war for talent means it is harder to hire talent with KYC (and compliance) skills and experience, making it tougher to stay on top of regulatory requirements.
As businesses are also being squeezed to reduce their costs against a challenging financial outlook, they are asking how they can offer customers value while still keeping up with their evolving expectations and the industry's regulatory requirements.
Even if you can get the right people in place, it's also tricky to predict demand and its resourcing accordingly. Organizations need ways to access the skills they need – potentially at short notice – without the long-term risk posed by higher payroll costs.
How to put your customers first and everything else second
We're CX experts who make sure the customer is at the heart of every journey, because we believe that focus is the key to unlocking value. A good onboarding process shouldn't be looked at in isolation, but needs to be an integrated part of the overall customer journey.  
Let's look at what we mean.
Making sure your organization has access to the right talent
We know how important the people and the skills are that are needed to design and deliver a world-class customer-first onboarding journey. Making sure that your organization has access to the right talent is key to delivering more value to customers from your onboarding. 
For organizations looking to improve their KYC procedures, we work with them on a strategic talent program that includes developing robust talent acquisition processes and investing in employee development. 
At Webhelp we also see clients choosing to outsource compliance operations or tasks to a third party like ourselves, or relocating it to nearshore or offshore to reduce the overall cost, while potentially retaining a core of expertise in-house for higher-value actions.
Taking the risk out of resourcing
Crucially for our global clients, they are working with a partner who can leverage a global talent pool so that customers can be supported in their primary language, help them build customer trust and improve their brand reputation. 
We de-risk the resource and help solve their recruitment challenge by allowing clients to flex demand and turn their workforce requirements on and off accordingly, rather than managing their own in-house resource.
​​The requisite pace of hiring poses a key risk to meeting regulatory compliance and it can be a common pitfall of working with a BPO. It's why, when we are working to resource a client, we always ensure we maintain regulatory compliance adherence and avoid the risks of non-compliance and the resulting fines.
Optimizing the customer journey through analytics and insight
Knowing customers better, through end-to-end data systems that help financial services organizations see the joined-up customer journey, can enable smoother onboarding and move the needle on reducing onboarding dropout rates. All of which creates a strong brand reputation that results in happier, 'stickier' customers.
While banks have a lot of data on their customers, the complete picture is often fragmented and these effects can be worsened by siloed departments. The impact can be felt by customers in the form of disjointed onboarding, a result of financial service firms that see the customer journey from the company's – rather than the customer's – perspective. There is often no view of the whole customer and so opportunities are missed to understand customer behaviors, propensity and risk profiles. 
By using the data gathered, we provide our clients with a 360-degree understanding of their customers, enabling them to predict behavior and leverage insight that might be currently missing. Customer data is analyzed and viewed holistically to examine where the journey might be broken or touchpoints can be optimized.
The right blend of human talent and supportive technology can enable financial services providers to harness new capabilities, use behavioral science to improve adoption, predict consumer behavior changes, and drive continuous improvement. In addition, the data and insight gained can enable organizations to understand, and even anticipate, customer behavior and needs, and take proactive actions in response.
How we improve the onboarding customer journey
The first phase to improve the customer journey for a client is in data-driven discovery to uncover and quantify issues and understand root causes. It starts with insights from customer feedback before analyzing the volume, cost and CX impact of the contacts and activities in a customer journey. 
We typically start by analyzing demand and effort to identify activities that are low value to both customer and organization. We segment customers to better understand their different onboarding experiences.
We can then join events and contacts together, to quantify overall customer effort across a mapped journey that helps us identify the typical paths that customers take, as well as quantify failure demand at a customer level, to further aid prioritization of improvement efforts.
These root analytics uncover the factors that influence CX and quantify the impact we'll make by improving them. An analysis of each step will help determine how variable each journey is, and establish a suitable KPI to track over time that we've identified will make a difference to business performance.
Our customer journey analysis identifies key pain points and suggests improvements along with new reporting KPIs for each stage, whether that's from app open rates to days between open to first transaction.
Customer first. Everything else second.
If you'd like to find out more about game-changing strategies that could transform your customer onboarding – and if it sounds like we could provide a solution for you – then please don't hesitate to get in touch.