Over the course of the last few years, we've witnessed a period of almost constant-change and with it a huge shift in the expectations and behaviours of consumers.
In March, Webhelp hosted a CCMA (Call Centre Management Association) CONNECT event on the topic of "Changing Customer Expectations", with different senior leaders invited to present their views on how the contact centre is responding to the evolving landscape that we now see.
Kate Law, CCMA's Membership and Learning Director, launched the event with an open mic discussion asking the question – How have the expectations of your customers changed?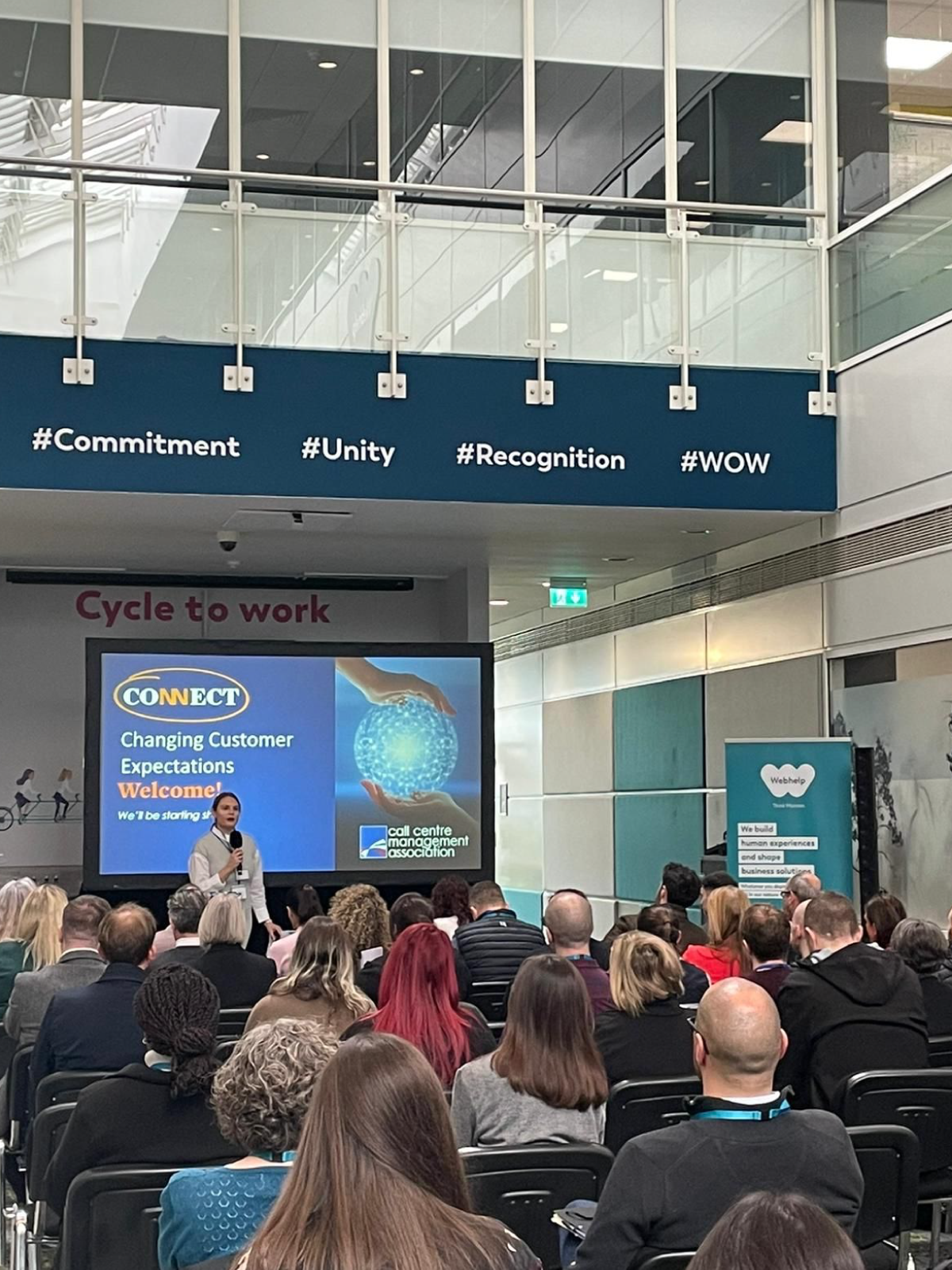 Kate Law, Membership & Learning Director at CCMA, hosting the opening mic discussion
One of the key themes that came through from the audience was that of the pandemic pushing more consumers towards adopting digital channels, which has meant a big shift in the make-up of the overall channel mix. For many CX providers, service levels have also had to be completely reimagined as a result.
Another overriding view was that customers are generally less patient and have greater expectations than perhaps during pre-pandemic periods – often jumping from channel to channel to try to get issues resolved. This form of channel hop requires the right skills to be in the right channel, with new recruitment strategies adopted by many.
A final key theme from the session was perhaps unsurprisingly around the ongoing impact of the cost of living, with many in the audience highlighting a rise in the number of distressed customers that they are supporting on a daily basis. Employee wellbeing was also cited as an important factor to consider here, having been highlighted that in some cases employees who are supporting vulnerable customers may in fact be vulnerable themselves.
Great Expectations
To start off the presentations, Helen Bywater-Smith, Global Head of CX Service Design at Ipsos, talked about three macro trends which are having a direct impact on contact experience – tech-celeration, inequalities and opportunities, and well-rounded well-being.
A new wave of innovation is coming with AI advances, the metaverse and virtual reality, among others, and it's expected that businesses will use this technology and data to benefit their employees and customers.
Businesses today also must consider the ongoing threat of rising inflation and an employee power shift, with many looking for even greater flexibility through the continued adoption of working from home models and a very different looking employee experience.
Last, but not least, is an increased focus on mental well-being. Younger generations are looking for brands that clearly demonstrate how they can support a more holistic view of health beyond physical for both customers and employees.
Helen also recommended that brands continue to invest in improving their CX Design and Delivery, highlighting research from Ipsos that found that 69% of CX professionals strongly agree that companies who continue to invest in CX will outperform their competitors. Ipsos data also showed that 86% of customers are willing to pay more for a better experience. Hence, new designs need to focus on creating an empathetic journey, turning down the noise from the CX space, and keeping it simple. All that customers want is to be known, heard, and valued.
In this "new world disorder", the final message from Helen was that strong relationships with customers can be guaranteed… if brands tune into customers' expectations, functional and relational needs, design experiences to build long lasting memories, create emotional attachment, and drive a Return on your CX Investment (ROCXI).
Changes in Consumer loyalty
Building trust and loyalty has always been a key element for brands. Scott Logie, Chair of the DMA Customer Engagement Committee & Customer Engagement Director of Sagacity, outlined the findings from the DMA's latest research on How to Win Trust and Loyalty.
The data showed that overall, whilst customer loyalty has remained fairly steady in recent years, customers themselves feel less loyal than before. Whilst this is starkest for those in younger groups who are often most likely to be affected by any recession, this prevailing feeling covers all age groups and demographics, other than the older, more secure segments.
Across all sectors, financial and more functional drivers of loyalty such as ease of use and reliability have remained stable, however compassion and "charisma"-based drivers are on the increase, particularly around environmental factors and improving employee rights. Scott pointed out that each element of loyalty varies according to age and sector. For instance, Baby Boomers are more loyal to a business for service and functional aspects, whereas Gen Z cares more about the brand's charisma and compassion.
Following Scott, we had Chris Bryson, Managing Director, Global Analytics at Gobeyond Partners, who expanded on the theme of loyalty within his presentation on how CX data can improve customer satisfaction.
Citing recent research from Webhelp and Alliance Manchester Business School (AMBS), Chris highlighted three factors most highly correlated with customer satisfaction – processes, outcomes, and interactions.
Advisors play a significant role in smoothing out the bumps and driving satisfaction in the customer journey. However, the data showed that for simpler journeys the final outcome is key, whereas for more complex journeys, the process followed was deemed more important in influencing how satisfied the customer was or not in the end.
Even if an underlying CX problem does exist elsewhere, Chris also highlighted that building rapport with customers is still hugely important, with the creation of emotional connection playing a huge part in resolving issues within more complex customer journeys.
Transformational Customer Experience Partnership
Next we had Kate Smith, Contact Centre Transformation Lead at Halfords, and Andy Wilde, Consultant at Gobeyond Partners part of Webhelp, sharing the outstanding results obtained from a growing and valuable partnership between the two organisations.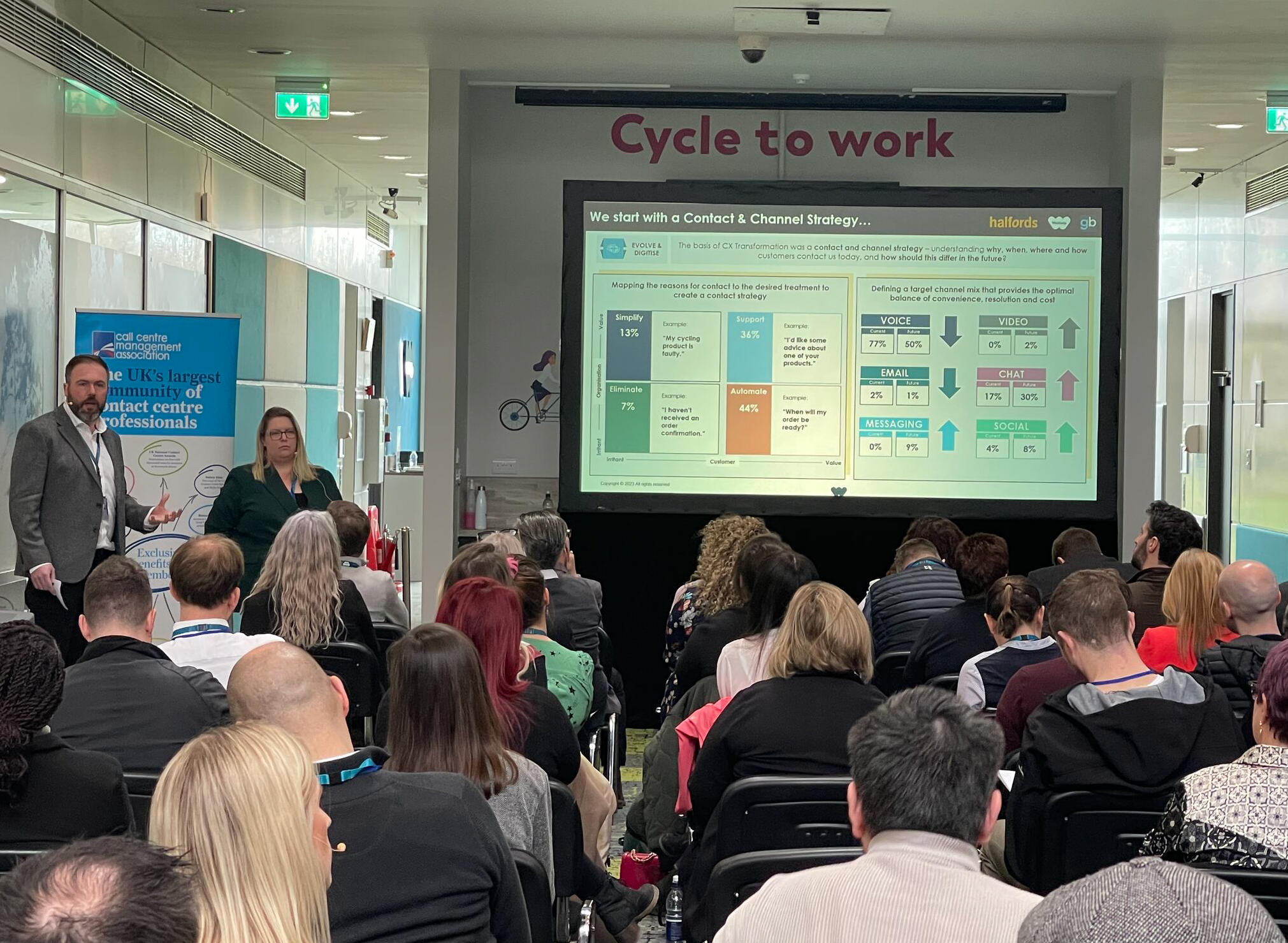 Andy Wilde, Consultant at Gobeyond Partners, & Kate Smith, Contact Centre Transformation Lead at Halfords, sharing the great work across both teams
They showcased their application of a contact and channel strategy to identify customer patterns when contacting Halfords and the areas in need of improvement. And how moving to a more centralised contact centre model has helped to significantly reduce contact volumes coming into stores, delivering a far more streamlined customer experience.
Using this strategy as a guiding principle and referring to demand insights, Kate and Andy also explained how they have been able to better understand the voice of the customer and ways to enhance the customer journey through digital transformation. Halfords can now self-serve some common queries, with more planned to come online.
CX for the future
Closing the day was an interactive panel discussion hosted by Helen Bywater-Smith, who spoke with senior leaders Dave Pattman, MD Customer Experience Practice, Gobeyond Partners, Rula Samara, Head of Customer Contact at Novuna Consumer Finance and Jessica Woodhouse, Customer Service Director at Home Protect.
Here the panel discussed ideas and best practices to support customers in the future throughout their CX journey. There was agreement amongst the panel that brands need to
establish proper training for advisors to help develop emotional intelligence and empathy with customers – to meet their customer expectations, build stronger relationships, and improve outcomes. The danger of generalising customers' needs was highlighted, as no one size fits all. Personalisation and diversity were cited as being fundamental to creating a successful customer journey.
Finally, the panel touched on a traditional communication channel – email. This was viewed as sometimes still being a favoured channel for some consumers, particularly for more difficult situations or in discussions relating to vulnerability – however it was also highlighted that it's important for businesses to know when the right time is to convert this form of communication into a call, helping to better develop the relationship and improve the CX journey.