As Webhelp's partnership with Harambee Youth Employment Accelerator continues, Cathy Kalamaras takes a look back at the story so far, explores why the alliance remains a priority, and shares some of the positive career journeys and life changing experiences of our Harambee colleagues.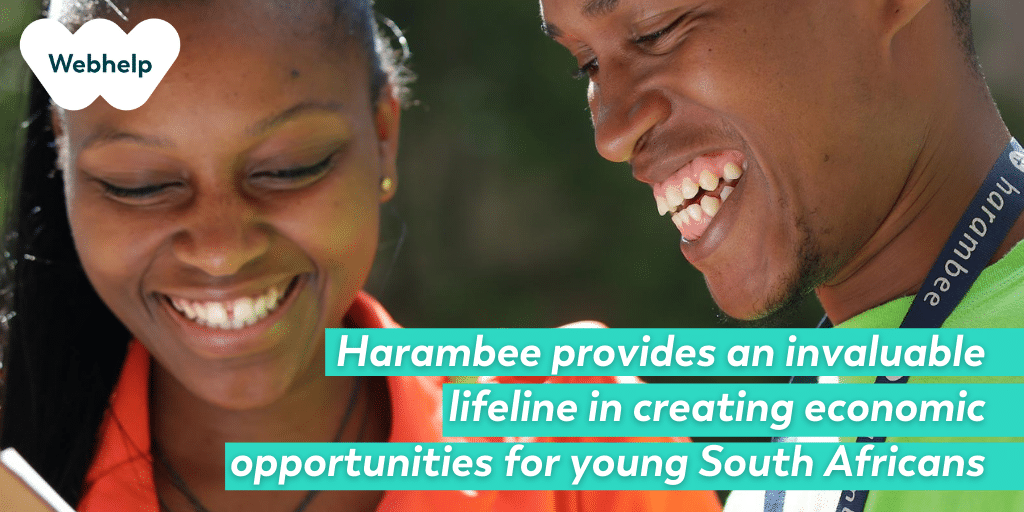 As a South African who has personally witnessed that investment in the right training, effective coaching appropriate tools and the right attitude, can transform the outlook for the youth of South Africa, I am delighted to report that Webhelp's partnership with Harambee, which was established in 2016, continues to go from strength to strength.
Harambee are experts in the dynamics of the South African unemployed youth labour market, which is much needed as youth unemployment in South Africa was called a "national crisis" by President Cyril Ramaphosa in 2019. The figures have reached an all-time high of 59% in the first quarter of 2020.
Brandon Aitken, our Chief Commercial Officer for South Africa, remarks:
"The employment landscape has undoubtedly been impacted by the devastating COVID crisis, so it is NOW more than ever that we need to nurture and create opportunities for the enthusiastic and skilled young people in South Africa. We remain doubly committed to our work with Harambee, and the amazing candidates that have joined our business and I am delighted that we are in a fortune position to convert all our Harambee contractors into permanent employees. The work-readiness programme has prepared these candidates for the world of work, and our inhouse training and working experience opportunity has assisted in uncovering the high levels of potential within our people, thus allowing us to continue to deliver a high standard of customer excellence to our clients."
I deeply believe that Harambee provides an invaluable lifeline in the fight against poverty, and that together we can create economic opportunities and growth for our youth. At Webhelp, we are in the perfect position to do this; as according to the Business Process enabling South Africa (BPeSA), the umbrella industry association for the Business Process Outsourcing (BPO) sector in South Africa, in their fourth quarter 2019 results, the sector now employs approximately 260,000 people, and remains a growth area. It is also a sector that doesn't need formal tertiary education for entry level positions, which opens up the opportunities to growing and developing talent.
Whilst Harambee's bridge into work activity has been halted by COVID-19, Webhelp made space for work ready candidates who missed out on an opportunity with another firm due to the pandemic. As a result, an additional 20 Harambee candidates have recently joined our Webhelp family to begin their journey into skilled employment. Plus, Webhelp is delighted to have driven a massive conversion rate for the Harambee recruits hired during our period in 2019, by moving 165 employees from fixed-term contracts to permanent placements.*
Since 2016, we have welcomed around 800, Harambee recruits into our organisation, and have found permanent positions for at least 633 supporting various campaigns and clients, to remain in full time employment. Of those 70 also took part in our learnership programme.
We thought that there would be no better way to give you a sense of how profound our impact sourcing model has had than to share some success stories, (in their own words) from the customer service advisor colleagues right at the heart of the partnership: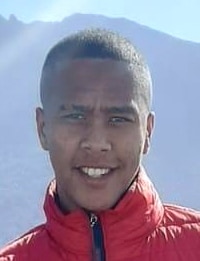 Devon Jacobs: Contact Centre Advisor
"The learning experience that Harambee had offered us is something I will keep with me for the rest of my life. I've made friends and learned so much about working in the corporate world. We learned about people's backgrounds and different upbringings which, in my opinion made us grow so much closer to each other, and we still remember and check up on each other.
The environment is perfect for youth, we had five weeks training at Harambee as well as an additional five weeks at Webhelp that was beneficial for us in my opinion.
It feels great helping customers and actually being able to make people happy. I see myself growing here, and would love to become a Team Leader within the next 2-4 years, as I'm happy with my work environment and see myself hopefully a bit higher on the corporate ladder.
I am so happy I recently signed a new permanent contract on The Very Group Campaign, and I'm just in the perfect headspace to grow within the business because at Webhelp there is growth in abundance!"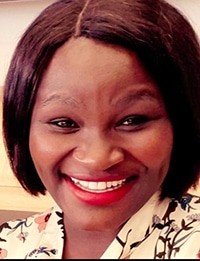 Neziswa Mkitika: Contact Centre Advisor
"My name is Neziswa Mkitika, I'm 33 years old, have two kids and passed my matric in 2007. I started working as a clerk for six years and studied HR while I was working for human resources. I then worked in retail for four years as a merchandiser and became a field marketer.
Harambee was a bridge for me to cross, when I started I was at my lowest. They changed the way I think, started me from scratch and they have taught me how to come out of my shell. No university can teach you more than they can teach you. They are the experts in the industry and I am the person that I am now because of all the hard work that they have put into me.
I have a calling to work with people, which is my gift, because I can read a person. Thanks to Webhelp I have found myself, Webhelp values define me as I love people, it's not about money – it's about doing what you love.  Webhelp has many opportunities, I cannot wait to grow in the business!"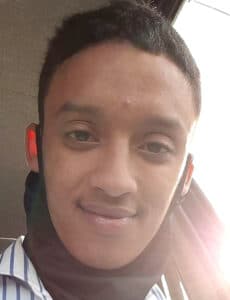 Zubair Samuels: Contact Centre Advisor
"I got an opportunity at Harambee, I started in mid-May and to be honest it was quite challenging to be in that position where I was preparing myself for the world of work. We spent five weeks at Harambee working hard and having fun,
When it came to an end I was really sad, we were leaving the place where we were taught how to manage time, be responsible, be organised and well-disciplined – not to forget learning appropriate dress code. But the journey began and we succeeded in moving to the next step which was huge, I finally I got a job!
I was so excited and nervous at the same time, because it was a whole new challenge, a different environment and different people to adapt too. Firstly we had to go on a training course, to be honest those were the best five weeks ever, training is basically the best ever!
We had so much fun and obstacles in our way as well that we had to overcome. The trainer was very knowledgeable and extremely chilled which made learning the product so much easier. The training prepared us for how it should be on the operational floor.
The first time on the operational floor I was so nervous, even though we had call listening in training. But, as I took my first call the advisor sitting with me was very helpful and made it easier. I made a lot of mistakes which I learnt brilliantly from, it helped me grow as an advisor. The campaign I am on is very busy but I love challenges and this was one of my biggest ones. It paid off and I passed GRAD BAY and then became LIVE, which was a great achievement!
Then finally my role became permanent, this company is really good and they provide lots of growth opportunities.
In the last of couple of months it has been tough due to the current pandemic, but it has been worth it as now the opportunities are actually flying out – giving all of us the chance to grow and succeed. I would actually love the chance just to showcase my ability in a leader role, I dearly hope that this journey does not end here and is continued with many more opportunities available to come!"
This is a model that has truly benefit our organisation, and there has been nothing more fulfilling; knowing that we have had an opportunity to nurture the untapped skill potential of unemployed youth in our country, not only impact their lives, but also the lives of their immediate families. We are proud to be playing our small part to #changinglives
Civic responsibility is part of the DNA of Webhelp, which has been running successfully for twenty years. Discover the four pillars of Webhelp's citizen action here.