In recent months digital communication has become much more prevalent and is now essential to many global sectors, so Andrew Hall, Managing Director Customer Solutions, Webhelp UK region, takes a look at how this is having an impact on the evolving customer engagement landscape.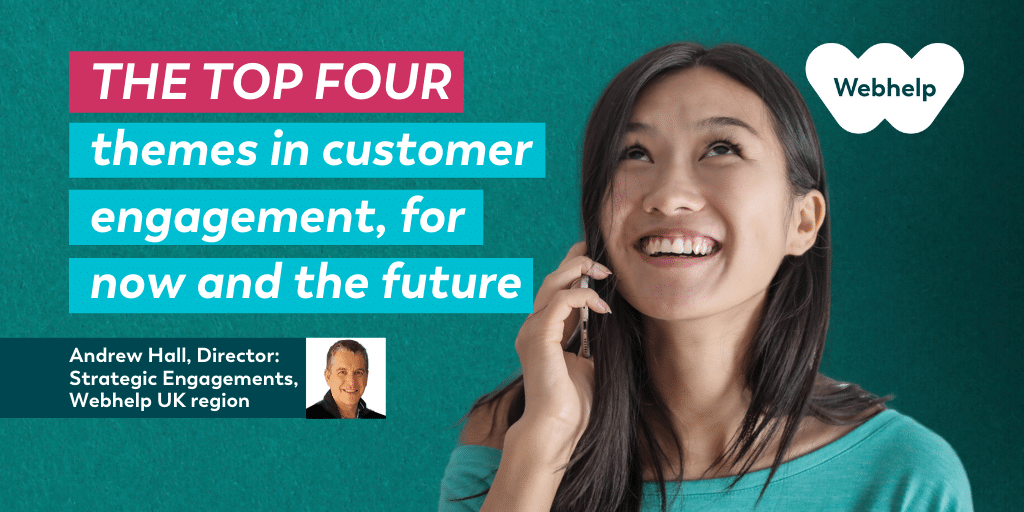 The onset of COVID-19 has made it imperative for many of us to live and breathe on digital platforms. As this switch has become firmly embedded in our behaviour patterns, four distinct themes have emerged in the customer engagement arena, which are likely to become even more relevant over the next 12 months.
Exceptional Delivery
There are two golden rules for creating customer engagement: Make it easy. Make it exceptional. The need for exceptionality across sectors is driven by twin imperatives; to create added value and provide positive differentiation.
In short, making the experience exceptional can set you apart from competitors and increase business. Achieving exceptional quality experience across all channels will pay dividends, as David Turner UK regional CEO for Webhelp UK region remarks:
"Thinking carefully about your customer journey is becoming far more important than just designing how to deliver great service – it may in fact be essential for the survival of your business."
The power of transformation
Harnessing the power of digital transformation is, arguably, the best pivot point on which to leverage changes in customer behaviour and embed positive relationships with consumers. Times have changed radically from the fixed model of voice delivered after-sales customer service. Customers now have a wealth of choices in the ways they can interact with brands. Companies that fail to embrace transformation and don't work hard to maintain the right content and context right across the entire customer journey, will put themselves at serious disadvantage.
Flexibility in channels and operations
The customer engagement layer – the point at which your consumers have contact with the business, can now take multiple forms. This can be purely automated contact, like chatbots and online ecommerce or via blended human and AI platforms like messaging or social media, or with the traditional telephone advisor – who will always be needed for cases that require human insight and empathy.
However, customers now expect 24/7 contact, and an omni-channel model is now considered the norm, along with the latest mobile messaging services! And of course it is more effective to seek out and speak to your customers on their digital home ground – rather than wait for them to find you!
Results focused
It's becoming very clear that customer engagement benefits from increased focus on long-term customer value, retention and engagement measures. Good future planning, the adoption of digital technologies and customer design thinking, can help to realise vision and deliver strategies to accelerate innovation and improve customer experience.
Webhelp Chief Customer Solutions Officer, Helen Murray, considers the best way to use engagement measures to drive performance:
"Evidence, no matter how well researched, cannot create engaged and loyal customers on its own – instead, it must inspire digital transformation and top-down strategies. Which in turn must then be embraced at every part of the customer journey. I know from experience, this is not something which can happen overnight, it takes investment, passion and the right insight."
Together these four pillars can support customer loyalty and advocacy, creating a substantial competitive advantage. There is a huge benefit to be found in designing and embedding the right experience for your customers.
Find out more about how the game is changing for customer experience markets and channels here, delve into our service catalogue here, or look me up on LinkedIn, where I would be delighted to read your thoughts and questions.