Our 7th edition of the OneShot is here!
Download your OneShot Magazine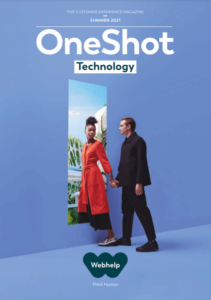 "Let's talk about the well-being of your customers and employees. Because well-being has become a central challenge for brands.
At Webhelp, we believe digital technology must be oriented around this axis. Technology can really make life easier, to the benefit of both women and men.
As you will discover in these pages, today there is a lot of evidence of its effectiveness – and not only in the context of the «maintaining of bonds» that we are going through.
There are also new avenues that deserve to be actively explored, And this is what we are doing, with and for you, as part of numerous experiments.
What is the goal of our Technology department? To make technology an ally, entirely to benefit the well-being of your customers and employees.
An exciting project!"
Discover through this 7th edition technological innovations that humanize customer relations, facilitating the work of our advisors, and always to the benefit of final customers.
You will also find testimonies and advice from experts: Massimo Dutti, Vattenfall, Samsung…
What are the latest technological trends that are worth a look?
What are the conditions for successful technology integration?
And let's not forget Webhelp's vision and ambition: transparency, security, data and, of course, the human touch.
Summary
A word – SXO
A number – Zero
Three opinions – Technologies that humanize the customer experience (Yan Noblot, Massimo Dutti, Vattenfall)
Some info – How Toyota operates predictive customization ?
A demo – Home: a place to live, a place to sell
A B-case – How Webhelp proposed and deployed an intelligent tool… to facilitate the work of Samsung Electronics advisors
A hashtag – #VideoChat
An offer – Telecats, the voice of the customer as a path to action
A meeting – the WorldSummit AI
A conversation – A weapon of seduction to re-enchant commerce in the city
A story – Lego : in what world are you playing?
A perspective – For efficient and benevolent technologies