Webhelp recently hosted a keynote panel at the LSX World Congress in London where speakers held crucial discussions on the drive to adopt HealthTech innovation within UK's National Health Service (NHS) and to ensure more patient-centric experiences.  
Tom Houston, Healthcare – Client Partner at Gobeyond Partners, moderated the panel and was joined by – Emma Bouché, Head of Healthcare, Webhelp, Michael Macdonnell, Global Head of Healthcare, Huma, Toby Basey-Fisher, CEO & Founder, Entia and Dr Ian Allwood, GP Partner, Bridge House Medical Centre. 
The panellists exchanged ideas on how to create patient-centric solutions and the best practices in using digital health technologies to help address the challenges and barriers that patients and clinicians in the NHS face.  
There were a number of key takeaways from the session. One was the pressing desire to improve communication and allow patients to better understand their health needs. It was observed that in many cases patients are not following their prescribed treatment simply because they did not receive sufficient explanation of their treatment from overstretched healthcare professionals, who may have had to juggle several responsibilities within a limited amount of time.  
The role of Tech and AI
The panel agreed that technology can provide support by freeing up clinicians' schedules, granting them more quality time and valuable interactions with patients. Artificial Intelligence (AI) is now capable of handling many of the more admin-based tasks that clinicians currently spend an inordinate amount of time on, such as booking appointments, triaging patients, providing test results, and re-ordering prescribed medication. HealthTech innovation can improve efficiency by simplifying or removing these time-consuming tasks. 
Another key conclusion was that the successful adoption of digital health platforms amongst stakeholders depends on the way the user-experience is curated, therefore, these platforms need to be developed with correct, unbiased feedback loops. Receiving feedback from all users, not only patients, can help optimise the user-experience and drive approval of HealthTech innovation.  
Patient centric care through hybrid models
Additionally, the speakers mentioned that providing a patient centric care did not only involve adopting technology and automation, but also integrating them with human interactions.  Applying hybrid models can reduce waste, unlock value, and improve healthcare systems as well as patients' experience.  
Overcoming funding barriers
Cost and funding was another prominent theme from the panel as financing is a crucial and important consideration of any venture. From a system point of view, cost can be a huge barrier for the adoption of HealthTech, but speakers argued addressing this is a matter of engaging decision-makers and aligning interest from all relevant stakeholders on the solutions that technology can provide. There needs to be clarity on the value digital health technologies bring short term and long term to trigger funding from different stakeholders and not only from the healthcare system.  
Conclusions
To conclude, the panel shared some final reflections, summarised as 8 key "building blocks", which if tackled and implemented will drive a greater level of adoption of innovation within Heathtech: 
1. Empower patients – understand their needs and spend time with them, especially the most at risk patients, to explain their condition and treatments prescribed.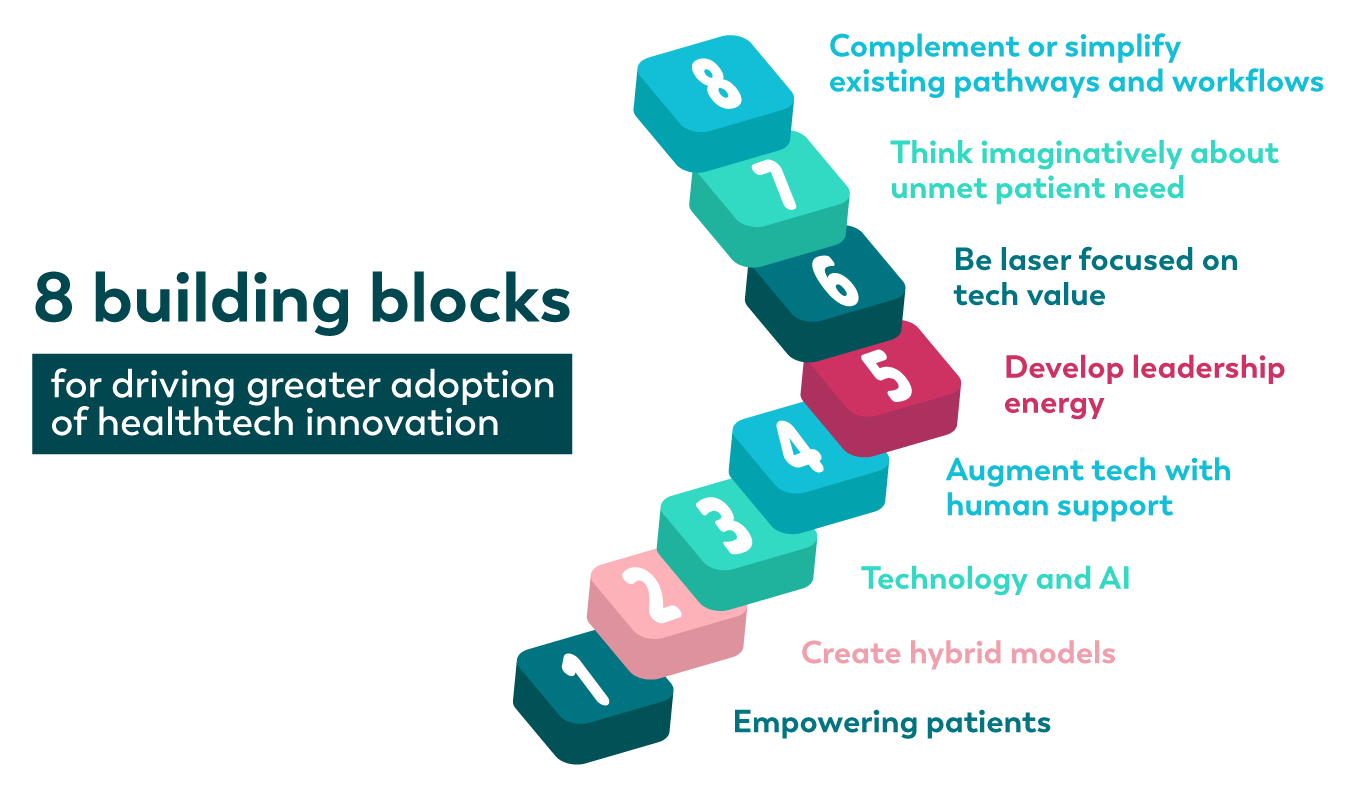 2. Create hybrid models – integrating technology, automation & wrap around human support can improve healthcare systems and patient experience. 
3. Implement better use of technology and AI, freeing up resource from admin-based tasks.
4. Leverage technology alongside the right customer service support for healthcare professionals and patients, to enable the delivery of more care, either in the home or closer to home. 
5. Develop leadership energy – create a colition of different stakeholders including NHS trusts and find ways to connect with them, engage them and get them excited
6. Be laser focused on value of the technology being introduced and the problem being solved.  
7. Think imaginatively about unmet patient need and keep that at the heart of the solution. 
8. Complement or simplify existing pathways and workflows. The design must intrinsically build partnerships, join clinical and operational teams together and break down organisational boundaries. 
It's clear from the panel's perspective that it is time to find healthcare solutions that keep patients at the heart of innovation. The greater adoption of HealthTech presents a win-win scenario, helping to create a more patient-centric approach that can better support healthcare professionals in how they deliver their day-to-day responsibilities.