As fast fashion brand Boohoo adds more failing high-street brands to its online portfolio, sector expert Kellyann McCafferty, Account Director for the Webhelp UK Region, takes the retail temperature and considers the way forward for beleaguered high street brands.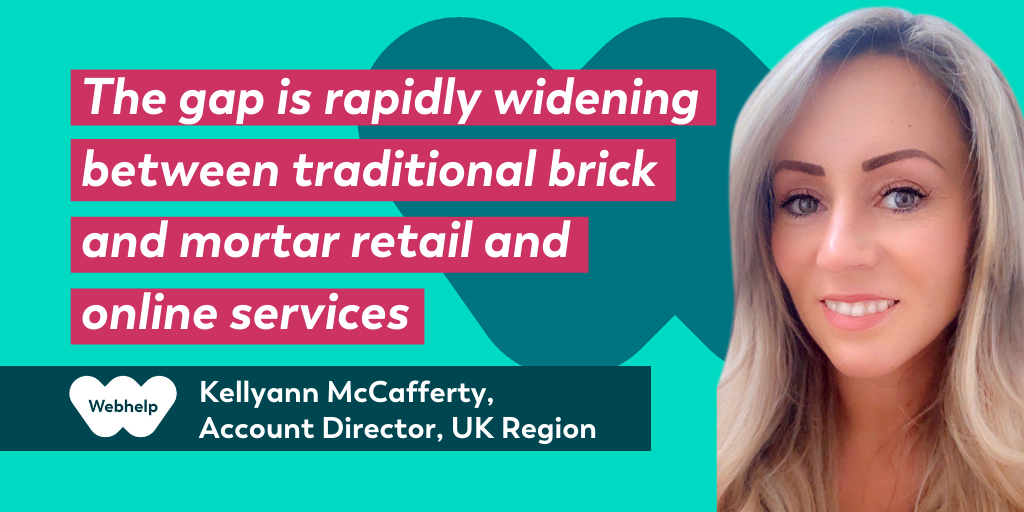 It's no secret that the world of retail has been profoundly affected by the COVID-19 crisis, and the ripples have been felt across the sector with the demise of popular brands like Cath Kidston and Laura Ashley and the high profile store closures of industry stalwarts like Debenhams.
There were shockwaves again this week, with the announcement that digital fast fashion company Boohoo, was to add to its stable of brands with the acquisition of the online divisions of failing high street stores Oasis and Warehouse.
This news illustrates how the gap is quickly widening between traditional brick and mortar retail and the fortunes of purely (or primarily) online services, like Boohoo, Very.com and Freemans Grattan Holdings.
After initial concerns over supply chains, and a dip in March due to the lock down effect, unlike high-street stores, most online brands are now firmly back to business as usual, with Boohoo and The Very Group reporting growth in retail sales overall.
However, this hasn't come easily, and the hidden building blocks to online success stories (like these) are early adoption of new technology and better business process services; including the creation of smooth customer interactions across all channels and excellent customer service management operations and systems.
At Webhelp, we guide our clients through this transformational journey, and as Webhelp UK CEO David Turner confirms, we believe that:
"Investment in technology infrastructure is absolutely critical. At Webhelp we have already made significant investments in our digital and automation capabilities to help clients improve customer experience and reduce costs using digital self-service, whilst leveraging technologies such as chatbots to reduce volumes of non-complex and low value interactions."
And retail will have to adapt quickly, as it remains the single largest private sector employer in the UK, with 2.9 million people working the sector, and annual sales totalling a staggering £394bn. In 2019, online retail accounted for less than 20% of these sales, but the next financial year is likely to report a vastly different statistic.
Grocery retail has been cited as one of the big success stories during COVID, with high profile retailer's like Asda and Sainsbury's stepping up with feed the nation campaigns, and drastically increasing their online capabilities to support both everyday shoppers and vulnerable customers during the outbreak.
The big players in the consumer electrical markets, like Dixons Carphone, have also witnessed an upswing in online purchases, with everything from Smart TV's, laptop's, printers, desks to ovens, fridge freezers and washing machines, becoming hot commodities as people nested into their homes for both work and leisure.
However, the key questions will be, as the world comes out of lockdown, will our shopping behaviours have changed for good? And, what will this mean for both the economy and the future of the high-street? With revenues falling hard in May, the BRC – who are the go-to trade association for all UK retailers – warned that shops face a "fight for survival" in the coming months with tough new physical distancing and health and safety requirements.
It was widely reported in April of this year, that sales had gone from £650m a month to zero for fast fashion brand Primark; however, it seems that we haven't lost our appetite for a bargain, as huge queues were reported as the stores finally opened their doors again in England this week.
It is my belief that, while COVID-19 may have changed our online behaviour and will increase the amount we buy on line, the experience of shopping in a store environment is something that most people still enjoy. We may yet see a few more casualties, but the high-street will slowly recover.
The concept of experiential retail will continue to grow, with physical shopping becoming more of a leisure activity, like the restaurant industry, a focus for Instagram snaps and social clout.
However, we can't ignore the fact that this crisis has given a very clear warning to big brands who have not yet embraced an omni-channel approach, as relying on a single channel for sales or customer service is now revealed as a very risky proposition.
At Webhelp we believe that customer experience providers should offer a responsive, flexible and robust approach, safeguarding their client's business as their own, especially under crisis. Whilst always looking for new ways to use the best technology and people to future proof their operations.
We are working with our clients to share some of our innovative partnership approaches in future blogs, so watch this space for future updates. In the meantime, read our expert insight on the future of travel from international sector expert and Webhelp Global Director Nora Boros, or click here to get an in-depth view of our services.