In a recent article from McKinsey Digital, several experts posed a number of key questions focusing on a digital-led recovery from COVID-19 aimed at CEOs, a total of five in fact, and never being one to ignore a challenge, David Turner, CEO for the UK Region shares his insight.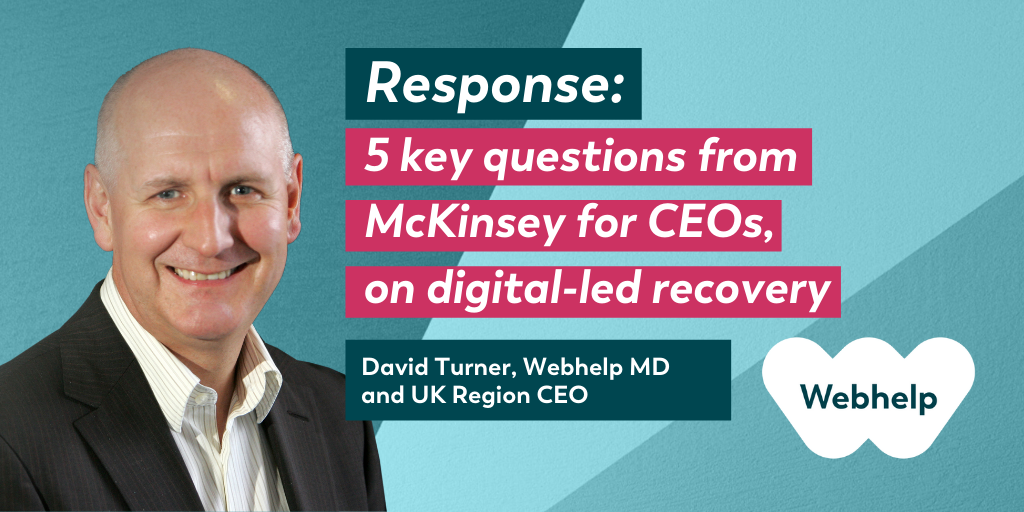 I'm responding not only in my role as CEO for Webhelp's UK region, but as a passionate advocate of digital transformation – something that drives our service structure and is deeply embedded in the innovative partnerships we create with our clients. I hope that my answers illustrate both the resilience shown by our teams during COVID-19 and our desire for our clients not just to recover – but to thrive.
Do you have a clear view of where the value is going to be and a road map that will get you there?
Here at Webhelp, conversations with our clients on the topic of digital transformation are built in to our processes. The impact of increasingly sophisticated technology in the hands of consumers driving changes in their behaviours and expectations, combined with market disruption from new, online business models has been apparent for some time.
However, Dave Pattman, Managing Director CX Services for Gobeyond Partners, part of the Webhelp Group, highlights that:
"What COVID-19 has changed is the pace at which organisations have found themselves having to respond and adapt. For many this pandemic has resulted not only in the virtualisation of their workforce as offices closed but also the virtualisation of their customers as the shutters came down on physical outlets as well."
In our view, it is very likely that the increasingly digital consumer behaviours arising from the lockdown experience will stick, forcing many organisations to radically rethink the fundamentals of their business and how they reach and serve their customers.
I firmly believe that Webhelp has the right resources, expertise and more importantly the flexibility to create and sustain digital strategy and online growth for our clients.
The insight driving every stage of this strategy should come from deeply understanding and tracking customer behaviours, something that is built into all our client solutions and forms the backbone of agile customer experience.
The digital landscape is also highly dependent on regulation, so the roadmap to success must be achieved in a compliant manner. For many organisations, this will create an added complication in the digital transformation journey. Our well-established risk function with expertise across regulation, cyber and compliance enables us to confidently navigate these challenges on behalf of our clients.
What role should business building have in helping you accelerate your entrance into new markets or access new customers?
Here, McKinsey concludes that many businesses can only match the pace of both the crisis and the change in customer behaviour by building something outside of the core company.
This is true in our experience, we have worked swiftly with our clients, increasing their business building capacity in digital.
This has taken a range of forms, from re-engineering blocked and over-subscribed customer management routes, to creating blended services that move seamlessly between on site, voice, virtual hubs, digital messaging and homeworking.
They also highlight the potential for growth in remote service providers, which I can certainly confirm, and that data visionaries are finding ways through analytics and automation to use new types and sources of data to generate value. We have been a long-term proponent of this, with several blogs and whitepapers creating conversation and tracking innovation in this field.
How can you lock in the benefits of a more agile operating model to increase the metabolic rate of your business?
McKinsey asserts that the very nature of the crisis has required teams to act quickly amidst uncertainty and react to changing situations. This was certainly true for us, and we immediately established a high-level rapid response unit to handle the major crisis decisions, while creating an agile and cascading level of responsibility to prevent our senior teams from becoming overwhelmed.  This allowed us to react across countries with one voice, while adapting to what was a rapidly changing set of international parameters and regulations.
Our senior leaders create flexible strategies based on current research and highly probable outcomes, always keeping real-time customer data at the top of the decision tree.
An incredible amount of momentum was reached and we have certainly benefited from clarity of focus, something which I will endeavour to sustain, and I have a renewed depth of confidence in the commitment and flexibility of all our people.
In the post-COVID digital world, Webhelp's Think Human positioning has never been more relevant. Digital technology has been an enabler rather than a barrier to human connection during the lockdown. Separated families and friends of all generations have kept in touch over video calls and communities have mobilised over social media to support the vulnerable and key workers on the frontline.
As Dave Pattman also points out:
"It would be a mistake for organisations to assume that they can or should seek to remove all human interaction with customers. The value for Webhelp is going to be found in helping our clients to simultaneously digitise the human and humanise the digital."
How should you rethink your talent strategy so that you have the people you need when the recovery starts?
Recruiting and retaining the right people is absolutely key to the successful growth of any campaign or company.  Our commitment to make business more human drives us to deliver an exemplary people strategy – something that we genuinely pride ourselves on – this will no doubt continue to evolve in the recovery stage, post-COVID.
Melanie Buckley, Director of Employee Value Proposition & Engagement Programmes UK, India and South Africa, points out that flexibility is again the key here saying:
"We have moved from being reliant on our people reading key business messaging in work hours on the company intranet, to posting on closed Facebook groups that they can access any time of the day or night from the comfort of their own home. After all; good communication between the company and your people works both ways.
Being highly visible 'where they live' online (like social networks) also helps us to bond with our people as a brand, by sharing their successes and recognising their hard work."
This topic deserves a blog – or a series – in its own right. And, as a people first company this is something that we will be bringing to you in the near future. In the meantime I will leave you some insight from Gillian Campbell, Chief People Officer UK Region & Director Global Engagement for Webhelp:
 "When developing our employer value proposition over the past year, we took the time to understand what is attractive to employees from different backgrounds and levels of experience. This endeavour is a cycle of continuous engagement, feedback and improvement, through which we identify areas for growth in the existing employee experience. Moreover, our investment in our employer brand is paying off – it's helped us to attract and to retain the right people."
What investments are the most necessary to create the technology environment that will allow your company to thrive in the next normal?
Investment in technology infrastructure is absolutely critical.
We have already made significant investments in our digital and automation capabilities to help clients improve customer experience and reduce costs using digital self-service, and leverage technologies such as chatbots to reduce volumes of non-complex and low value interactions.
As we became aware of the impact of COVID-19, we took steps on the logistical front to reinforce our strong digital framework, and this continued as the crisis progressed. We did this both practically: improving, increasing and securing our network capacity, and with rapid digital innovation, creating bespoke solutions for our clients – which were delivered alongside the substantial task of moving 40,000 colleagues to homeworking.
The result has been the provision of a truly responsive range of solutions, a journey which hasn't been without challenges, some of which Helen Murray, Chief Customer Solutions Officer, for the Webhelp UK region, reveals in her recent blog.
At the same time, we are identifying where human support adds value to digital experiences. Providing guidance and support to customers during high value, complex and emotionally important journeys.
It's becoming very clear that success for any organisation will only be achieved through combining the right technology with a human mindset and strong digital strategy.
Digital strategy now has an almost universal impact on maintaining business continuity, and CEO's need to both invest in and maintain their digital ecosystems across the board, making sure that data service providers and all respective technologies create a streamlined experience.
However, many businesses are not yet ready as Mark Palmer, CEO at Gobeyond Partners explains:
"Prior to COVID-19, there was a misperception of digital maturity across many sectors. As the crisis took hold, the world turned wholly digital, almost overnight. The varied level of response has exposed the lack of capability and flexibility inherent in many organisations. For brands to survive, leaders can no longer pay lip service to digital transformation. Digital needs to be fully integrated into their overall operating model"
Shockingly, before COVID 79% of businesses reported that they were still in the early stages of digital transformation, and this crisis will have been a huge wakeup call.
The world has moved online, and it looks like it will stay there indefinitely.
Business need to act fast – or risk becoming obsolete.
Click here to discover more about our transformative range of services or read more from Mark at gobeyondpartners.com