As part of our #servicereimagined series, Helen Murray, Chief Customer Solutions Officer for the UK Region, looks at how Artificial Intelligence is influencing the retail sector, how it is being used to leverage new customer service models and why brands must evolve to embrace this unstoppable wave, or risk falling behind the curve.
Whilst I love a good movie, the fictional relationship with Artificial Intelligence (AI) is not a happy one – and almost universally results in a troubled experience for the human! The silver screen, and latterly the internet, often warns of the dangers of pitting man against machine, but in reality AI has seamlessly, quietly and unobtrusively embedded itself into our daily lives.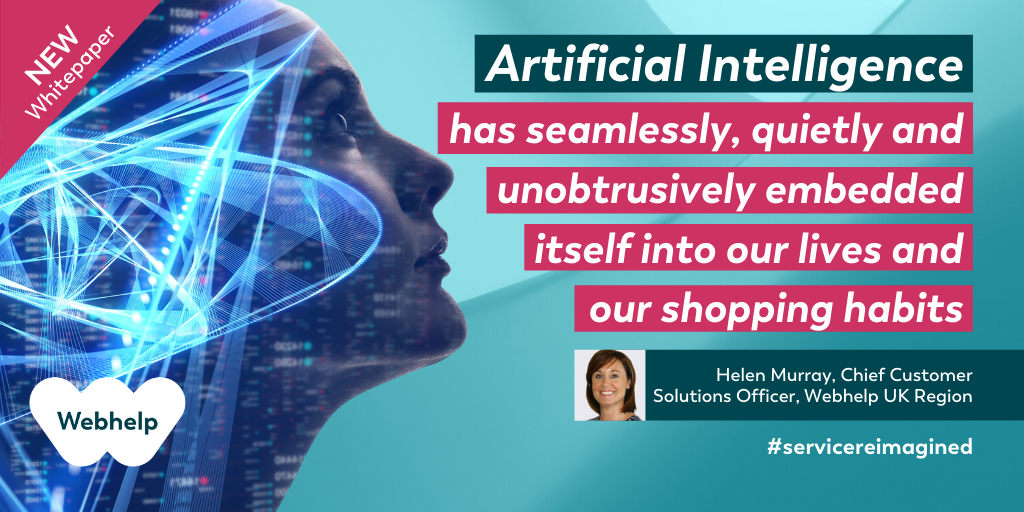 AI shares our homes, guides us when we travel, takes our selfie when we socialise and influences our retail and leisure activities, and it may well have become the most indispensable tool of the 21st century.
Beyond the media tropes, today AI is firmly focused on problem solving, by making millions of decisions at a basic level without human intervention. Machine learning allows processes to adjust to new inputs, and avoid pitfalls based on experience. Essentially it uses multi-layered data analysis to predict patterns and, in some cases, to uncover and direct customer behaviours.
It is much simpler, more benign and much, much more useful to business than its movie counterpart.
Dave Pattman, Director of CX Services at Gobeyond Partners, part of the Webhelp Group, sheds some light on this when he says;
"Whilst AI is everywhere, most experts agree that business is currently using the narrowest point in the definition, by enhancing brand delivery with mathematics, statistics, machine learning, deep learning and big data. However, even in its simplest form AI is making a radical difference, and is visually in our daily lives in our smart home device functions, autonomous vehicles and predictive text."
 "AI solutions are being developed in a broad range of sectors, and will inevitably be used for common business tasks like auto classification and recommendation services, which will streamline operations and drive revenue. However, the real benefit will come to those business that combine next level AI technology with the right skilled personnel – and use this to stimulate and track consumer emotions!"
But what does AI mean for retailers?
Both physical and virtual retailers could see a benefit of integrating AI into their processes, to improve task management and customer insight. As we reported in our blog on the future of retail post COVID-19, shoppers will be looking for a more experiential real journey, and traditional brick and mortar enterprises will have to work harder to compete. As the storefront.com magazine reports:
"Brands need to reimagine the total in-store experience, and technology is key. In-store technologies must be able to solve business processes and incorporate planning and strategy, rather than just implementing flashy, PR-driven technology. It's crucial that retailers effectively merge technology and function, which is why AI is at the forefront of in-store tech."
However, I believe that it is in customer service management where AI has the most significant potential for change, gathering detailed customer patterns and preferences, capturing both short term consumer market fluctuations and informing longer term business planning.
As AI grows more and more prevalent, at Webhelp we are also exploring language processing for the purposes of automation, as Chris Bryson, Webhelp Global Data & Analytics Director explains:
"The direct interaction between customer and machine is allowing us to analyse conversations, at scale, and to make recommendations. We have developed own speech and text analytics engine, which we apply to agent and automated customer conversations.
At Webhelp, this is deployed to drive efficiency in our measurement of quality and to create CX improvements through actionable Voice of The Customer analytics"
When intelligent algorithms are used to process customer and sales data, there is a wealth of actionable and valuable information to be discovered. Intelligent chat bots, voice analytics and word recognition are also changing the game for retail customer service. And, as David Turner, Webhelp CEO for the UK region, Webhelp are at the forefront:
"We have already made significant investments in our digital and automation capabilities to help clients improve customer experience and reduce costs using digital self-service, and leverage technologies such as chatbots to reduce volumes of non-complex and low value interactions. At the same time, we are identifying where human support adds value to digital experiences. Providing guidance and support to customers during high value, complex and emotionally important journeys."
These technologies are unavoidable, and brands must learn how best to use them to their advantage, as Craig Gibson Chief Commercial Officer Webhelp UK recognises:
"As the urgency for change and transformation intensifies in the post COVID landscape, some pivotal questions will be raised: How different will service look and feel in the future? How will businesses and their operations need to adapt? And how can employers engage and support their colleagues to deliver on new customer promises?"
To discover more about how to leverage customer service models in this new world, I would suggest that you read our new Whitepaper, a joint publication with Gobeyond Partners, on Reimagining service for the new world, which aims to address these crucial questions and is underpinned by our unique industry perspective alongside new research to discover the operating models of the future.