As part of our Game Changers series, Helen Murray, Chief Customer Solutions Officer for the UK region, looks at how current events are influencing the Customer Experience sector and how brands must evolve their channels and embrace optimism to create fresh new strategies and opportunities.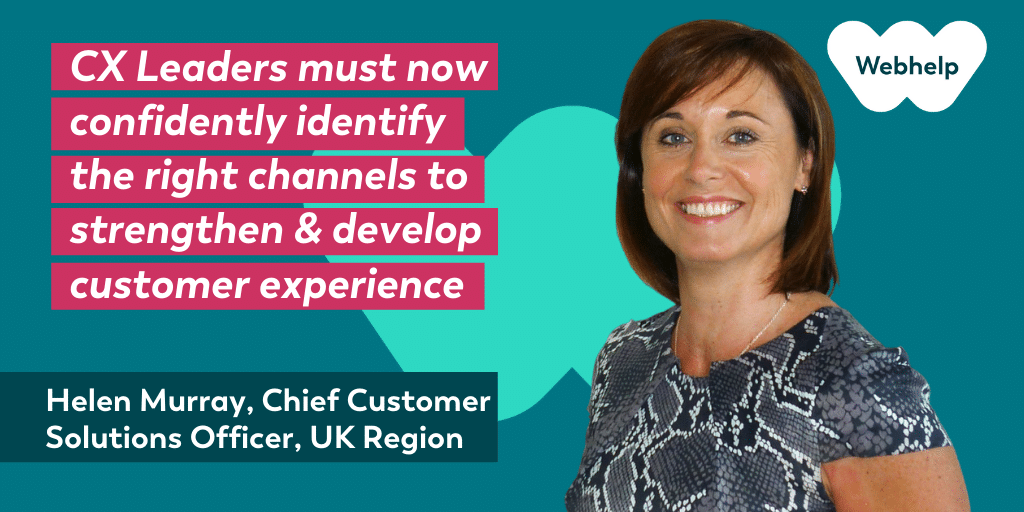 In global business circles, the phrase "unprecedented times" has been repeated so frequently that it has now become almost meaningless, especially when measured against the human cost of COVID-19. However, a period of extraordinary transformation is certainly upon us – and how brands respond, across all channels, will set the pace for recovery and future development.
Broadly speaking, brands could take several courses – maintain current levels, adjust under pressure or take radical steps to stay in front of the curve.
The award-winning consulting and transformation business, Gobeyond Partners – part of the Webhelp Group, has developed an insightful overview of the typical response phases to a crisis, and the take back control phase they identify may be critical for businesses currently experiencing an increase in 'contact' from anxious customers
I firmly believe that CX Leaders, who want to confidently transition to the new normal, must identify the best contact channels for both marketing and CX communications – and consciously strengthen and develop them.
Before the world changed, primary brand goals were loosely based around the three principles of product penetration, share of market and customer attraction.
However, many business are now sharply focused on connecting with and preserving the customers they currently have, which I would agree is imperative – but so is building for future growth. As Mark Ritson, former marketing professor and award winning columnist, writes:
"It might seem superficially mercantile to discuss brands, pricing and customer behaviour as we stare down the barrel of a pandemic. But the practical reality of global economic trade means that we need to market now for the good of all mankind." Source: Marketing Week
Behaviourally people are creatures of habit and any channel shift now is likely to continue when the new social norms are established. Brands must be ready to take back control by acting on this change.
Social channels are booming, Facebook alone is nearing 3 billion platform users, and is seeing a sharp increase in the consumption of news and insights. Social Media Today highlights that LinkedIn has added 15 million members since January, and reports growth of 26% this quarter.
Webhelp Marketing & Communications Director, UK region, Polly Ashdown realises that:
"To maintain high visibility in their sectors, it's now imperative that business be proactive in the way they position and represent themselves online. And, this must be reinforced with grass-roots cultural clarity, a strong brand identity and clear top tier thought leadership."
And the conversation shouldn't stop there, casual social customer feedback can be very telling, and inform brands of major customer service issues, which can then be driven back into solutions development, tackling challenges before they become ingrained.
Unsurprisingly, the current climate has dramatically increased the desire to communicate. Voice as ever remains a prominent channel for CX, and we know that person to person contact is preferred by customers when they have a complaint and as a platform for issue resolution. The coronavirus pandemic has created a larger homeworking pool of advisors, for voice, working in a more personalised space – and brands need to stay ahead of any possible impact.
As the business-like hustle and bustle of the contact centre is being replaced by the gentle and familiar hum of the neighbourhood and family life, we may see greater connection and advisor focus on the customer wants and needs. Early indications are good but it will be extremely important to measure the relative success, differences and advantages and pitfalls which the shift brings and create future channel strategies around these points.
The influence of the humble chatbot is growing too, with the World Health Organisation recently launching one to combat misinformation and keep the world better informed. As media magazine, The Drum reports, to adapt to the current reality, some companies are rapidly being forced to adopt chatbots and messaging platforms, as frontline CX.
Thinking positively, as brands recognise the advantage this platform brings in cost effectiveness, engagement and personalisation, we could see adoption increase over the long term.
Similarly, with the decrease in the brick and motor outlets, many businesses are now choosing to dip a toe into the e-commerce space for the first time, with the retail sector likely to undergo a significant transformation – something to be discussed in depth later in this series.
With the way forward starting to crystallise, the importance of flexibility, adaptability and early adoption, something we pride ourselves upon, will become more important across all channels.
As Webhelp Group MD and UK Region CEO, David Turner reflects:
"In this undeniably testing time, the CX industry must maintain optimism, think long term, and continue brand building for their clients. Honouring their values, protecting their staff and creating new avenues for future success."
Discover how our services can help can you find the best channel strategy for your business, read the Gobeyond Partners article for more information on the Crisis Curve and the impact it will have on your operations.