Michael Budden, Financial Services & KYC Programme Director at Webhelp, looks at the most significant industry challenges and opportunities within regulated services and predicts some critical areas on the sector's agenda in 2023. 
Rising costs, compliance, and fines
This year, the cost of compliance and fines for regulatory breaches will continue to be a growing concern in the financial services sector. For example, the Financial Conduct Authority (FCA) imposed fines reaching over £500 million in 2021, a significant increase from just under £200 million in 2020. Last year, the number of fines more than doubled to 26, up from 10 in 2021. 
Coinbase was forced into a US$100 million settlement with New York's Department of Financial Services (DFS) for AML (Anti-Money Laundering) failings, and Guaranty Trust Bank (UK) Ltd was fined £7.6 million for similar reasons. These examples demonstrate the importance of investing in robust compliance systems to avoid unnecessary costs and reputational damage. 
Geopolitical risks will also contribute to rising compliance costs in 2023. Ongoing tensions and uncertainty on the global stage have led to increased scrutiny and stricter regulations, making it increasingly difficult for firms to stay compliant. For instance, the FCA introduced a bill mandating that firms consider the Ultimate Beneficiary Owners (UBOs) of corporate organisations as part of their AML compliance—a clear message that organisations should be thoroughly ensuring that clients aren't inadvertently involved in financial crime.  
Along with the accelerating pace of regulatory change, rising wages for AML analysts, inflation, and the evolution of fraud and money laundering threats that emerged during COVID-19 have all further increased compliance costs. A variety of specific compliance processes are also driving up costs, such as customer risk profiling, sanctions screening, regulatory reporting, identification of politically exposed persons (PEPs), Know Your Customer (KYC) onboarding, and the resolution of alerts. 
Shareholders and customers expect firms to reduce costs while addressing these residual risks on their estates. We have seen a significant influx of organisations seeking help in this regard, whether supporting process transformation or improving their broader financial crime programmes. The only solution is to take proactive measures that offset rising costs and mitigate these risks, such as investing in technology, people, or third-party​partnerships. 
More potential for automation and technology
Costs for regulated services firms are not only related to non-compliance; there are also significant costs associated with Know Your Customer (KYC) onboarding and refresh/maintenance activities. These processes are often manual, siloed, and time-consuming, leading to backlogs and delays.  
Despite technological advancements, automation has not yet proven reliable enough for completing KYC processes, plus the speed of implementation and delivery of these technologies is typically slow. Blockers like these are partly due to process complexity, the need for human oversight and decision-making, and integration with legacy systems and processes.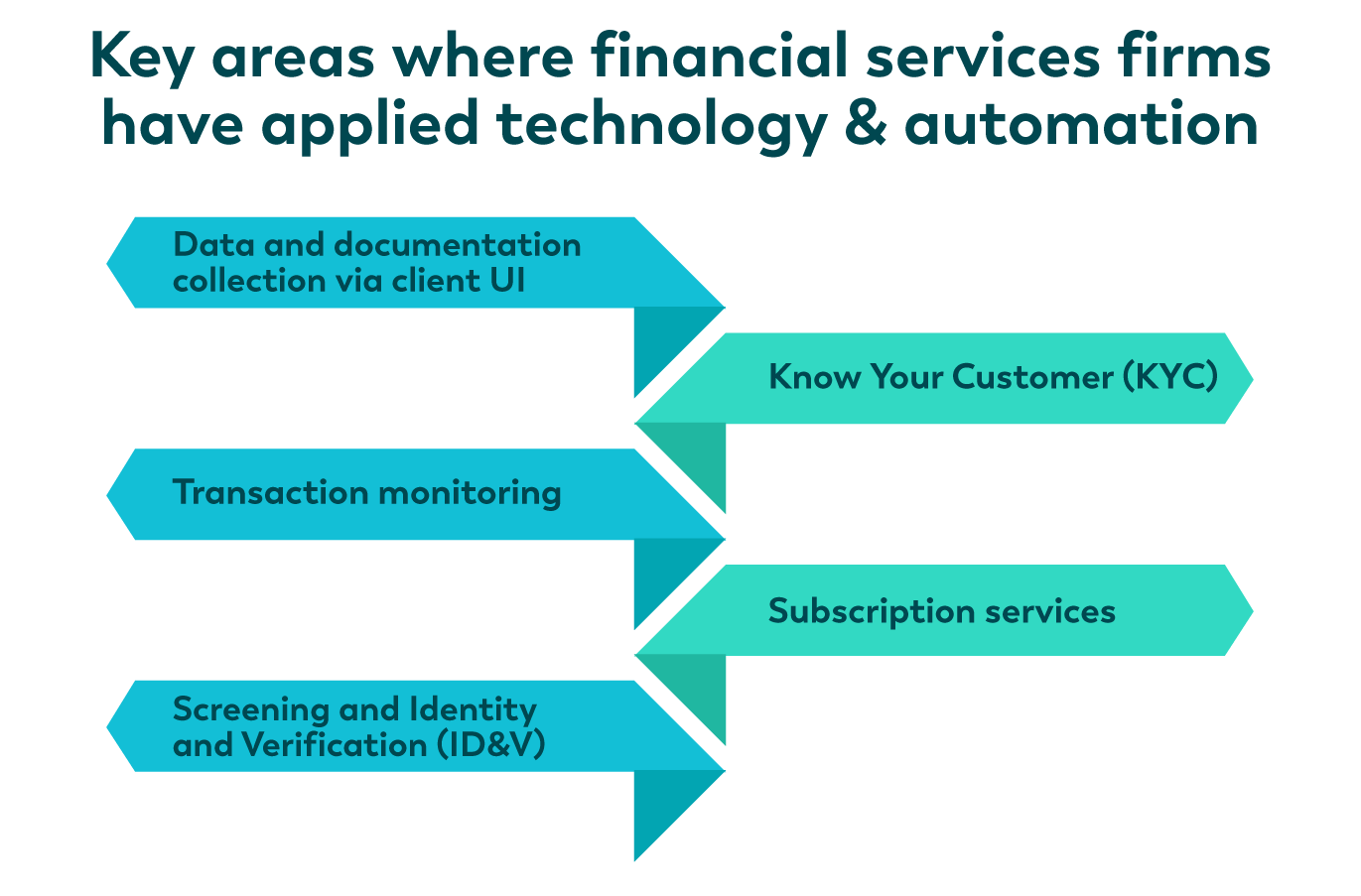 However, financial service firms have applied technology and automation in several key areas. These areas include data and documentation collection via client UI, ongoing monitoring to detect changes in ownership (also known as continuous KYC or cKYC), transaction monitoring, searching for publicly available information (or subscription services), and screening and ID&V (Identity and Verification). 
An increasing number of firms have been seeking our help with their automation agenda to help plug gaps and provide an immediate release of capacity. We have seen a significant uptick, specifically in ID&V authentication platforms, where we have helped firms with simple UX document collection portals and integrated KYC screening tools to deliver faster and cheaper onboarding.  
By focusing on applying automation and other technologies to these areas in 2023, we expect to see more firms streamline their KYC processes, increase efficiency, and reduce the risk of errors or omissions.  
Talent shortages and regulations slowing KYC successes
The war for talent and the need to meet regulatory requirements makes it increasingly tricky for regulated services firms to complete KYC processes effectively.  
With less available talent, the industry has less access to people with relevant experience and knowledge in KYC and compliance, leading to increased risk. As a result, fewer firms have the necessary expertise to navigate the constantly evolving regulatory landscape, highlighting a need to invest in developing and training their current employees.  
Furthermore, the need to comply with various regulations and standards can be a significant challenge for firms, especially those operating internationally. Navigating a complex and constantly evolving regulatory landscape is time-consuming, resource-intensive, requires increased cybersecurity and data protection measures, and can slow down the completion of KYC activities.  
We must also recognise that highly regulated compliance operations, such as fraud investigation or PEP and sanction screening, require very different skills profiles and types of people. Finding and retaining that differentiated talent is becoming increasingly difficult, which, when running highly regulated activity with stringent SLAs, becomes an operation manager's nightmare.  
What further exacerbates this is the volatile nature of demand in compliance operations. For example, you can never know how many Suspicious Activity Reports (SARs) you might have to submit in any given week. So, given the cost pressures, firms are looking at creative ways to tap into skilled resources whilst not carrying the longer-term fixed cost on payroll. 
We've seen a significant number of clients looking to do two things as a result:

Developing robust talent acquisition processes, making investments in employee development, keeping lines of communication open with regulators, and establishing partnerships with third parties are crucial strategies for financial services firms this year if they want to gain access to the resources and knowledge required to satisfy regulatory requirements and successfully complete KYC procedures. 
— 
Here at Webhelp, we support our clients in tackling these critical problems, specifically within compliance operations that cover fraud, financial crime, and KYC. We have a global team of over 5,000 skilled analysts working in this discipline and a suite of fully customisable technology solutions to help drive better outcomes for our clients and their customers.