Don't miss our 8th edition of the OneShot magazine about uncertainty!
In the skies of the business world, clouds are gathering: pandemics, ecological crises, inflation, war. For policy makers, this climate can be summed up in one word: uncertainty. At Webhelp, by focusing on this topic in this latest issue of OneShot, we hope to make uncertainty less paralyzing. On the contrary, it is the opportunity to grab uncertainty by the horns and make it a force for creating a more prosperous, even regenerative, economy*. Therefore, we suggest shifting your mindset to see current times as an opportunity to set a course for sustainability, once and for all. To do this, companies should mobilize and leverage collective intelligence. Investors, employees, customers, suppliers, public institutions, NGOs and associations,
partners – and sometimes even competitors – have everything to gain by working together to build sustainability. It's time: 73% of respondents** worldwide believe that brands should act now for the good of society and the planet, yet less than half of brands are considered trustworthy (47%). On this new playing field, one thing is certain: creating a customer relationship based on listening and trust will become a strategic priority.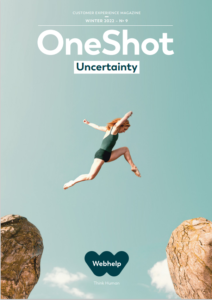 ​