A demand peak in Customer Service Management is expected during Black Friday, the festive season and beyond. In the second part of our South African colleagues from Engagement, Operations and Learning and Development teams at the heart of delivery for clients, share their enthusiasm,  highlights and experience as they support customers during one of the busiest times of the year.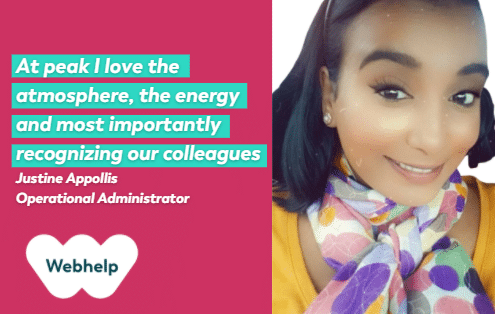 To keep energy levels up during this busy time we created 200 hype boxes, to be delivered to our colleagues who are currently working from home. Plus, our office based employees will be getting a sugar rush, games, lots of prizes to be won and recognition throughout the period.
I think my favourite moments from previous peaks have to be The Catwalk we held in the canteen and playing 'spin the wheel' with colleagues.
This year is a bit different, as my usual advice would be to wear comfortable shoes! But with Social Distancing many interactions will be virtual.
To me Black Friday is about shopping and getting value for money!  At peak I love the atmosphere, the energy and most importantly recognising our people who are serving our customers.
We come prepared for every peak!  I use the previous peak to anticipate delivery and to have adequate trainer resource ready to support our advisors.
Learning and Development is focused on giving people opportunities and this is what creates excitement in our space. Highlights are hard to pin down as every year the demand is much greater but it is always very exciting.
New personalities, a set of fresh eyes and most of all subject matter experts from the Operational space all add flavour to the training experience we provide.
Recently we have been delivering Induction Training and internal change requests are always coming through! However, I can honestly say that variation is always great. And, it has been fantastic to see how our Accredited trainers deliver across the new platforms.
A key lesson I have learned would be never under estimate the power of technology. Also – never underestimate the power of working together across all departments. Having all stakeholders around the table every week made a significant difference to the previous Peak 2019 delivery.
Plus, giving a trainer a camera and delivering from home has definitely brought the blended learning approach to the Learning and Development department.
Every peak is unique based on the training requirements. But this peak is different in that COVID has definitely accelerated our outputs to deliver the same level of Induction Training, but still conforming to social distancing regulations.
During Black Friday the Learning and Development Team supports operations, whether it is taking calls, supporting or managing teams.
Finally, I love the adrenalin rush and the hype of just supporting our customers.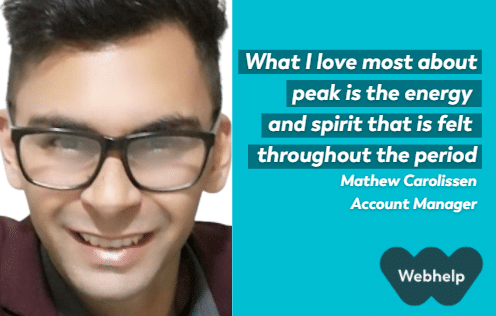 To get ready for this peak we analysed our previous customer contact channels and optimised our digital platforms to ensure that the customer experience will be a smooth and effective journey.
By focusing on user skill sets, we have realigned our resources to ensure the most benefit for our client. Aiming for an exceptional peak by giving attention to the skills of our people and putting them in the right place, doing the right thing at the right time.
Based on my experience, the highlight of peak is always the amount of unity that is experienced during this time, not only within the campaign itself but within the organisation.
Operations is usually a very interactive space however during peak everyone seems even more engaged and there are so many initiatives and activities that encourage us to deliver exceptional customer experiences.
I believe there are always lessons to be learned through every period of change, and we have all worked hard to make each peak better year after year. This is possible due to the partnership we have with our client and also our collaborative approach to process improvements and change implementation to optimise the delivery and capacity for customer experience.
In our space, Black Friday means the start of peak, the beginning of an extremely busy and important time of the year where we need to ensure that we are providing quality customer experiences and influencing their issues positively more than ever with the stretched capacity of all work streams.
What I love most about peak is the energy and spirit that is felt throughout the period. There is an infectious sense of high energy and positivity.
We hope you have enjoyed this insight into how peak works at Webhelp, find out more in part 1 of this series, with voices from our Team Leaders, Facilitators and the Engagement and Project Teams.