The business challenge facing the Webhelp UK Operational Learning and Development (Ops L&D) team, at the onset of the COVID-19 pandemic was truly exceptional. Here, Declan Hogan Director of Operational L&D, UK region, reveals how they transformed their strategy while thinking human and what plans they are making for the future.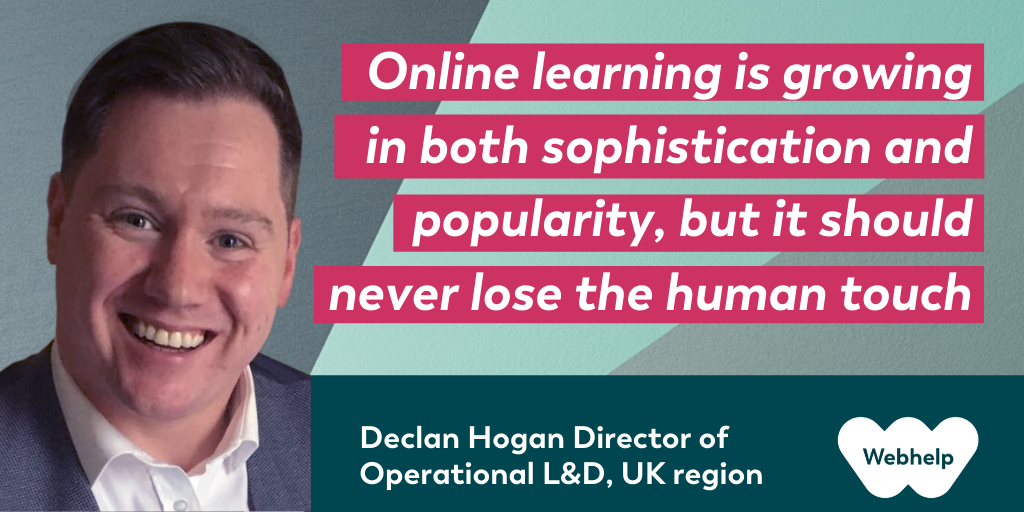 In March 2020, upon observing the initial impact of COVID, our team faced an unprecedented demand; to deliver an overarching vision of safe, accessible, viable training – available at speed and at scale.
As a people-first business, colleague well-being was a driving principle, and as pre-COVID, virtual training made up no more than 5% of delivery, we knew that we had to rapidly increase our online service to both protect and inform our employees.
This was to be no small task, as the team operates across 25 sites covering 3 major geographic regions; the UK, South Africa and India. We deliver L&D to 11,000 people across 32 different client campaigns, encompassing a diverse range of cultures, sectors, scales and approaches. We focus on our 9000 frontline advisors, via a fraternity of circa 100 trainers, facilitators, L&D consultants and development specialists.
The Webhelp vision is to 'make business more human', so we knew we had to swiftly implement a comprehensive change of direction in strategy and delivery, in a relevant, but above all 'human' and accessible way.
We needed a reframed game-plan to meet the considerable demand of the many more employees working from home. With intelligent work force management, access to a daily War Room (to engage, inform and learn from senior leaders) and a freshly developed playbook, using an agile 5DI mythology, we understood the differing circumstances of our colleagues and designed tailored virtual sessions and digital learning spaces to meet their needs.
In just 14 days we achieved:
100% online learning delivery for over 8,000 people working from home
Over 50 Webhelp trainers upskilled into a virtual environment
85 core digital learning modules and 25 Digital Compliance Courses ready to deploy
And, our people responded with employee satisfaction scores of around 90%. During the COVID crisis we welcomed 5 new partners in retail, tele-co and key services and our learning team have been consistently central to speed and success.
Our programs and modules broke down existing physical training into short impactful interventions, supported with self-directed guides, an information portal, webinars and video and focused on key themes of communication and well-being and resilience
We used creative design solutions like gamification and split screen technology to engage, test, recognise and reward. Plus, we developed a virtual 'hot seat' environment and a soft go live to ease 'call shock' for new advisors. And, it was also crucial to invest time to skill the front-line trainers to deliver virtually. We made this real-world with a psychological contract between facilitator and learner that this is not training 'as usual': signal will drop, kids will interrupt, pets will make noise etc.
Alongside all of this, a constant dialogue was maintained with each client, keeping them at the heart of all activity, strong relationships based on trust and transparency were built, each playing a part in the decision-making process. You can read more about our partnership strategy in this interview with Yodel. who share their high level of satisfaction with our approach during COVID-19.
So, by necessity, but with insight, the 'classroom only' model rapidly evolved and 100% online delivery became standardised and transferable across all of our regions. Although our entire L&D catalogue can now be delivered online, a decision tree process is in place to establish if training should be virtual, blended or face to face.
Looking to the future
Reacting to the COVID crisis gave the world an unmistakable virtual capability call to action, however, our team were ahead of the game with an established L&D strategy for 2020 which had already initiated the clear and strategic goal of increasing the self-learning/digital proposition to enable learning anywhere.
Whilst the crisis has given us the stimulus to test, learn and roll out a virtual model, the focus has now began to shift to blended learning – drawing the best from both virtual and face to face approaches.
As part of our half yearly reflections, each training manager is presenting (via case studies) successes and suggestions on how to improve our new methodologies.
Online learning is growing in both sophistication and popularity, but it should never lose the human touch – as FutureLearn CEO Simon Nelson, who previously led the BBC's transition from analogue to digital, remarks:
"The integration of digital technology into education has had a profound impact, opening up distribution globally and allowing flexible, on-demand, around-the-clock services for learners. It also connects us to vast stores of information.
However, skills like emotional intelligence, creativity, resilience, conflict resolution, or leadership will never go out of fashion. As technology continues to redefine the world of work, the traits that make us human will remain as important as ever"
Source: Britishcouncil.org
Webhelp is an intrinsically human company – a global melting pot of passionate individuals who actively want to change the game, to really make a difference in the lives of the people and business they work with.  I am incredibly proud of the agility and creativity of my team and how they remained focused and supportive during difficult times.
Our vision and culture will act as a compass to guide the next generation of people-centric learning, and we will keep challenging the status-quo to be the forefront of new thinking, now and in the future.