If ever any sector has demonstrated a determination to survive and thrive through adversity, it's fashion.
COVID-19 has hit the $2.5 trillion fashion industry hard – forcing the closure of stores across the globe and hitting revenue by around 30% year-on-year in 2020.
The pandemic also triggered a rapid and urgent acceleration of e-commerce, omnichannel selling, and digitization, with omnichannel shoppers spending at least 34% more than their offline counterparts, according to The State of Fashion 2020 by McKinsey.
Meanwhile, the B2B fashion sector – including wholesalers, resellers, and e-shops – has also gained a renewed criticality: the opportunity to sell hundreds of thousands of items in bulk and keep inventory (AKA cash) moving has never been more vital.
In total, 82% of businesses fail because of poor management of cash flow. So, for all the consumer-facing tech in the world, getting paid on time by using the correct business processes and human interactions remains the best way to ensure cash flow and financial stability in the long term.
The fashion brands that will excel tend to see COVID-19 as a catalyst to manage risk – ramping up resilience planning and reviewing and adapting payment strategies ahead of new restrictions and consumer shifts.
But many executives tell us they are exhausted after an unforgiving year. They recognize that now is the time to focus on their core business – adding value and supporting competitive advantage.
Our team of 3,000 professionals speaks 25 languages and serves 50 of the world's leading fashion brands operating in 35 countries. This includes providing outsourced credit management services for the wholesale channel from our regional hubs.
By removing these immediate pressures quickly, brands can achieve a rapid return on investment. This combination of human expertise and technology is key to success.
In our experience there are three keyways for fashion firms to balance their positioning, profitability, and cash flow managing their wholesale channel:
1) Build secure relationships using data – At a time of unprecedented risk of collapses within wholesale and retail, mid-tier firms must use data to drive robust decision-making on risk management, pricing, and payment strategy.
Many brands currently use a mix of credit insurance, external financial scoring, and access to their data to underpin strategies. But many of these methods are no longer sufficient or fit for purpose, at a time when guarantee coverage is low and trading conditions can change almost by the hour.
We manage relationships with 35,000 points of sale worldwide to collect live data from across the fashion industry, analyze the numbers, and report back anonymized data to clients every day to inform their decision-making. We collate these insights about potential risks into our screening processes, analyze client's retail portfolios, make real-time recommendations (payment methods, payment terms, etc.) to enable everyone to make quick and robust decisions to develop safe business practice.
This enables brands to gain much better visibility and insight to protect themselves proactively from potential payment issues which may arise in the future.
There is no way to completely remove risk from any business, but prevention is better than cure, and the more insight you have about buyers, the better you can protect and adapt your business.
2) Support Global Growth – The wholesale fashion industry has shifted from 5% online to 30% online. As such, brands are managing an increasing number of sales channels, including multi-brand and department stores, resellers, and e-shops.
This rapid change is compounded by an increase in the level of complexity faced by fashion businesses when developing their buyer network across multiple regions and channels – all with different laws, rules, systems, languages, processes, and payment terms. Without care and engaging with numerous industry stakeholders, it's easy to be caught out – for example, making mistakes on declarations, invoices, or process implementations, which your client would recharge to you.
To get this right, you either need to create your multinational multi-skilled team or tap into an existing network of professionals who understand and advise on navigating regional customs, payment methods, specific channel processes, and interdependencies within a fragmented and complex landscape of countries and clients' specificities. Experts can also help you to implement new systems and procedures covering all new and existing trading areas.
3) Negotiate payment terms – It has perhaps never been so attractive for brands to optimize trade with wholesale buyers – selling hundreds of thousands of pieces in a single transaction.
But like D2C, the B2B fashion industry is also facing new risks.
First, there is a financial squeeze, as retailers who urgently need to add a mark-up and ensure profits urge wholesalers to seek discounts.
Then there's an increased credit risk. Before the pandemic, the majority of fashion brands relied upon credit insurance to protect their stock and profits, knowing that insurers would indemnify them in case of clients' payments default. But since COVID-19, insurers have dropped the level of coverage by around a third – putting much more orders at risk.
Without careful management, this combination of discounts, together with significant falls in consumer spending on apparel and reduced cover, could result in massive inventory build-ups.
Fortunately, it has been recognized that 'one issue affects all' – in an industry as interconnected as fashion, and stakeholders have worked collaboratively to implement a pragmatic response.
Many key resellers and wholesalers have increased payment terms from 30-60 days, which mid-tier fashion brands have widely accepted. Meanwhile, the bounce rate on payments has remained relatively steady at around 1%, despite all the challenges.
It is vital that fashion brands recognize this measured approach in any discussions with B2B buyers and negotiate terms in a way that offers a win-win on financial security for buyer and supplier.
We worked on behalf of a global US luxury fashion brand to manage relationships with 1,500 of its wholesale clients, and implement new payment systems.
As a result, the brand increased sales by over 5,000% over 12 years.
It has also ensured that the brand stays ahead of the curve with its omnichannel strategy and digital transformation.
We recommend engaging a team of professionals focused on providing end-to-end credit management services, from order to cash, to support your domestic and international markets. This includes matching your sales and finance strategies, automating financial processes whenever possible, transforming fixed costs into variable costs, negotiating payment terms, brokering the best credit insurance, and collecting receivables as quickly as possible to ensure cash flow.
This combination of people, processes, and tools will enable you to remove a significant amount of hassle, set the right levels of risk to boost a sustainable business, and secure your sales using best practices in credit management.
Looking ahead
The fashion industry went through a 'perfect storm' of challenges in 2020. But the hard truth is that 2021 is set to be just as tricky, with a likely global recession and the continued fallout from COVID-19.
Brands that balance their positioning, profitability, and cash flow will be best placed to realize the potential of brighter days ahead.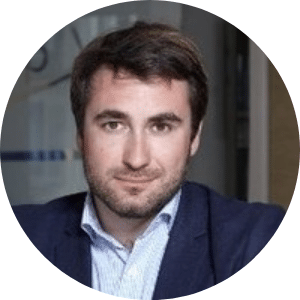 President & Chief Executive Officer
Webhelp Payment Services
Global Fashion Sector Lead
Talk to us today
---