The UK's National Health Service (NHS) is at a "breaking point" with staff shortages and hospitals full to capacity, forcing doctors to cut corners and leave patients out in the cold.   
Freeing up capacity is critical in this time of need. One way to achieve this would be ensuring patients follow their prescribed treatments; this area alone would result in a staggering ripple effect on costs.  
While current UK studies are fairly limited, the cost of non-adherence has previously been estimated to exceed £930 million per year across five diseases: asthma (£130 million), type 2 diabetes (£100 million), high-cholesterol/coronary heart disease (£120 million), hypertension (£390 million), and schizophrenia (£190 million). By improving adherence across these five areas, the NHS would save £500 million per annum, which could be reinvested into improving patient care. If we look more broadly across the whole of Europe, more recent studies have shown that €125 billion is lost each year due to non-adherence to medication, a sizeable amount of which will be from the UK. 
Another significant issue is the sub-optimal management of beds, staff, and equipment, leading to delays and increased costs. Whilst a lack of coordination and communication between different parts of the healthcare system often leads to duplicated efforts and wasted resources.  
Frustratingly, the solutions to these challenges already exist, but adoption rates are still slow within the NHS. This article will explore these opportunities and explain how the NHS could reduce waste and improve capacity through better communication, technology, effective resource management, and augmented human-to-human support.  
Personalisation and emotional support

Personalised online support is the first step to eliminating these challenges. By providing patients with access to reliable, and accurate health information through online portals or mobile apps, they can better manage their health, and the NHS can reduce unnecessary hospital visits.  
The same level of personalisation should be applied to NHS helplines and chat channels when answering questions and providing emotional support to patients. Proactive emotional support improves patient well-being and reduces feelings of stress, anxiety, and depression, making patients more likely to comply with their treatment plan and take their medication as prescribed. Additionally, by actively listening to patients about their conditions and treatment, healthcare providers can more easily identify and address any concerns or barriers causing non-adherence.  
Moreover, the NHS has a responsibility to help patients better understand their conditions and treatment plans. If patients were more informed and knew why and how they should take their prescribed treatments, it would significantly impact waste elimination and capacity release within the NHS.  
Technology use cases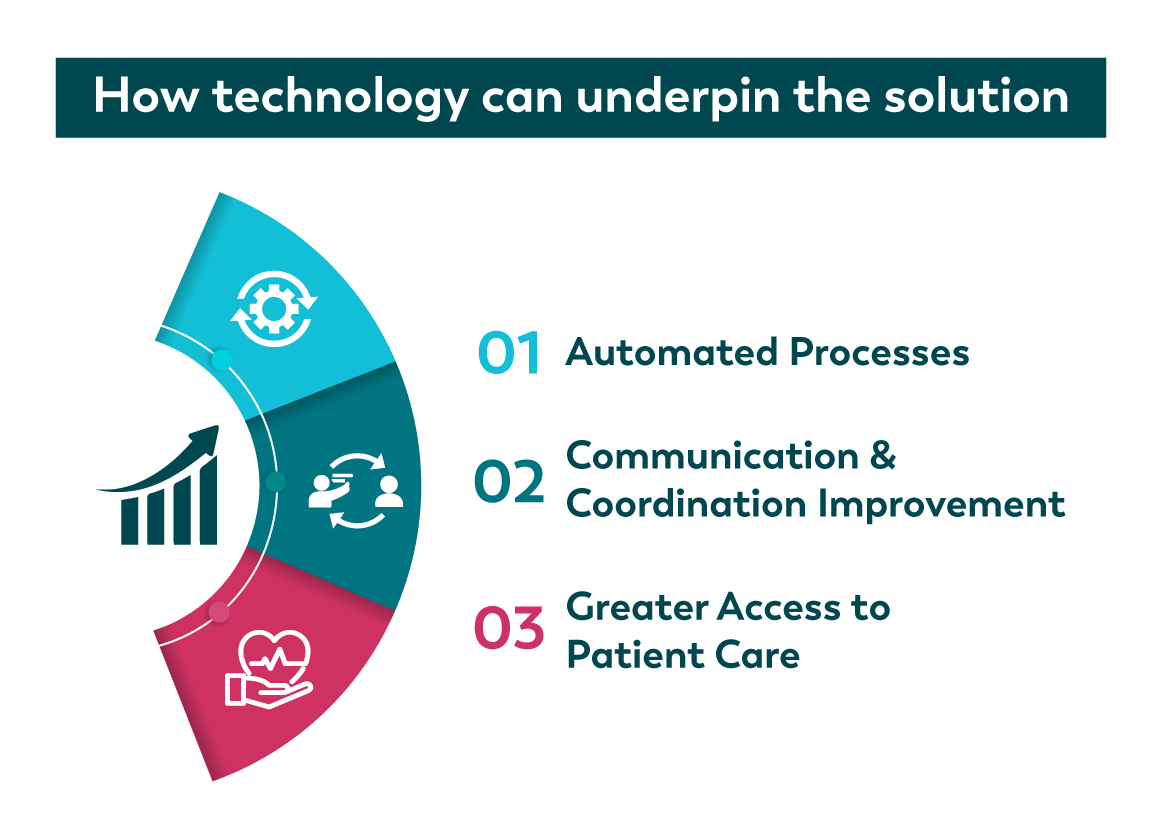 Technology plays a critical role in the overall solution by automating processes, improving communication and coordination, and providing patients with greater access to care. 
One example is an automated patient triage system within hospitals and health centres. By installing iPads or tablets in reception, patients can be triaged quicker, check in for their appointments, book new appointments, and find specialists in other departments. Installing them with eConsult would be a quick win.  
Other solutions, like accuRx can enable new communication channels between nurses, clinicians, and patients, such as secure text messaging that enables health professionals to share high-resolution pictures relevant to diagnostics.  
Data analytics and machine learning algorithms could help identify and address disorganisation throughout the NHS, such as inefficient patterns in patient flow and poor resource management.  
In recent years, there has been a rise in solutions that enable patients to run health tests and monitor their medical conditions from the comfort of their homes. This trend has been driven by advances in technology and the desire to provide more patient-centric care. One such solution is remote urine testing, which can be used to detect early signs of kidney disease. Providers like Healthy.io offer easy-to-use kits that allow patients to perform these tests at home and then share the results with their healthcare provider. 
In addition to remote testing, there are also monitoring devices and RPM (remote patient monitoring) apps that allow healthcare providers to keep a close eye on patients' conditions at home. Companies like Huma provide the technology to help create these virtual wards which not only improve the patient experience but also frees up hospital beds and resources for those who need them most. 
Moreover, web-based gamification solutions like those offered by Cognitant can help to engage patients in their care and provide them with the information they need to manage their conditions effectively. These patient support portals can also offer personalized educational content and connect patients with other resources in their community. 
Finally, there are also now powerful tools that can help the NHS monitor the conditions of cancer patients at home between chemotherapies. These tools can alert healthcare providers to any concerning symptoms and enable them to intervene early if necessary, improving outcomes and reducing the need for hospitalization.
Overall, the availability of home monitoring solutions is transforming the way healthcare is delivered and empowering patients to take a more active role in their care. These web-based solutions can collect real-world patient data remotely, connect patients and clinical teams, enable greater access to care from any location, and improve efficiency for clinicians. 
Scaling to reap the benefits
One of the main factors holding back the NHS from adopting these innovations is that they involve transformation that disrupts the status quo—as such, scaling up digital solutions requires comprehensive support, especially if they redesign patient pathways and clinical operations. 
At the onset, it's essential to identify where the solution is most suitable to launch and motivate adoption. During the early stages of adoption, gathering unbiased feedback through surveys is crucial to understanding the user experience and making necessary improvements to ensure user-friendliness at later stages. Additionally, clinical teams and patients require one-on-one guidance on using the new technology, as they may have questions about usage, benefits, or even log complaints that require prompt and professional handling. 
To be successful, the NHS must closely monitor technology and apps that enable remote patient support, home testing, or patient home monitoring to avoid escalating false alerts to clinical teams, which can consume valuable time. 
Partnering for change
The NHS is at a crossroads, with the need to adopt digital solutions that can streamline processes and improve patient outcomes. This transformation requires comprehensive support and collaboration from various partners specialising in digital empowerment, patient support and customer experience management. 
At Webhelp, we can provide the expertise and resources needed to navigate this complex landscape and ensure smooth, successful digital solutions and effective scaling. From identifying the most suitable launch points to providing one-on-one guidance for clinical teams and patients, we're equipped to help the NHS overcome the challenges and reap the benefits of digital transformation. 
The solutions to many of the challenges in the NHS are already available.  What is missing is the comprehensive wrap around service – combined with a capacity release and waste elimination strategy – in order to keep critical NHS services functioning.