This year marks the 12th anniversary of the Webhelp UK Star Awards which were held at Cameron House on Loch Lomond. With nominations driven by employees from across its business, all 6,000 UK-based employees are encouraged to nominate local stars at a team and individual level.
Designed to recognise and reward excellence, the Star Awards are linked to the Webhelp company values and pillars of recognition, integrity, unity, commitment and 'wow'. With monthly, quarterly and annual awards categories, quarterly winners are then shortlisted to win an annual award with finalists chosen by a judging panel comprising of the Webhelp UK Board.
David Turner, CEO of the Webhelp UK Region, said of this year's event:
"After two years of hosting the Star Awards virtually, I'm pleased we could come together in person again to recognise the tremendous talents and achievements of the people across our business. The evening also allowed the Webhelp family to pay our respects to Her Late Majesty Queen Elizabeth II as we reflected on her extraordinary life and unwavering service. I'd like to thank every one of our game-changers who took the time to recognise a colleague over the last 12 months and to all our UK Star Awards finalists and winners – congratulations again!"
Each Star Award winner picked up a trophy as well as a cash prize of £1,000.
The Webhelp UK Star Awards 2022 winners:
People First Award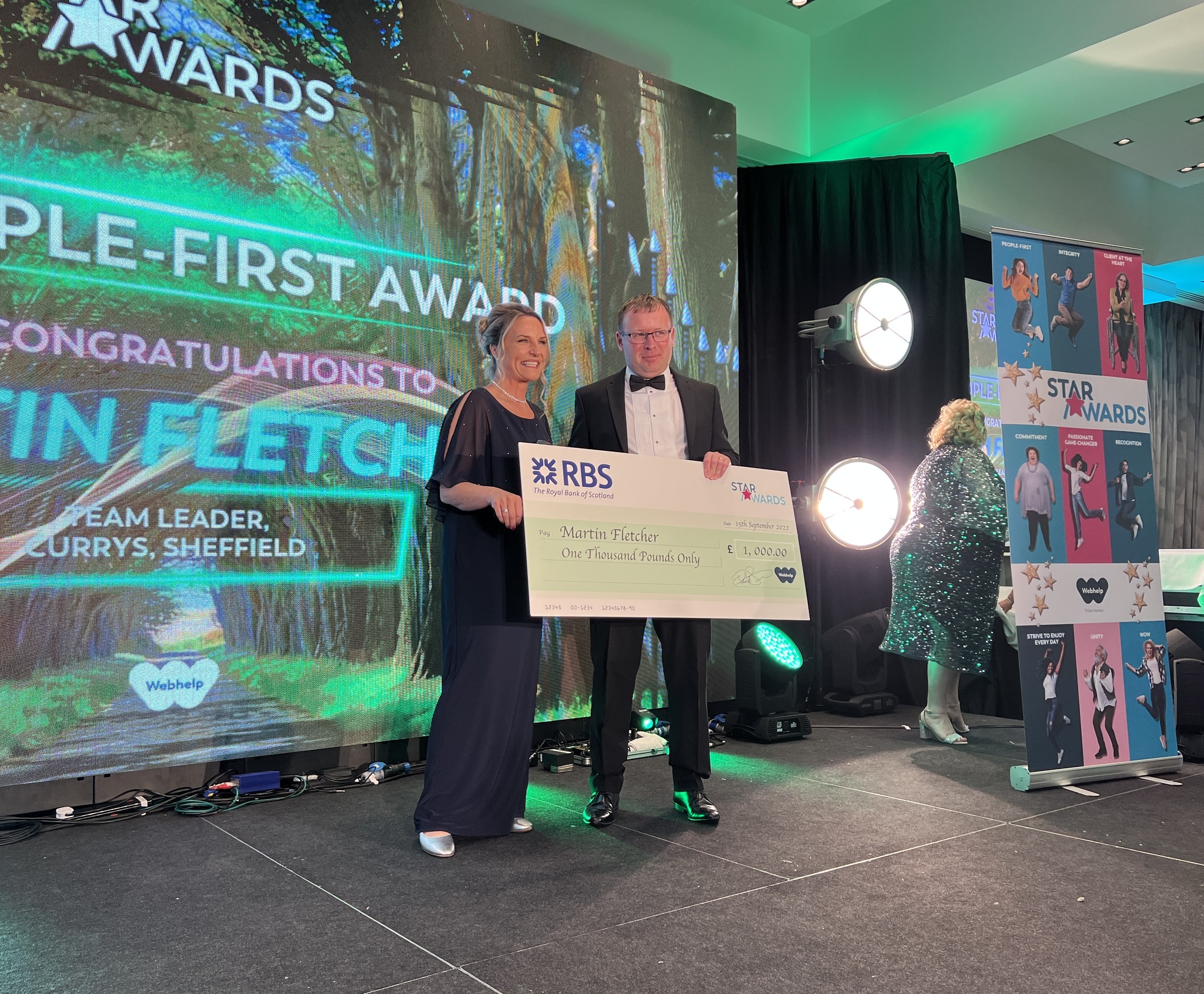 Martin Fletcher, Sheffield: Martin is a team leader in Sheffield who has been with the business for over 30 years. Valuing the happiness of his people above all else, he encourages independent thinking. Martin has built trust, instills confidence in his colleagues and is described as someone who always takes the time to listen and understand his team. In his nomination, he was referred to as "a breath of fresh air" and "a pleasure to have as a manager."
Integrity Award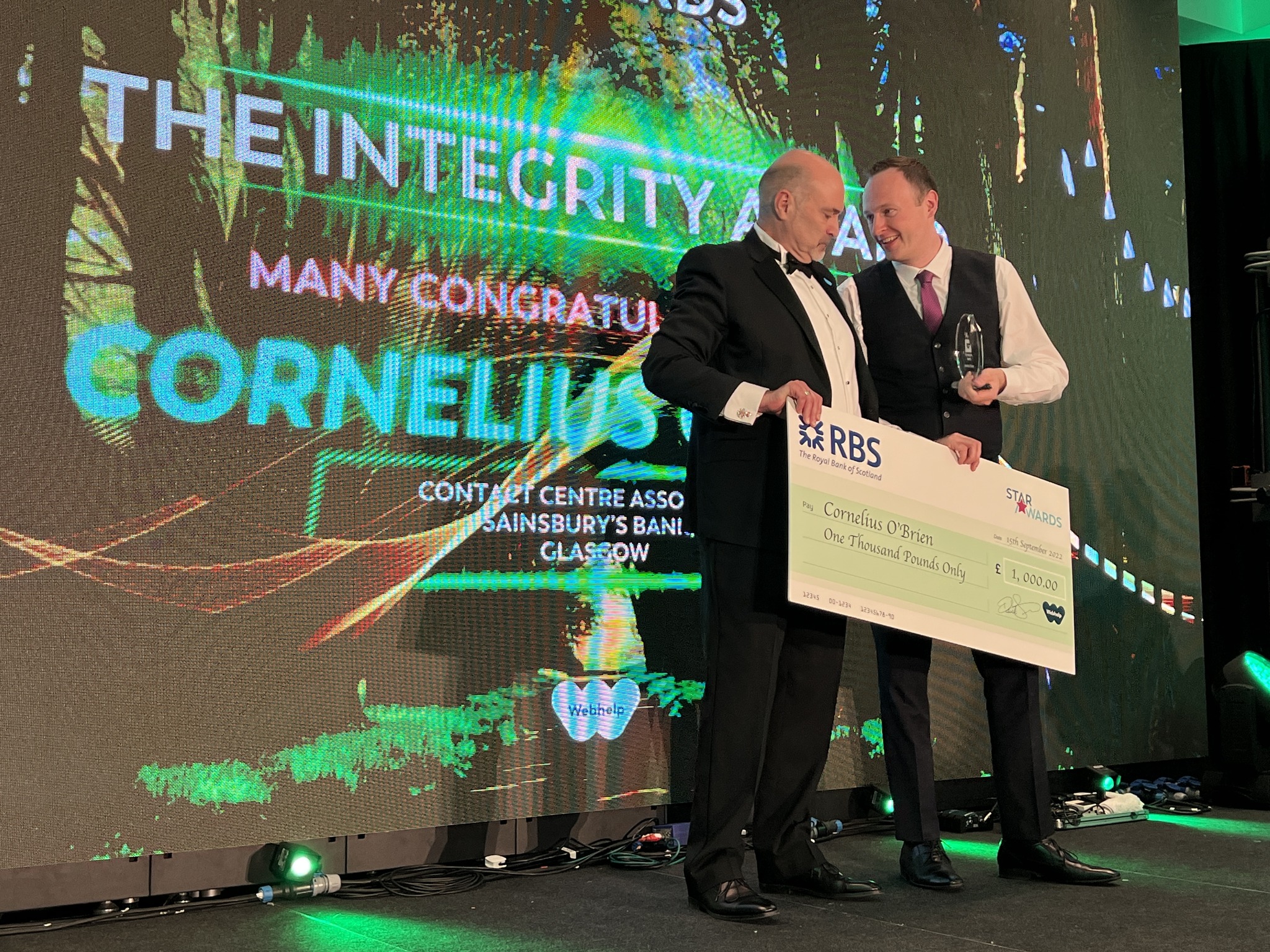 Cornelius O'Brien, Glasgow: Joining the business in 2018 as a contact centre associate, Cornelius is now a deputy team leader in Glasgow who was recognised for demonstrating sound decision-making skills and continually leading by example. Considerate of others, Cornelius was described as someone who always does the right thing, even when that may not be the easiest option, and also as an invaluable team member who always strives to do the best he can for customers and his team while supporting everyone with patience and humour.
Client at the Heart Award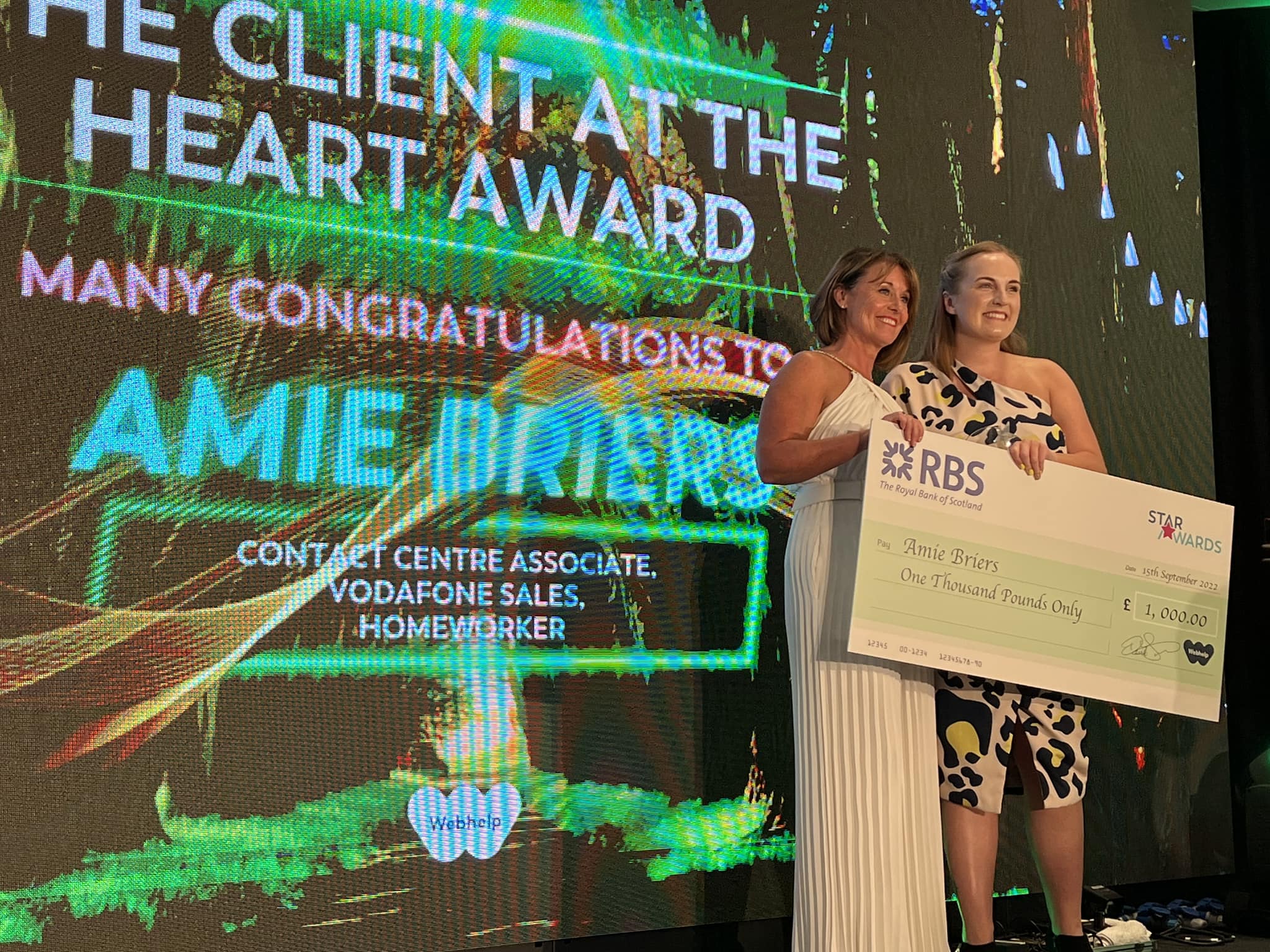 Amie Briers, homeworker: Amie is a contact centre associate who has been with Webhelp for 20 months. Recognised for continually putting clients' needs at the centre of her approach, she works with a sense of shared purpose and adapts to the needs and requirements of the client to continually deliver a positive customer experience. In the short space of time Amie has been with Webhelp, two customers have reached out to express a formal thank you via the CEO office of our client. One of those customers commented: "I work in a customer services environment myself and I would employ this person in a heartbeat based on today's interaction."
Commitment Award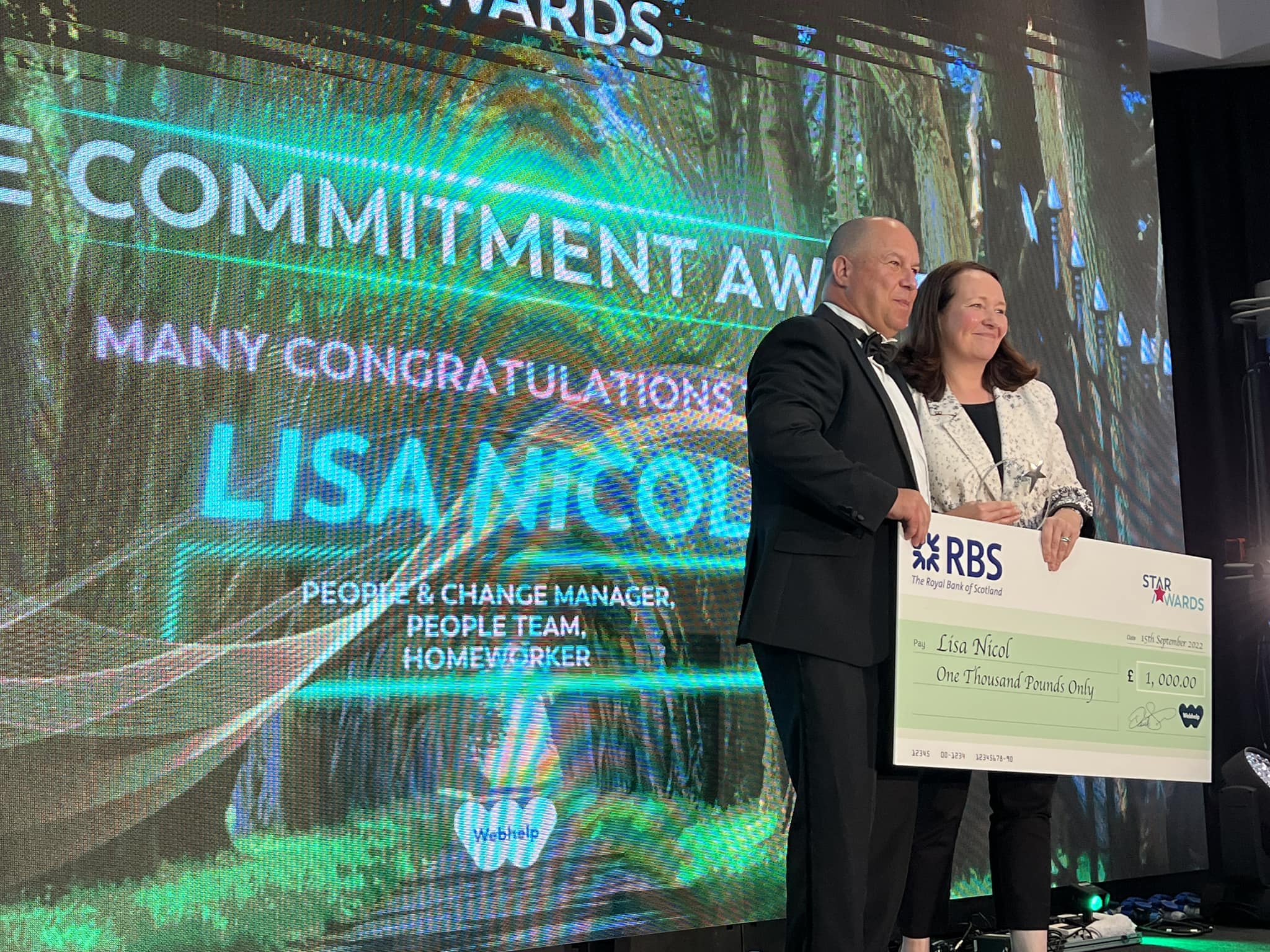 Lisa Nicol, homeworker: Lisa is a people and change manager who shows resilience and has a real determination to overcome any obstacle placed in their way. Lisa strives on taking on responsibility and accountability and can always be relied upon.
Passionate Game-Changer Award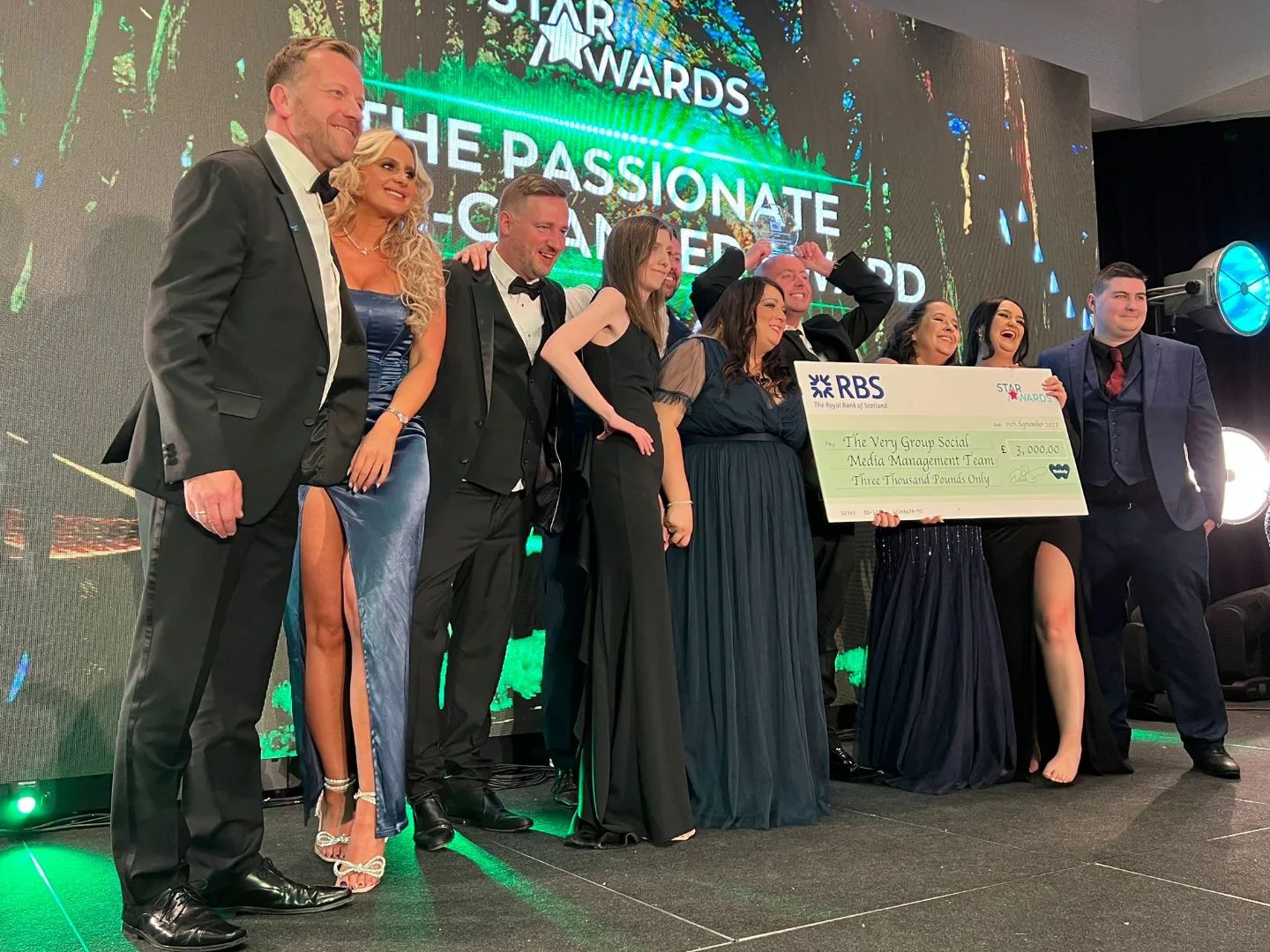 The Very Group social media management team, Glasgow: The Very Group social media management team is a group of colleagues always looking for opportunities to innovate, re-engineer and improve. Whether it's creatively solving problems or leading on initiatives, above all, they look for opportunities to change things for the better. Described as efficient, customer-focused and driven, they work hard to ensure they have a clear understanding of their partner's goals and challenges, looking for innovative ways of delivering these daily without missing a beat.
Recognition Award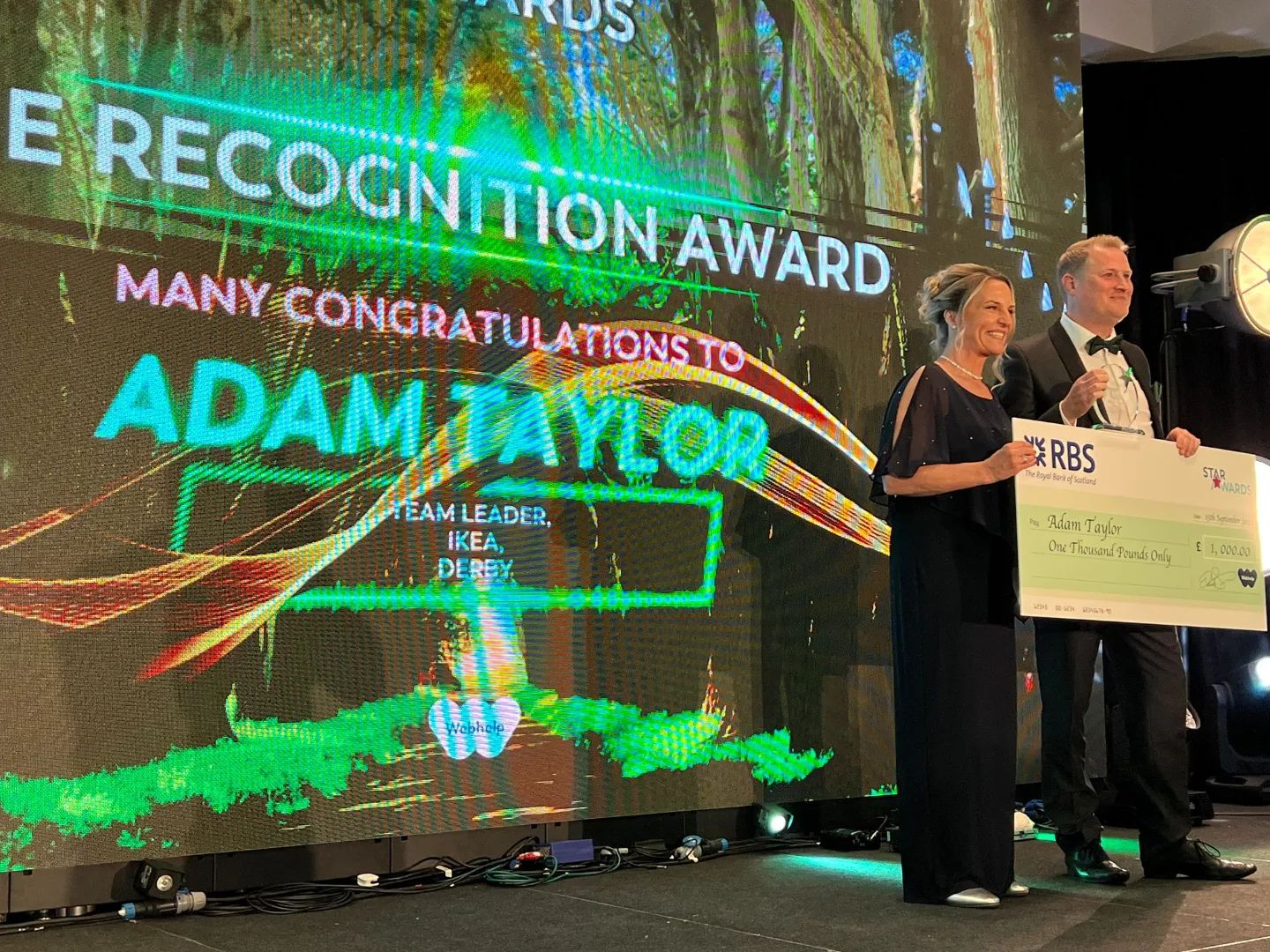 Adam Taylor, Derby: Adam joined Webhelp in 2018 as a contact centre associate and is now a team leader. Recognised for creating an environment where the coaching, development and mentoring of others are embraced, Adam always acknowledges the contribution and effort of those around him. Described as welcoming and caring by new starters joining his campaign, Adam goes out of his way to coach and nurture, ensuring his team feels supported, valued and recognised for their success.
Strive to Enjoy Every Day Award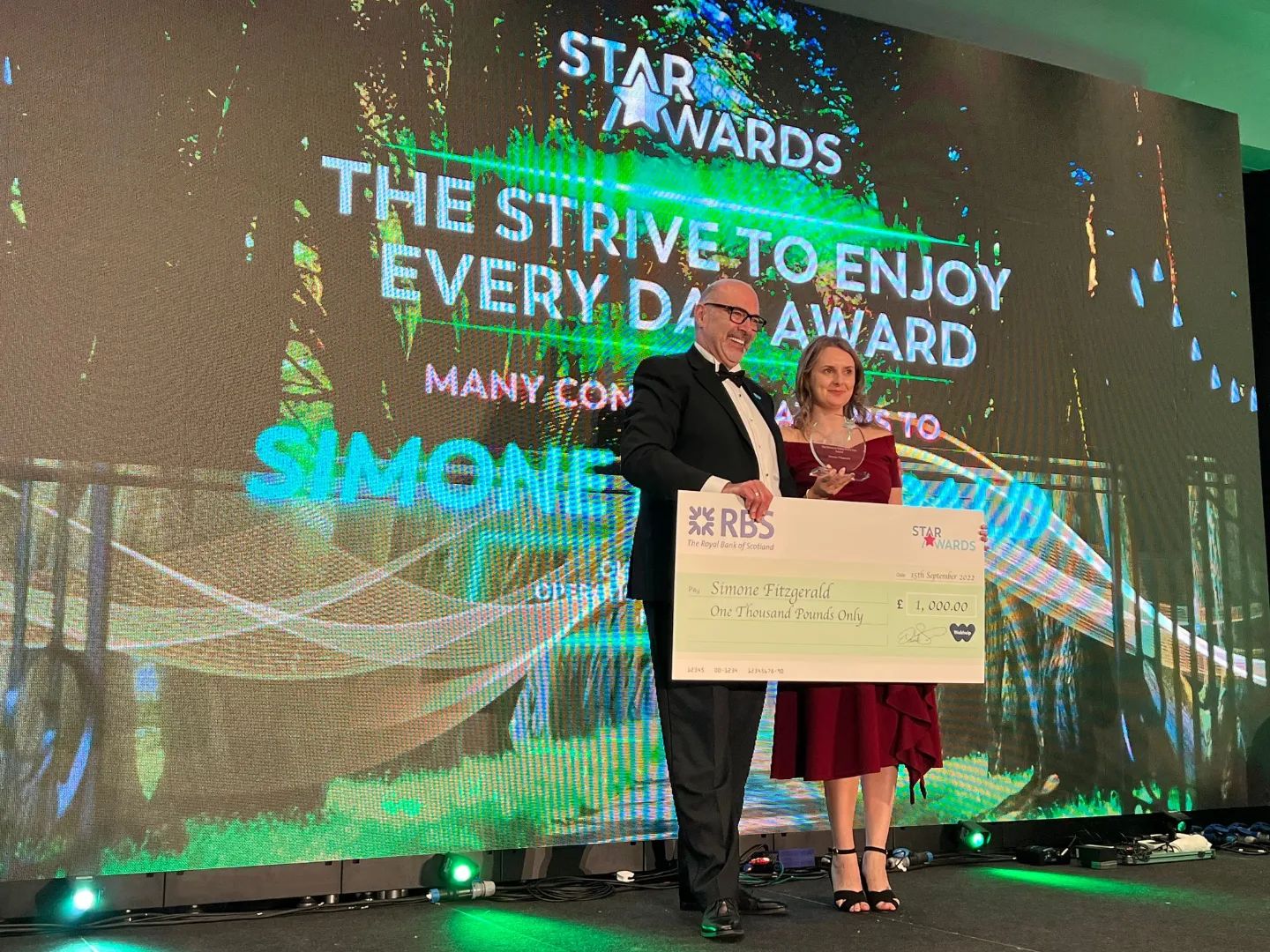 Simone Fitzgerald, homeworker: Simone has been with Webhelp for 10 years, progressing through various roles before moving into a quality coach role earlier this year. Demonstrating fun and positive energy that lifts the spirits of others, Simone is resilient, determined and sees the development opportunity in any scenario. Simone was recognised for her consistent effort and hard work, upbeat, joyful and positive outlook and for the specific support she gave to the accreditation process for team leaders and coaches in the Webhelp India sites.
Unity Award
This year, we had three winners in this category: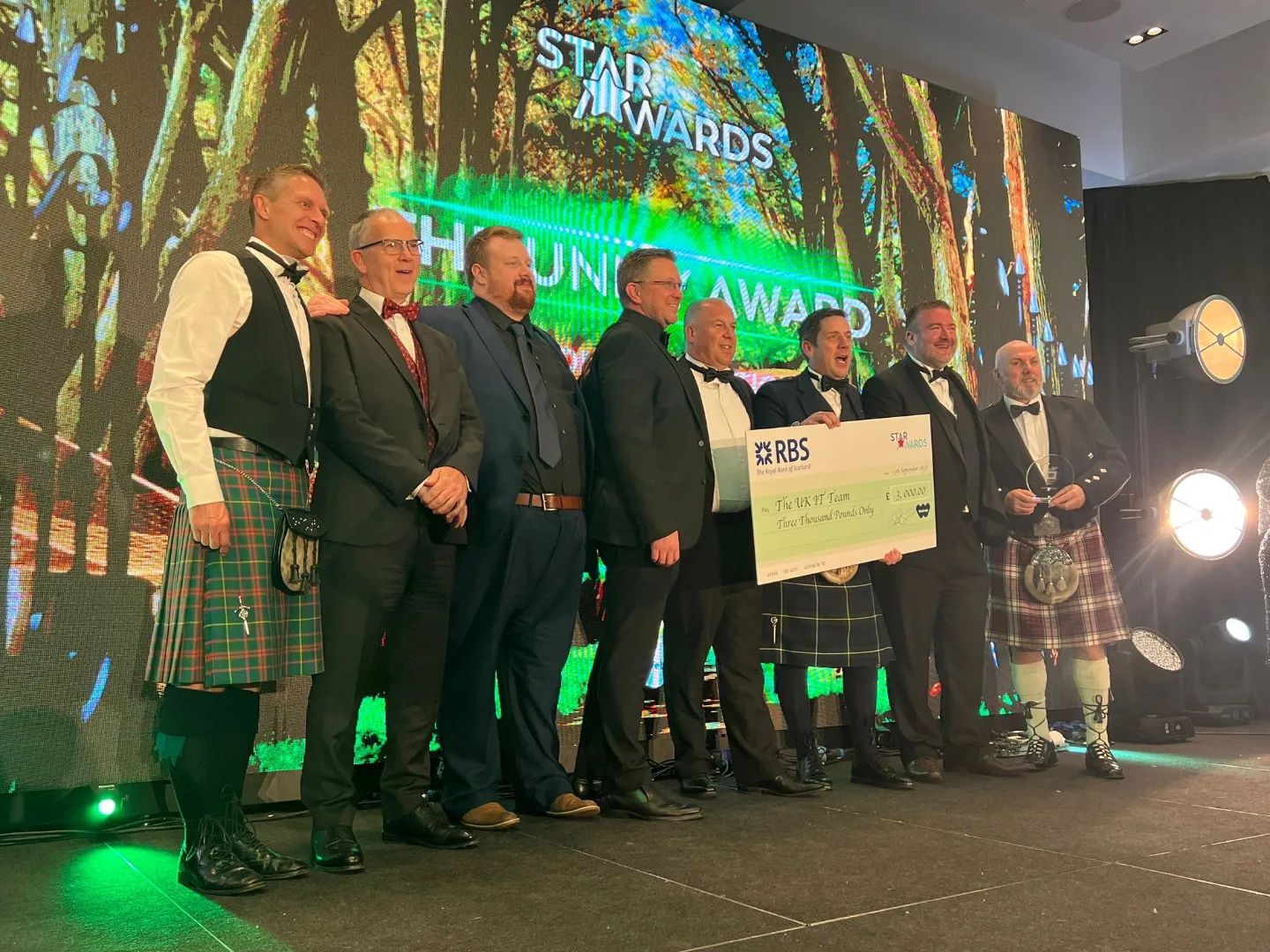 UK IT team, led by Kelvin Middleton: Working closely together to reach successful outcomes, the IT team stood out for what they'd achieved over the course of the last 12 months. Pulling together to deliver to tight timescales, they collaborated, managed obstacles and continuously supported their stakeholders to ensure the business met its goals.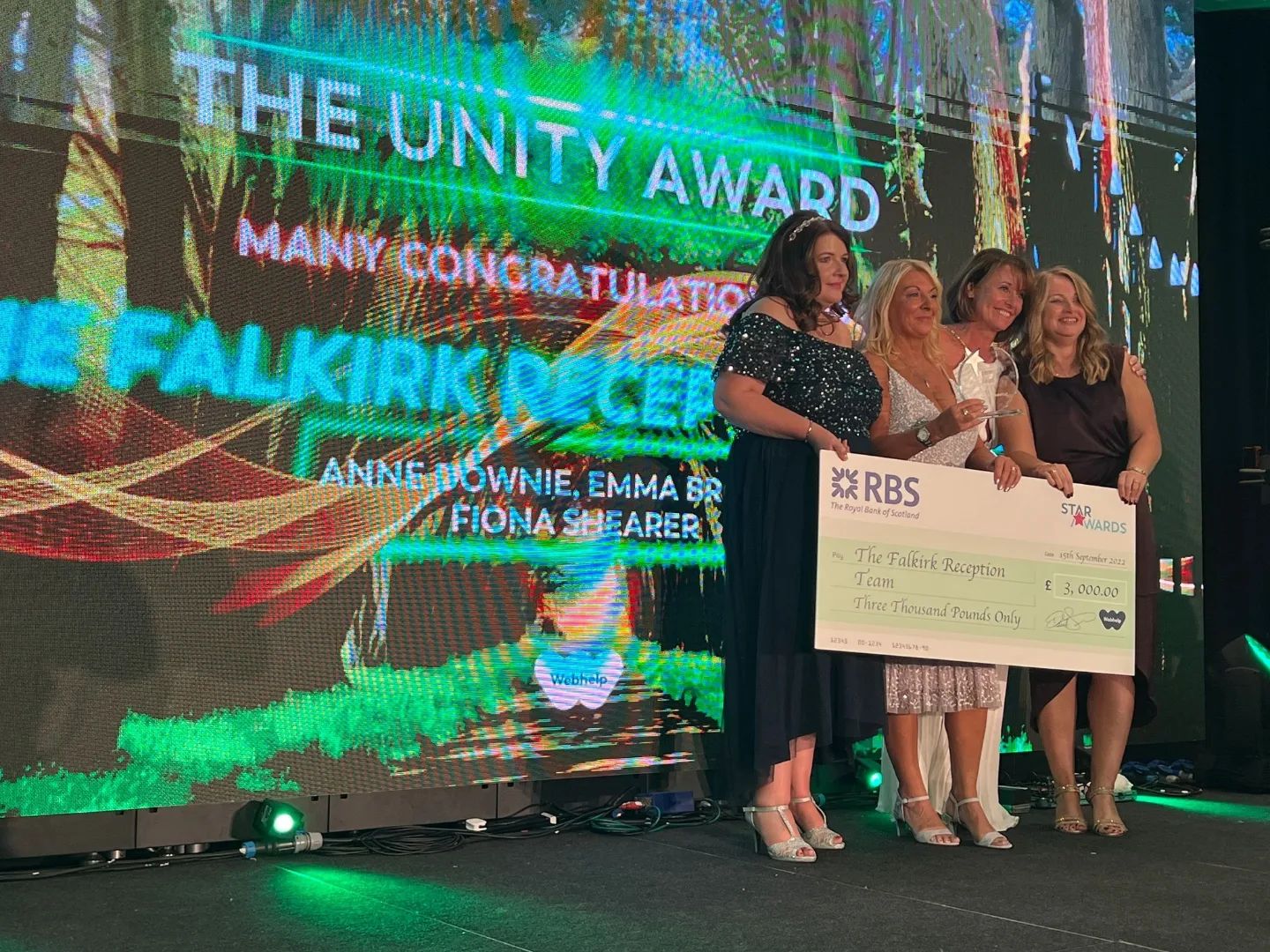 Falkirk reception team – Anne Downie, Emma Brown and Fiona Shearer: Over the course of the last year, the Falkirk reception team have operated outside of their comfort zone by taking on new tasks and responsibilities which they've done so with commitment, determination and with a smile on their faces. Providing additional support to a range of departments, they played key roles during, and post, Covid-19 with tasks such as equipment return coordination and rolling out site visit protocols and, most recently, they've supported the return-to-site of colleagues who have been working remotely for the last two years.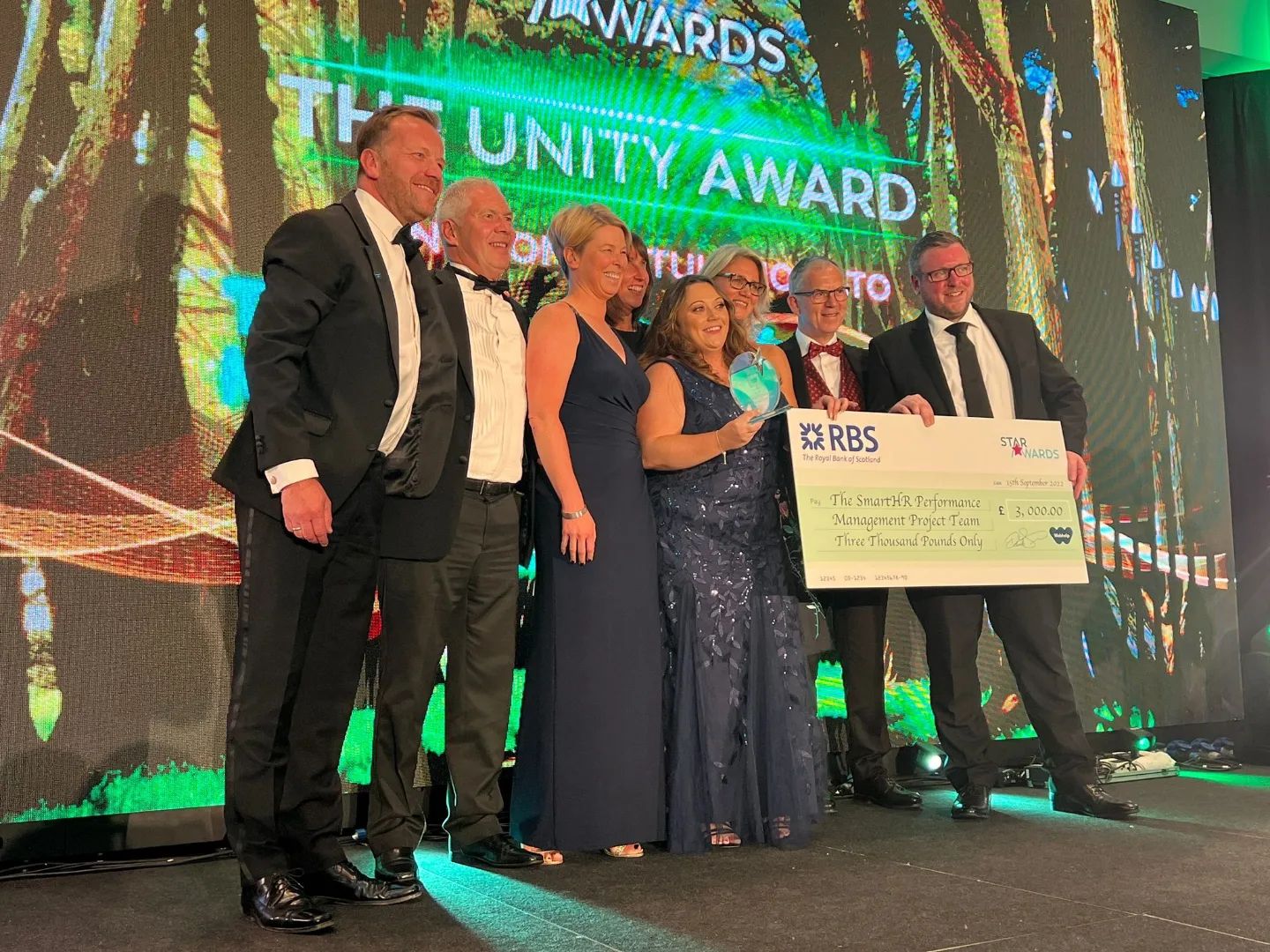 The SmartHR performance management project team – HR, IT and internal comms: This was a team that demonstrated passion, determination, a can-do attitude and, at times, their resilience levels were absolutely tested to the max. The Smart HR performance management team played a pivotal role in putting in place the technology across the UK region to enable a different type of conversation around performance management, talent and development planning.
WOW Award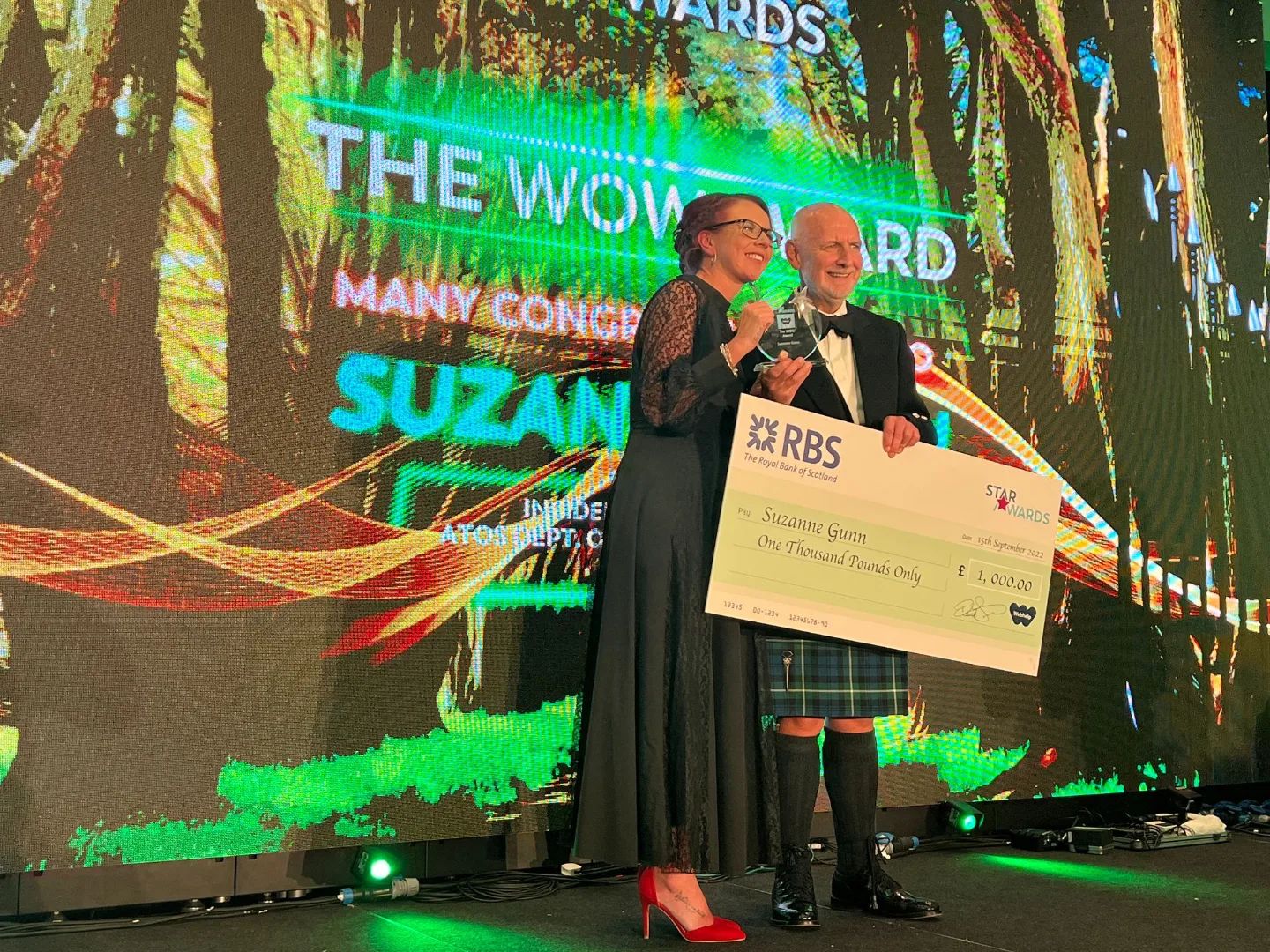 Suzanne Gunn, Livingston: Suzanne is an incident coordinator who has been with Webhelp for over 10 years. Her nomination was actually written by a client who felt the need to write and recognise one of our game-changers. What makes Webhelp special is the people and the effort, dedication and sheer hard work they put in. That is what makes Webhelp 'WOW' and Suzanne is an individual who embodies all of the Webhelp values and role models on a daily basis. Suzanne is someone who maximises customer service, displays outstanding levels of flexibility, achieves positive outcomes and is extremely focussed.
The David Turner Prize for Outstanding Leadership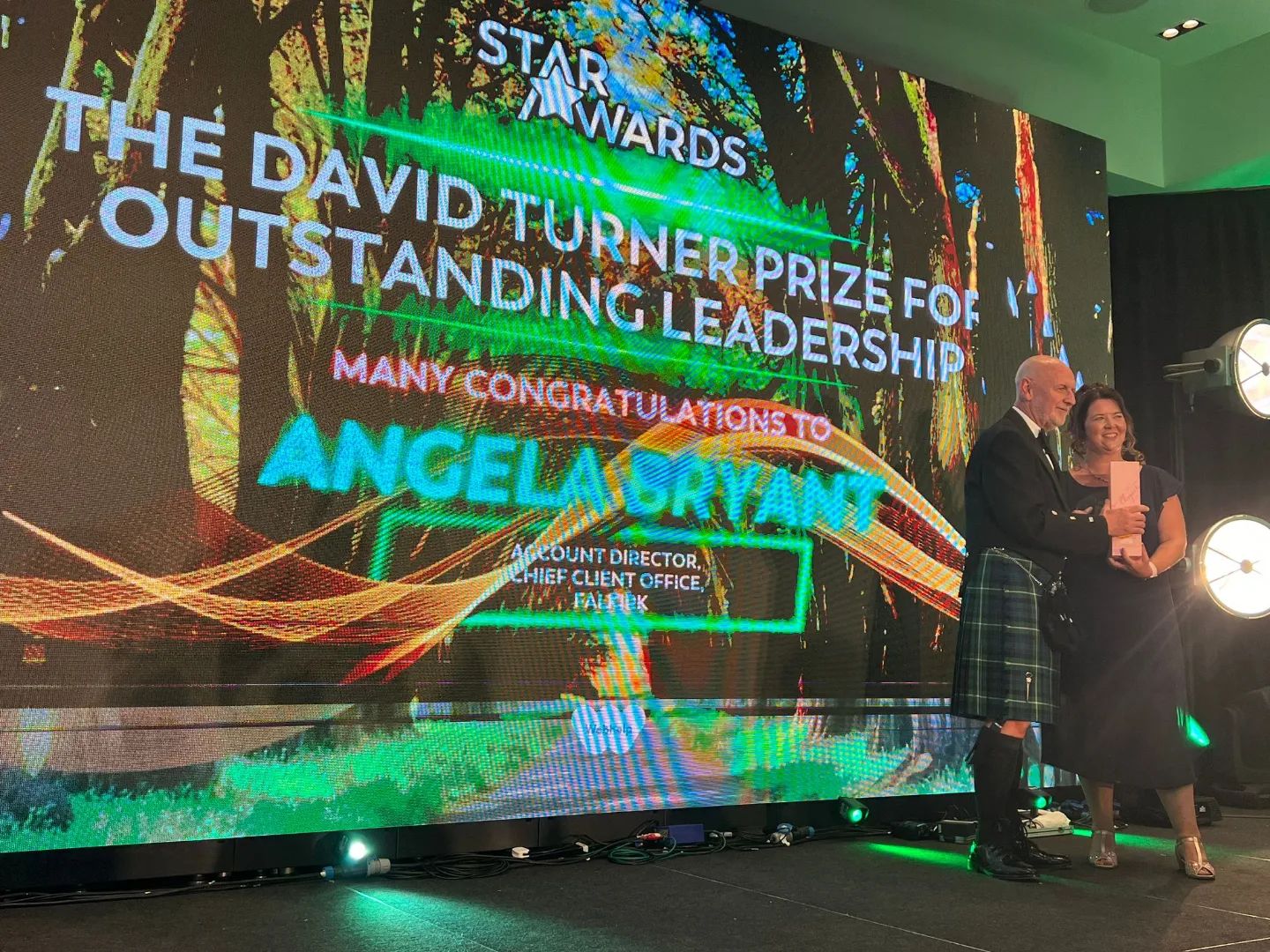 Angela Bryant, account director: Angela is someone who demonstrated outstanding leadership qualities during the course of the previous year. She is someone who inspired others to reach their goals through her empathy, humility, resilience and vision and, as the winner of this award, Webhelp UK will donate £2,000 to a cause or charity of Angela's choice as well as contribute funds to her continued learning and development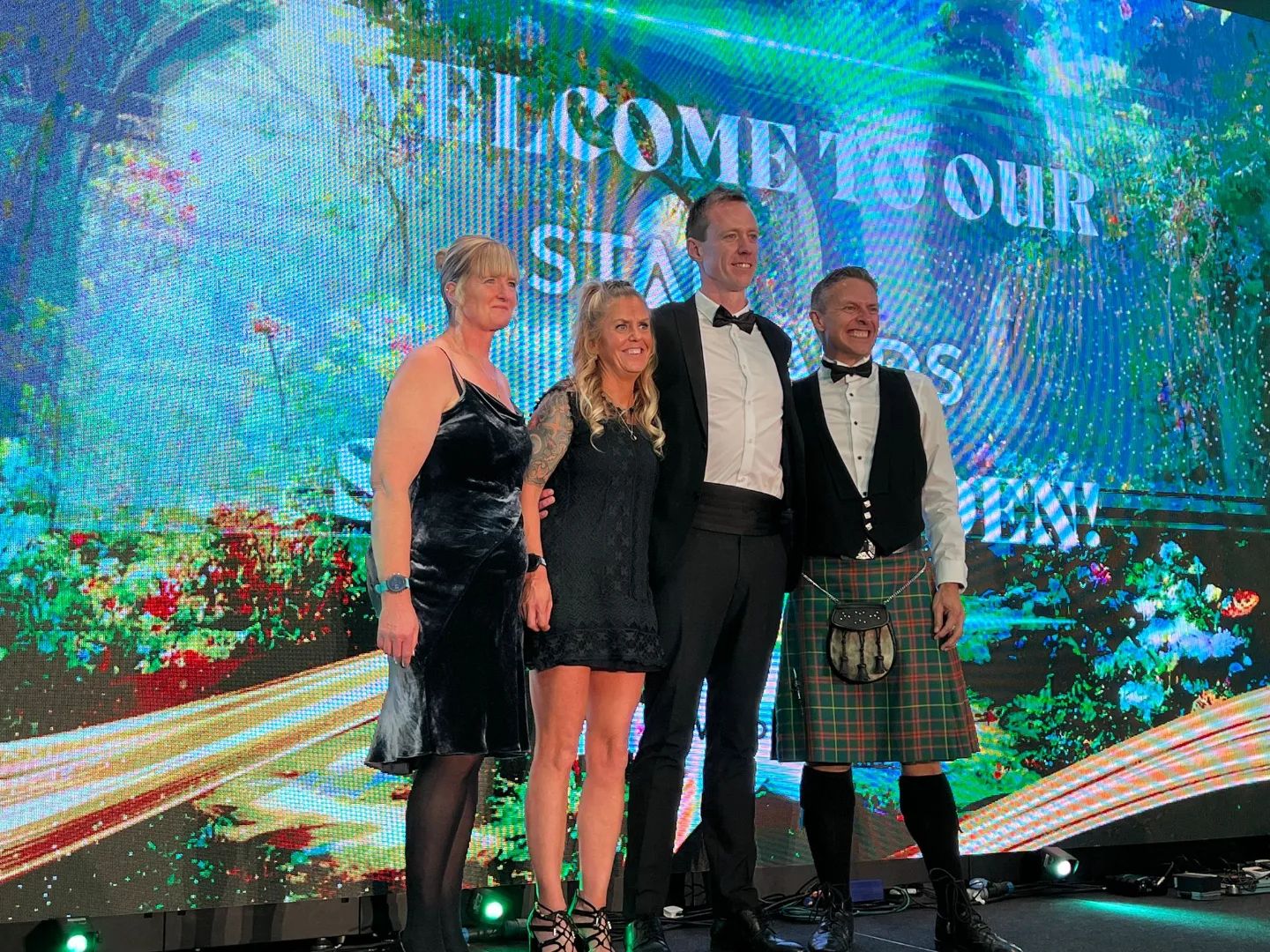 The evening also saw founders of the Webhelp UK runch club – Richard Carr, Stephen Dixon, Jacqui Shields and Debz Graham, honoured. In recognition of the incredible efforts of Debz, it was announced Webhelp UK would be donating £5,000 to her chosen charity, the Roy Castle Lung Cancer Foundation.