WebHEALTH KM Challenge has travelled beyond the Earth to raise funds for STEPtember!
Webhelp launched its biggest WebHEALTH challenge yet, reuniting thousands of Webhelpers from across the world around one common goal; travelling the circumference of the world through exercise in just 30 days.​ We've now hit the halfway mark of our time to complete the WebHEALTH KM Challenge, and have smashed our initial goals far beyond!
In just 15 days, we've not only travelled the circumference of the world, we've also gone around the moon for a total of 50.996KM!
Back on earth, some of our participants are getting very creative in adding kilometers, like our colleague Tor Andre, a customer service representative based in Malaga who took his Webhelp spirit to the next level!
Besides having fun and working on our fitness as a community, there's a bigger reason behind our dedication to this challenge.
As a company determined to make business more human, Corporate Social Responsibility is highly important to us.
For many, being able to exercise or even simply walk might be an entirely normal thing, but unfortunately, this is not the case for everyone. ​
One of the many reasons we launched this initiative is to sponsor important charities such as STEPtember, a global initiative to raise funds for critical Cerebral Palsy research.​
Cerebral Palsy is the most common motor disability in childhood that in various degrees hinders its patients' from living a normal life.
Webhelp has joined many major global and local corporations to raise funds through the STEPtember initiatives to support research that could truly change many patients' lives.​
To find out more please visit www.steptember.us.
Here is what Sandrine Asseraf, Group Managing Director, People & Business Development – Legal & Compliance and Dominique Chatelin, President of Supervisory board Webhelp Payment Services had to say about the initiative:
How does Webhelp and sponsoring charities fit together?
Sandrine Asseraf: Our Think Human approach means that we take care of our people and their health. We look after each other and also the communities we live in. Participating or funding the associations in our communities which contribute to changing the life of people, is part of our commitment to positively impact our societies. The KM Challenge is not just Webhelp supporting an amazing cause, it is each Webhelper playing their part in making business more human – inside and outside of Webhelp.
Why is it so important to participate in STEPtember?
Dominique Chatelin: WebHEALTH Kilometer challenge is a great initiative, and by combining it with STEPtember, we can raise money to finance medical research and support for kids suffering from Cerebral Palsy. This gives us the opportunity to Think Human as we walk for kids that will probably never walk. The program was born in Australia, and is now also available in France, Netherlands, Turkey and many other countries: https://www.steptember.org.au/
Are you participating in the challenge yourself and how?
Dominique Chatelin: Of course! I am running and you can support me on my page: https://www.steptember.fr/fundraisers/dominiquechatelin.
In the past, I have participated in a semi-marathon pushing a wheelchair to contribute to the same cause.
Sandrine Asseraf: I am a much slower runner than Dominique so I try to do some biking as well to put in more kilometers!
Any words of wisdom to close with?
Dominique Chatelin & Sandrine Asseraf: Having good health is an undervalued gift that we often take for granted. Until we face people that do not have the chance of this invaluable gift, running for them takes little efforts. Nonetheless, it is such a big help for these kids and adults who will never walk! Enjoy your WebHEALTH Kilometer Challenge and have fun contributing to STEPtember.
We've managed an incredible achievement in these first 2 weeks already, but now is not the time to stop! ​We are on our way around Mars as we continue to reach for the stars!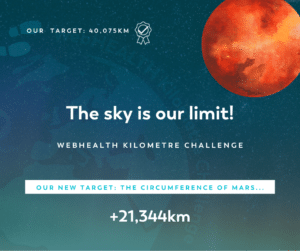 ​You can keep track of our progress in this blogspace and across our social media pages through the hashtag #WebHEALTHKilometerChallenge ​