Webhelp's training and development programmes have been recognized at this year's UK National Contact Centre Awards. Webhelp was awarded bronze for their in-depth understanding of learning management approaches and the impact they have on improving current learning.
Celebrating their 27th year in 2022, the UK National Contact Centre Awards are the longest running and amongst the most highly respected awards programme to recognize contact centre talent in the UK. Winners were announced last night at a fabulous Awards Event at the Old Billingsgate in Central London, which saw the Webhelp team presented with the Learning and Development Team of the Year award for their performance aligned learning.
Through a people-first approach to make colleagues feel valued, Webhelp's UK Region Operational Learning function operates across 20 sites and supports 16,000 game changers. Advocating that training should never be seen as a one-off but rather as an on-going cycle, the team designs and delivers learning content around knowledge, skills and attitudes whilst delivering operational excellence to a substantial client portfolio.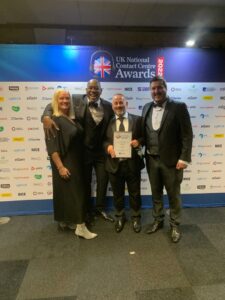 Through a range of learning styles; from self-directed, individual, group, facilitated and virtual, the business has created digital curriculums to drive a CX development journey, with David Turner, Webhelp UK Region CEO saying of the win:
"We are delighted our Learning and Development team have received this level of industry recognition. They really do bring to life the development and career opportunities available in Webhelp and are a leading influence in our people's journey. Through our centres of excellence and training community we aim to share methods, learn from each other and promote best practice.
"Over the past few years our teams have shown commitment, innovation, flexibility and resilience in what was a constantly evolving environment. Delivering a high standard of service, they never lost sight of the importance of the human touch. My thanks and congratulations goes out to them and to the Call Centre Management Association and UK National Contact Centre Awards for acknowledging their efforts."
The UK National Contact Centre Awards are organized by the Call Centre Management Association (CCMA) who are the longest established association representing the contact centre industry in the UK. Last night's win follows Webhelp picking up the Gold Award for Excellence in Skills, Learning and Development at this year's CCA Excellence Awards, and Bronze for Onboarding Programme of the Year Award at the 2022 Learning and Performance Institute Awards.