Webhelp is proud to be recognized by the International Association of Outsourcing Professionals (IAOP), the leading global association for professionals and organizations involved in advancing outsourcing as a profession, business model, and tool for growth, as a leader in the 2023 Global Outsourcing 100 list.
The 2023 Global Outsourcing 100 list showcases the best companies in each of four judging categories: Customer References, Awards & Certifications, Programs for Innovation, and Corporate Social Responsibility. This prestigious listing recognizes leaders in the field that are shaping the future of outsourcing. 
Entrants are evaluated on four distinctive areas: customer feedback and value created (Customer References), prestigious awards and certifications, creativity and innovation, and organizations that are making a difference (CSR). The Global Outsourcing 100 is based on applications received, and judging is based on a rigorous scoring methodology, including a review by an independent panel of IAOP client members with extensive experience in selecting outsourcing service providers and advisors for their organizations.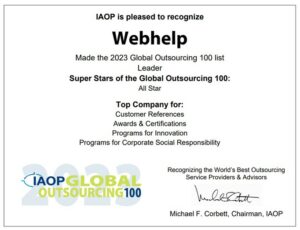 In its first ever application to the prestigious IAOP Outsourcing 100 list, Webhelp was awarded "All-Star", meaning that we have achieved a score of five or better in each of the judging categories, and received recognition in the following sub-categories: Corporate Services, Customer Relationship Management, and Sales. We also scored higher than the average on the following categories: Customer references, and Company awards and Programs for CSR, which is testament to our commitment to our clients, people, planet, progress, and philanthropy goals. 
"The companies on this list are setting the industry standard for excellence in all aspects of outsourcing services," said IAOP CEO Debi Hamill. "These companies have been carefully evaluated based on both quantitative data points as well as qualitative data points from customers and experts."