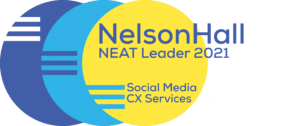 Webhelp was recognized as a leader in NelsonHall's 2021 Vendor Evaluation & Assessment Tool (NEAT) for our exceptional customer care and sales capability on social media. We were also ranked highly for our online reputation management, content moderation, and trust and safety capabilities, validating our teams' ongoing dedication to support our global partners' customers and brand reputation. 
NelsonHall recently published a social media customer experience (CX) services profile highlighting Webhelp's capabilities, specialization, and technology enablement. The profile also touches upon our people-first approach to ensuring the health and wellness of our team members.
Ivan Kotzev, lead CX analyst and author of the report, stated:
"In the breakneck dynamic of social media content moderation, Webhelp maintains a strong position with a combination of proprietary moderation and agent assistance platforms, strategic partnership, investments in employee wellbeing and resilience, and industry-specific services."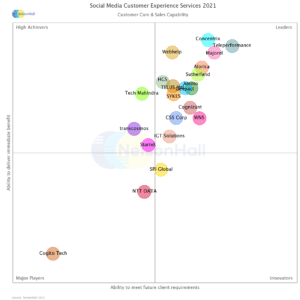 NelsonHall's custom report presents the NEAT vendor evaluation findings for social media CX services in the Customer Care & Sales Capability market segment, displaying a graph of our performance analyzing our social media CX services and the latest market trends.
Besides our solid B2B social selling capability, the profile elaborates on our social media CX consulting, design ability, mature content moderation, and trust & safety experience. This high rating in NelsonHall's assessment validates our extensive capability and growing global footprint enabling our teams to go the extra mile to deliver real value to our clients.
The report evaluated 21 leading industry players to compare and highlight their offerings, delivery capability, benefits achieved on behalf of clients, customer presence, positioning, innovation, and more.
Ivan continues in the profile, "Webhelp has a mature consulting and design practice able to analyze clients' CX demand and identify social channels' suitability within an overall CX approach."
The NelsonHall NEAT assessment defines a leader as a player who exhibits high capability than their peers while delivering benefits for clients at a developed ability to exceed client expectations.