Webhelp has been recognized for their pioneering approach in Impact Sourcing at this year's Global Sourcing Association (GSA) UK Awards. The leading customer experience and business solutions provider, who took home the top award for Social Programme of the Year, was also shortlisted for Telecommunications Project of the Year and Customer Experience provider of the year.
Now in their 19th year, the GSA UK Awards evaluate efforts of companies who demonstrate best practice in Strategic Sourcing. The 2022 nominees and winners celebrated at a Black Tie event held at the Park Plaza Victoria in London, which saw the Webhelp team win Social Programme of the Year for using their growth to be more inclusive.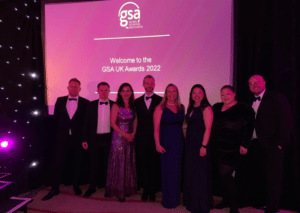 Living up to their vision of making business more human for colleagues, candidates, partners, clients and their customers, Webhelp received the Social Programme of the Year Award for having a clear impact hiring strategy and a value chain aligned with strong ESG standards. Having recruited 10% of people through Impact Hiring in 2021, the business is determined to transform the job market by challenging the mind-set of traditional recruitment to be more consciously inclusive.
With Impact Hiring initiatives that create pipelines of candidates who are usually excluded from the labor market, David Turner, Webhelp UK Region CEO said of the win:
"I'm delighted that the collective efforts of our game-changers and all of the local NGOs and organizations who support our impact hiring model have been recognized by the GSA. Our goal is to provide career and not just job opportunities at Webhelp. Through making an extra effort and doing more for those facing barriers to starting or staying in employment, we've been able to not only create pathways, but develop a process around our approach and in doing so demonstrate the value of impact hiring. This award is true recognition of our hard work and I'd like to thank the GSA for acknowledging our commitment to doing more in this space."
The Award, which builds on Webhelp's position as a 'company to watch' in the IAOP Impact Sourcing Champions Index, marks the 35th anniversary for the Global Sourcing Association who are the industry association and professional body for the global sourcing industry. Home of the Global Sourcing Standard, the GSA serves to share best practice, trends and connections, bringing the global community together.