Since 2012, when he remained in Barcelona for Webhelp, or for his current wife, he's been measuring a successful day by moments of joy and laughter. Blurring the line between Sales and HR, JC today leads the talent and recruitment department in Spain.
'Webhelp is where I first saw what true leadership meant. I was fortunate to have supportive managers who trusted me with my decisions. They encouraged me to be honest and ethical about my work. Thanks to them, today I get to lead new colleagues towards their goals.'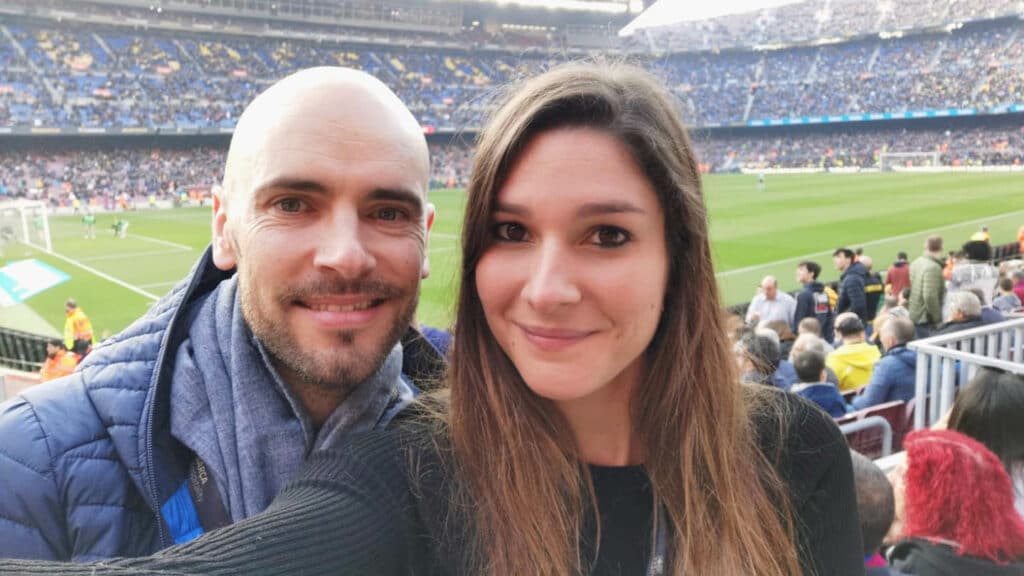 At Camp Nou with his wife: Image by Jean-Charles Tijou
Hi, Jean-Charles Tijou! It's so nice to have this interview with you. I can already feel the great vibe.
The vibe is great, but please call me JC. As cool as it sounds, no one really says my full name.
Deal. JC, you told me you're not so keen on Teams meetings because your jokes sound less funny. How about that?
[He laughs] To be honest, I don't think my jokes are that funny in real life either. But at least my colleagues are better at pretending to laugh when we talk face to face.
I assume it's more about the fact that I make my team smile when we are together at the office. I have never been one for remote work and this transition period has affected so many of us in so many ways.
OK, maybe you can tell us something about yourself in a few fun words.
A few and fun? That's so difficult – you're really putting me on the spot here.
I'd say I am a serious reliable person who doesn't take things lightly. But I do measure a successful day by moments of joy; if someone doesn't laugh with or at me, then I check off that day as completely failed. This applies in both my personal and professional life. I find comedy and positive attitude rather therapeutic.
One of our core values is striving to enjoy every day. Well. I don't have to strive at all – I am naturally happy and grateful for all the great things I have – my amazing family, a successful career and an inspiring team.
Could you tell us how your team inspires you?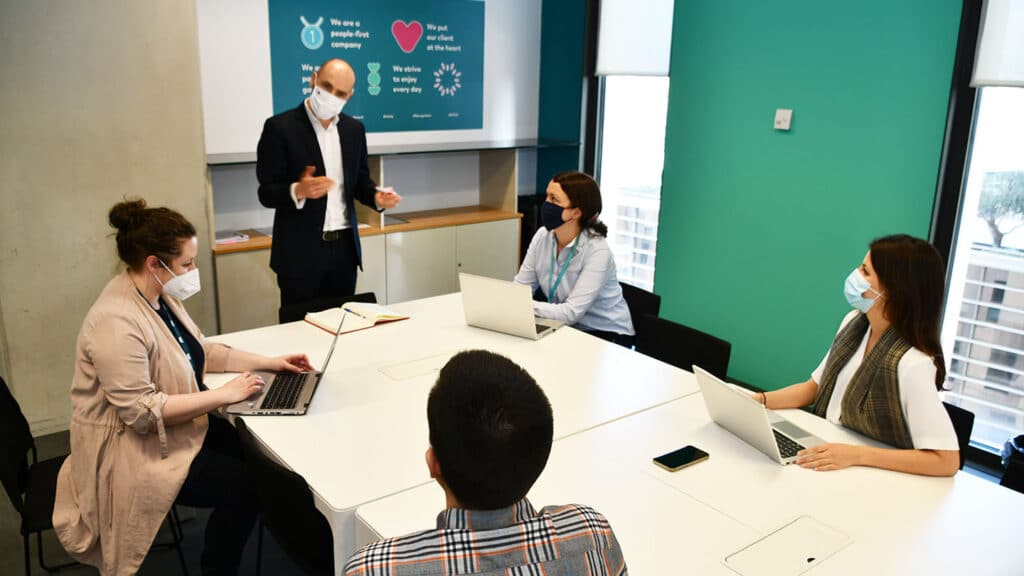 At the office in Barcelona: Image by Jean-Charles Tijou
Here in Barcelona, I am lucky to work alongside committed professionals who lead by example and go the extra mile. I know these words might sound a bit vague, so let me be more specific.
On most occasions, my recruiters offer to accompany new non-Spanish employees to the social security office and police station for their residence documents. It's true that many companies have procedures in place in terms of how to integrate expat workers. But very few have recruiters who are willing to personally help newcomers who don't speak Spanish or have no clue about national laws and regulations.
Likewise, many of my team members make the effort to interview candidates in their native language, be it German, French or Dutch. Although they may struggle with the language, they go above and beyond to make candidates feel welcomed and comfortable.
You keep talking about positive vibes and energy. But how do you deal with toxic people?
The way I see it is that there are two kinds of toxic people. First, there are those who are frustrated because of the situation they are in at a certain moment – be it work-related or otherwise. I dealt with such situations in the past when I had to work with some colleagues towards finding common ground.
It's no walk in the park. You need to investigate to discover the root of the problem and see if you can decide on a clear action plan with a defined result. For example, there were times when I had to put in place a quarterly development plan at the end of which a clear goal had to come out. Sometimes I didn't reach the objectives, but if my colleagues showed me that they were genuinely trying, I gave them a second chance. The problem emerges when you see that person is not trying at all – then you cut the action plan short and make a decision faster.
And second, there are those people who were born this way – I know what I just said might sound like the name of a pop song, but some people are born toxic, it's in their DNA.
Most often than not, we need to let them go. Parting ways is never easy, and it might seem we're taking the wrong path. But if that person drags our team's morale down, then we feel confident to make the call to let them go – while keeping our emotions in check when doing so.
From toxic let's switch to well-being. Could you give us three tips to stay active and have a healthy lifestyle?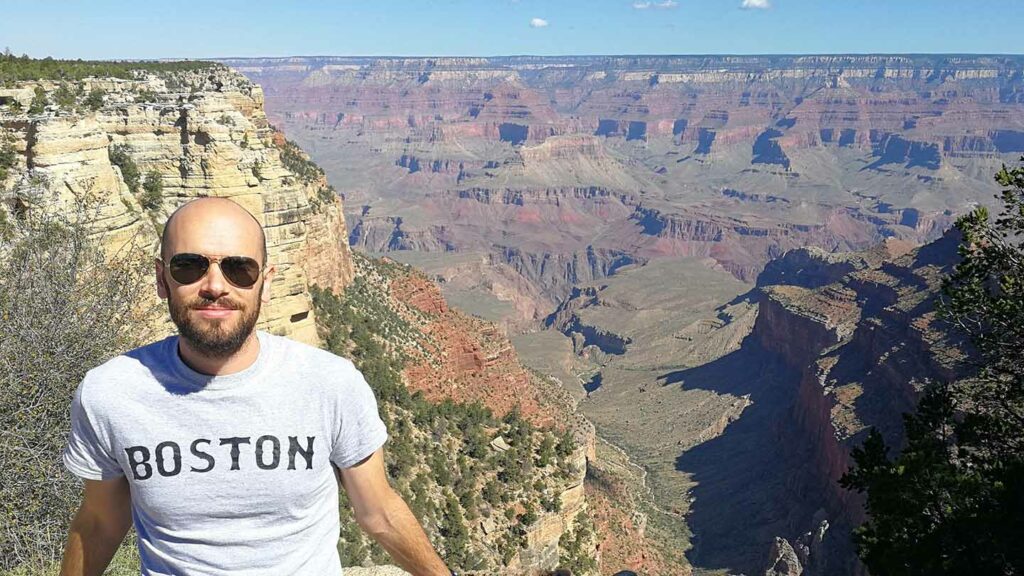 At Grand Canyon National Park, US: Image by Jean-Charles Tijou
Travelling and adventure used to be at the top of my list. But given the current situation, let me think of something more practical.
First, take the stairs as often as you can. Make it a challenge if that helps. We are on the 8th floor, but to be honest I should climb up and down more just a couple of times a week.
Second or maybe this should be the first, play a sport – obviously, football on a Sunday morning if you live in Barcelona.
But I think the most important piece of advice that applies to our office era is don't sit on your chair at the desk all day long. We are all guilty of doing it as it requires strong will to motivate ourselves to move around. The reason I prefer the office is that I actually take the stairs, walk around between meetings, have lunch with colleagues and set my smartwatch to ping me to stand up every 30 minutes.
Bonus: if you work from home, then run after your two-year-old while he is escaping on his scooter.
So, what is it like working from home with a child running around the house?
I am so lucky with my wonderful wife – because there are moments, especially during meetings, when I wouldn't know what to do. I have seen other colleagues trying to deliver a presentation on Teams while their child was on top of their head – literally.
I try to speed myself up when I am most productive and put all my energy into achieving my tasks during those windows of peace and quiet.
But on the bright side, I feel more present, closer to my family and I spend much more quality time with them. To me, family life comes before anything else.
Staying on the same topic, Webhelp is developing more options that involve a high degree of flexibility. What is your take on that?
I think it's a must as employees now expect this option of working from home. It will become the norm and we want to stay ahead of the competition. Webhelp was one of the first companies to embrace this new normal. And the results are in – our colleagues are very productive at home, whether they run around after their toddlers or not.
We put in place working groups in each cluster to get feedback and propose a plan. It's something that our colleagues have been asking for a while. For example, in our department, we went ahead with this initiative at the beginning of 2020 just to try it. But the pandemic came, accelerated our work-from-home plan and proved to me I was too cautious because my team did an outstanding job! Remote work will stay with us post-COVID-19, but I'm guessing under a hybrid model.
Can you tell us more about this hybrid model?
It will most likely be defined at a project and department level as the needs are different and specific in each case. In Barcelona, we are working on a hybrid model that would entail two days at the office and three days at home or vice versa – we are still in the strategy development phase. But as I said, for other projects the case might be one week in and one week out.
If I can call it this way, the concept is structured flexibility so that it can benefit both the employees and the company. There is a purpose of going to the office and bond with your team, especially in an environment where the human factor is our primary asset.
I also believe that the global hybrid model that the Group is putting in place will be beneficial for everyone as it will allow flexibility and time saving while staying connected with each other.
We've been talking for a while, but I still don't know your full story about Barcelona and Webhelp.
Oh, it feels like ages ago! My wife, who at the time was my girlfriend, came to Barcelona to do her master's degree. After some time in a long-distance relationship, we felt it was time for us to start living together.
I found a job at a different company where I learnt so many things about what you should not do in sales and management. Amazing experience – I quit after five weeks. I was almost ready to go back to France as I had no job, but that's when I started my adventure with Webhelp (SELLBYTEL back then), in March 2012.
You started as a Sales Advisor and now you are the Recruitment and Talent Development Director of Webhelp Spain. That is indeed an adventure.
To be honest, it was a mix of two things: commitment and luck. I was the right person at the right time in the right place.
In 2012, we grew exponentially and, therefore, after six months I had the chance to be selected as the supervisor of the team. It was a fun two-year ride – plenty of mistakes and learning beyond imagination. I became a jack of all trades – doing anything from IT to Facilities to HR and managing client relationships directly.
In March 2016, I took on a big challenge, moving to a much bigger project, still in sales. This was truly out of my comfort zone. Even if the first year was tough, I believe we did a good job and achieved great results.
Eventually, in June 2019, after a very short time with the Global Sales Team, I took the lead of the recruitment department of Webhelp Spain. The change can seem drastic as it wasn't a sales department, but the role required the same people management skills. And I believe that 'infusing' a bit of a sales approach into the HR department can make a world of difference for the company, candidates, employees and clients alike.
You mentioned that Webhelp was different from the other company you worked for. In what sense?
From the beginning, at Webhelp, I had my voice heard, which made me feel like being part of a community. This is where I first saw what true leadership meant. I was fortunate to have supportive managers and supervisors who trusted me with my decisions. They encouraged me to be honest and ethical about my work and results. Thanks to them, today I get to lead new colleagues towards their goals.
How did your experience at Webhelp shape your personal values? 
I grew up with amazing parents and was surrounded by wonderful people, so my personal values are kind of embedded in my DNA. But I was fortunate enough to match with what Webhelp stands for in terms of commitment, unity, integrity and the wow effect.
For example, when I started playing football, I was about 14. The unity within my football team was a value that stayed with me for life and to this date it is the core motivation that drives me in my professional life. Likewise, as the captain, I felt I had to lead by example and be committed to inspiring others.
But I must admit that I am still working on myself when it comes to one of our company's core values – recognition. This is a part of me that I learnt or developed at Webhelp as before I didn't really mind whether someone recognized my work. Nor was I concerned with telling a colleague they did a great job. To me recognition was something implied. But it's not – people need to feel valued for who they are and what they do.
Small things like thanking someone for their hard work, a tap on the back, a short appreciation email or a smile go a long way.
Were there any moments when you felt you wanted to give up, maybe because your expectations were not aligned with the company's?
I feel like there are two questions here and my answers should address the younger generation.
You got that perfectly right, JC. Sorry for being too subtle!
No worries. I like subtleties.
Yes, I did have moments when I struggled in my job, but I never really had that feeling of giving up. Not just because I liked working for Webhelp, but also because I liked getting to the bottom of things. Managing people of very different backgrounds was sometimes making me question my career choice, but I took it as a way of learning and developing myself. My team saw that I worked hard, I was committed and delivered results. Then mutual trust was there, and my job fit like a glove.
As for the second point about expectations, I must admit that as a Millennial I was very different from Gen Z today. I admire their creativity and super progressive thinking, but I am struggling with understanding their need for instant change or promotion. I know that some colleagues my age have adapted faster to managing Gen Z.
It's our responsibility as a company to set the right expectations for everyone. To give you an example, what we've done here in Barcelona with junior employees is create a three-year career development plan. This contains three or four milestones – every 9 or 12 months – that show employees' progress and learning. And if after three years of continuous development that person still wants to leave the company, he or she will walk away with a solid set of skills that can be applied anywhere else.  And that's just fine with me!
To end on a fun short note, tell us your three favourite places in Barcelona.
First, La Sagrada Familia for sure – a tourist attraction, but definitely not a tourist trap.
Then, I'd go for the Carmel Bunkers at sunrise. Aim east or southeast, set up your time-lapse and enjoy the view!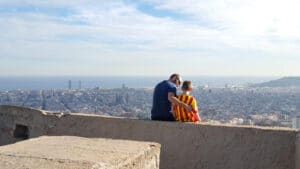 At the Carmel Bunkers with his son: Image by Jean-Charles Tijou
And my absolute favourite –Camp Nou stadium to watch Barça play a game. Priceless!
I'm not sure how the Real Madrid fans will feel about this, but the interview was such a bliss! Thanks for sharing your story with us, JC! I'll still call you on your full name when you're not around.
Feel free to do so! I look forward to sharing this article with my team.