Miriam from the Netherlands found emotional shelter in her job as a Customer Service Advisor for six years. Then she transitioned into a new marketing career that is equally rewarding. Her story proves that when you do what you love, you can stay resilient in the face of personal challenges.
'I had to be honest with myself and manage my expectations. I knew I wanted to grow, but I had to wait for the right time. At Webhelp, I could find a balance between developing my career and managing my health.'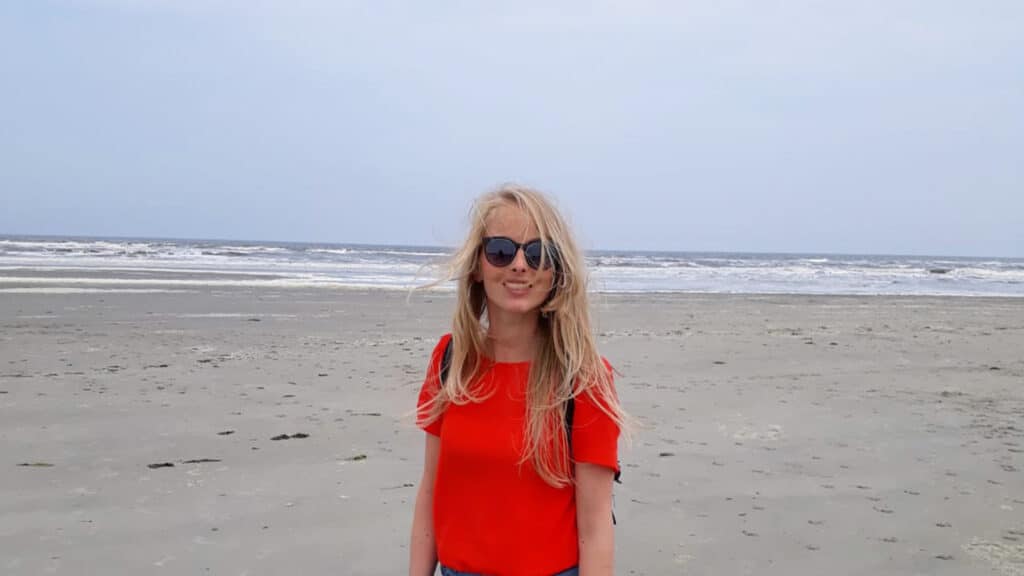 A day at the beach: Image by Miriam Hoekstra
Miriam, if you were to share your story with a stranger, what would you say about yourself in a few words?
If I were to share my story with a stranger, I would probably babble for hours. But I'd say that I am a very committed person who cares about others more than herself. I tend to put my family and friends first, although I do pay attention to my health and mental well-being. That is why I need to be outside in nature, work out as much as I can and strive to enjoy life every day.
Empathy is important. When you work as an Advisor, you need to consider the feelings of the person that's on the other side of the line. In this sense, my personality matched this job profile right from the very beginning.
You started at Webhelp as a Customer Service Advisor and now you're a Marketing Specialist. Can you tell us more about this career path change?
Exactly. I started at Webhelp eight years ago and back then I was studying Business Economics, so I was working part-time. Right from the first interview, I had an amazing team manager and we clicked immediately. A few hours after the interview I got a call that I was accepted, and I worked as an agent for about six years. In fact, I started as a Marketing Specialist in March 2019, not that long ago.
The reason behind it is that I suffer from an autoimmune disease, which is why my education and career progression took longer. My friends find this a bit strange, but my job as an Advisor helped me get through that period because it offered me a distraction, something to hold on to. I wasn't ready to start in Marketing earlier than I did.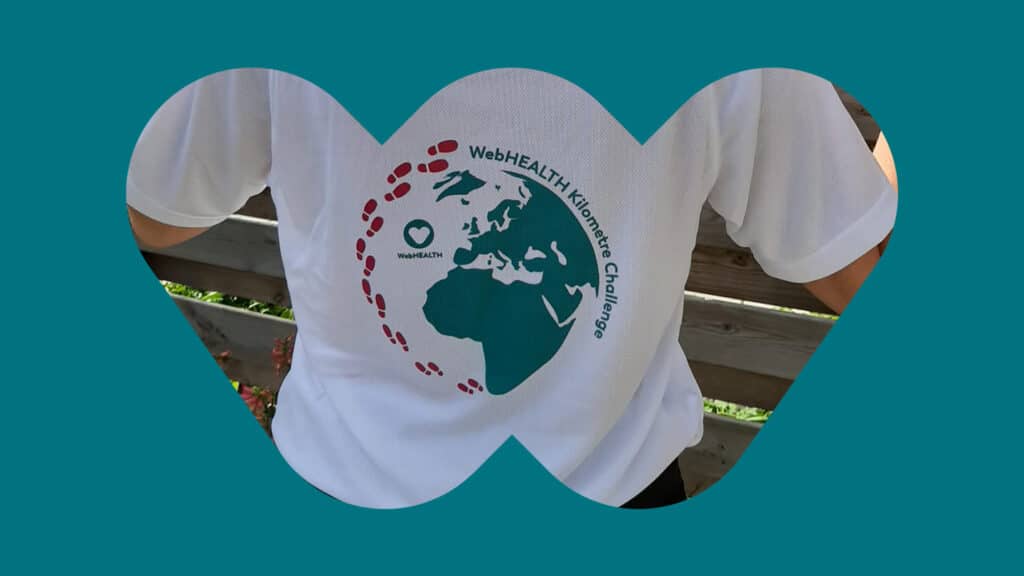 Participating in WebHEALTH Kilometre Challenge: Image by Miriam Hoekstra
I had to be honest with myself and manage my expectations in terms of what I could achieve in the short and long term. I knew I wanted to grow and get promoted, but I had to wait for the right time. At Webhelp, I could find a balance between developing my career and managing my health.
And how was that transition for you, both from a professional and emotional perspective, if I'm not being too intrusive?
That's fine. I now find it easy to talk about.
First off, I had an amazing team that had always supported me. When I was a Customer Service Advisor, I had a few months when I couldn't work in the classical sense. My colleagues were so understanding, and they let me come back when I would feel better or need to hone on my skills to keep the job exciting, such as learning about social media and community management.
In time, my health got better – I was physically and mentally ready for the next step. So, I decided to make a change and follow my passion for Marketing. I remember that day very clearly – I talked to the HR Manager and I told her I started growing out of my job as an Advisor. Right at that moment a vacancy as a Marketing Specialist came up. I applied and I got the job. Perfect timing!
You were very transparent with your manager about your professional needs. How was that experience in terms of receiving advice and guidance when you changed into your new role?   
I was fortunate enough to receive a lot of guidance from my team, my manager and HR. Webhelp Netherlands was looking for someone that was already working in the company to fill the Junior Marketing Specialist position.
The HR Manager encouraged me to apply for this job and she told me I had all the right skills to succeed in this new role. Plus, she said they didn't want to lose me as an employee – those kind words really made me feel valuable in the company. Although I don't have a very competitive spirit, I knew there were other five people who applied for the job. So, I felt a sense of achievement in my career path.
You said those six years as a Customer Service Advisor helped you emotionally. Do you feel the same in your new role?
Even more so, because I started a role that I wasn't sure it would work out given my health issues. I was aware it was a demanding job with more responsibilities. Also, the commute was quite a challenge for me because I lived in the north and our offices were located in the middle of the country. But after a few months, I realized the nature of the job gave me that extra boost of positive energy that I needed to succeed in my career.
We are a small team, but we love good vibes and a job well done. In March 2019, I started under a Marketing Manager who had come just a few months earlier and there was only one more graphic designer. You get so close in such a short time. It's a special, challenging thing to work within a close-knit team and get a lot of work done. I have come to appreciate every little achievement. This mindset makes my career very rewarding and it contributes to my mental well-being too.
How has your professional experience shaped your personality to this date?
In Marketing, being an introverted person dealing with a lot of insecurities is not easy these days. Not that it has ever been. So, I need to let things sink in, get to know people. But the surprising thing to me was that I could actually do my job and feel appreciated for my results. That's when I noticed a switch in my mindset and the way I see myself as in 'Wait a moment! I'm actually good at it'. So, now I know I made the right decision and I have the skills to succeed and progress in my career.
Your resilience is admirable, Miriam! But have you ever had moments when you felt your job was just too much?
[She laughs] Oh, my! How honestly should I answer this question?
When I first started working as an Advisor, I needed some time to adjust to a role that is known for its demanding nature. I even had existential moments when I was asking myself what I was doing with my life. But then I would remind myself how much Webhelp did for me, how my colleagues supported me and that if I kept going, I would advance to where I am today. I knew it would take long, no matter what company I would have worked for. But Webhelp really made a difference when it came to my well-being.
The great thing about your work as an Advisor is that you have a community – your team – that is always there for you. Referring strictly to my current job, I do admit that I've never had that feeling of being tired of it or wanting to quit. Never. I am lucky because I know that not many people get to do what they love for a living.
I understand Webhelp was your first employer. Back then, as a young professional in the job market, what expectations did you have from a company?
As I wasn't able to work full-time, my fear was that it would be very difficult to find a stable job in Marketing or customer experience. At Webhelp, this was not an issue.
Speaking in general, I expected flexibility and empathy, not just meeting targets and KPIs. Of course, at Webhelp, we must bring results as well, but at other companies where I briefly worked during my university years the numbers would come before people. I do understand the importance of a business to be lucrative and results-driven. But my generation also needs to feel appreciated and to be part of something meaningful.
So, what would you tell a young person in their 20s when they enter the job market?
Every culture around the world is different and has a specific set of social values. But I would tell a young person to stand up for themselves and be assertive when interacting with other colleagues. It's important to speak your mind clearly and communicate your expectations no matter whether you're from the Netherlands or other country. You can't assume that your manager knows what your career expectations are or if you're comfortable with your workload if you're not transparent about it.
Like most young people of my generation, I too deal with insecurities and anxiety. But you need to find a way to stay true to yourself and overcome these mental obstacles. When you take this approach, I think eventually it will pay off. As for me, I am a bit lucky because I work with a team that embraces such values.
You've offered us so many insights already, but what are the three factors you think contribute most to your job satisfaction?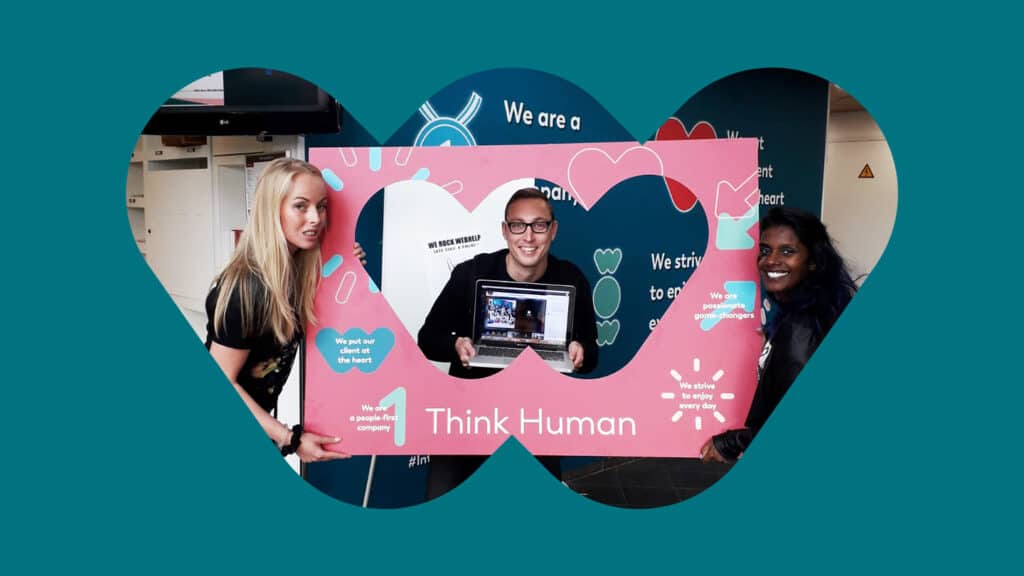 Advisors Day in the Netherlands: Image by Miriam Hoekstra
The first thing that comes to mind is the possibility to develop myself and my skills at my own pace. I think that people who go through what I am experiencing health-wise need to know that they can find a strong support system within the Webhelp community and they are not alone.
The second would be flexibility. I feel free to come up with fresh ideas in my job and I can even choose projects. And the third? Definitely a fun and reliable team, especially during these trying times.
You talked briefly earlier about insecurities and anxiety. Many young people fresh out of university live with these feelings. On top of these, there's also the struggle with finding a job…
First, I can't stress enough the importance of a strong support system. Second, you need to keep going even when you feel you've reached a dead end. Some of my friends who graduated during the same period are still between jobs or trying to cope with this new gig economy. But even so, each job they do prepares them for the next role.
Keep applying for various positions, keep experimenting and something will eventually come up that will help you achieve that dream career. But most importantly, make sure that your mental health and emotional well-being come before anything else.
Sorry, I have just realized I cut you off before you got the chance to ask the question. [She laughs].
You've answered it beautifully, Miriam! Thanks for your candour. Now let's talk about the pressure to put fancy job titles on our social media profiles. How do you feel about that?
This has never been one of my priorities and not because of lack of ambition. As mentioned earlier, I studied Business Economics and continued my higher education in Marketing. During my six years as a Customer Service Advisor, I never felt that I was doing something below my studies or that I didn't have a cool job title on my LinkedIn or Facebook profile. I was proud of what I was doing and that was all that mattered to me.
I was also aware there were many possibilities for growth within Webhelp, whether nationally or internationally, and I took my time to focus more on my personal life and health within the first couple of years of my career. And today I am just as proud of my job title as I was when I first started with Webhelp.
Since you've been with the company for a while now, what was the greatest change you were part of?
I would say it was the way the company grew to the 'Think Human' branding that we are so proud of today. The funny thing is that Webhelp started out with this identity, but it took us about two decades to lay it neatly in a global brand message. Now we're better at communicating to the world that we've always been thinking human.
It might not sound like so much fun for some people, but it's quite an experience to stay with a company for so many years. You see it go from a small branch with 2-3 people in higher management to a large company with brilliant minds who come up with fresh ideas and innovative approaches.
Also, since I worked as an Advisor for so many years, I witnessed this flow of extraordinary people joining the company. At the same time, there were some valuable employees who left, but we've kept in touch.
Staying on the same topic, do you feel like Webhelp's values have changed over the years?
I would say they have always been there, but now they are more clearly defined. I do believe our official organizational values give our new and older colleagues a sense of who we are. But at the same time, there are more values related very much to the position that you hold in the company. For instance, many of my former colleagues from the customer care department saw flexibility as our core value as that was what mattered to them the most.
On the flip side, I can admit that I do not identify myself that much with our 'Wow' value. This is something personal in how far you're willing to put effort into your job. It has a different meaning to each one of us and I think it's hard to define what really constitutes a wow customer experience.
Likewise, when it comes to employee experience, we all know that there are many days when we simply don't feel wow at all. And that's OK. Tomorrow is another day.
If you had in front of you the 16-year-old Miriam, what would you like to tell her?
It's actually only one thing: 'Miriam, you're good enough. You're good enough the way you are!' It took me some years until I finally got to feel positive about myself. It was quite a journey!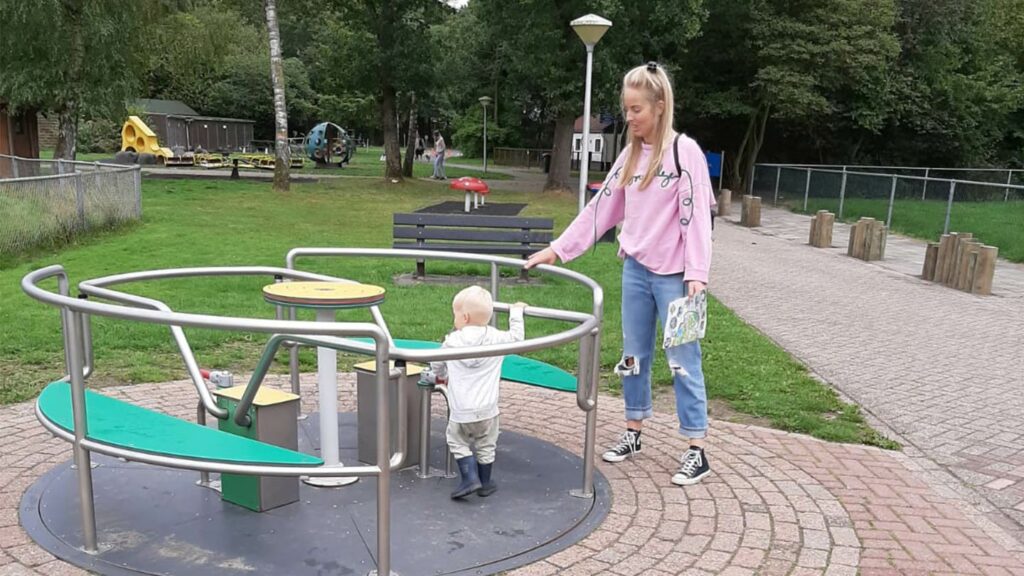 Spending quality time with her nephew: Image by Miriam Hoekstra

Congratulations on that! I can imagine what a milestone it felt like. And were there any funny stories during this journey?
Oh, I always feel a bit nervous when someone asks me to tell a funny story. But let's see. OK, so once a customer did an April Fool's Day prank on me. I totally missed the joke and I got seriously into it. Overnight, I became a funny meme sensation going viral on social media. Nobody outside the company knew whom the joke was about, but all my colleagues knew.  That's what happens when you take your job too seriously on April Fool's Day [she laughs].
That was hilarious. I wish I were the subject of a meme. Anyway, if you were to tag a colleague to do this interview as well, who would that be?
That would definitely be Celine, my colleague since February [2020] who'd also started as an Advisor. She's an amazing creative spirit who loves writing and coming up with unique ideas.
That's amazing. We are working on launching an exciting project that requires editorial skills, so we will definitely keep Celine in mind.
She would be awesome for this.
And if you were to pick one hobby that represents you the most, that would be…
Oh, easy! Cycling.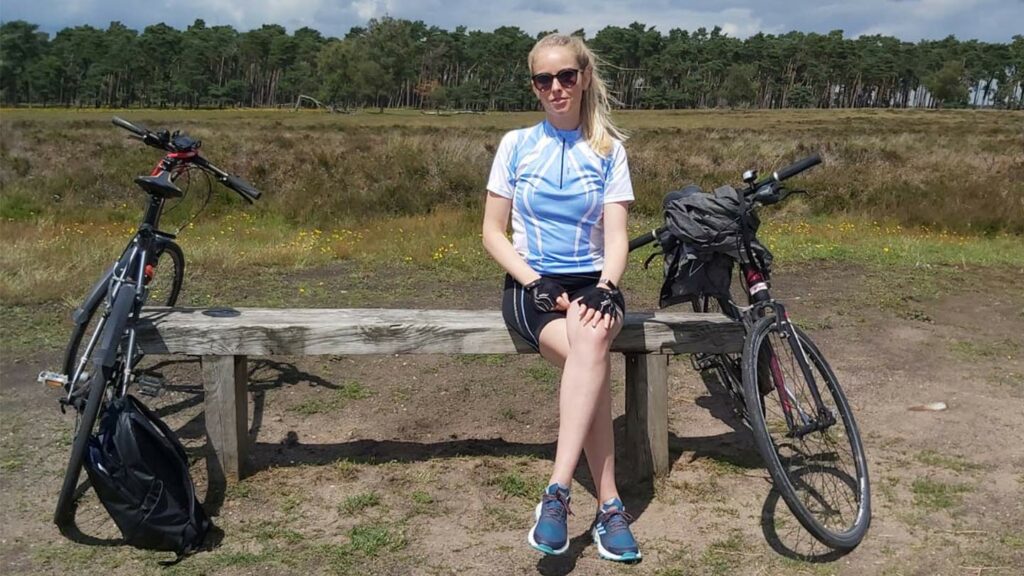 Cycling in the nature: Image by Miriam Hoekstra

Miriam, thank you for sharing your story with us and being so honest about your past challenging experiences. We wish you all the best and stay in good health!
Thank you! I had a great time. All the best to you, too!