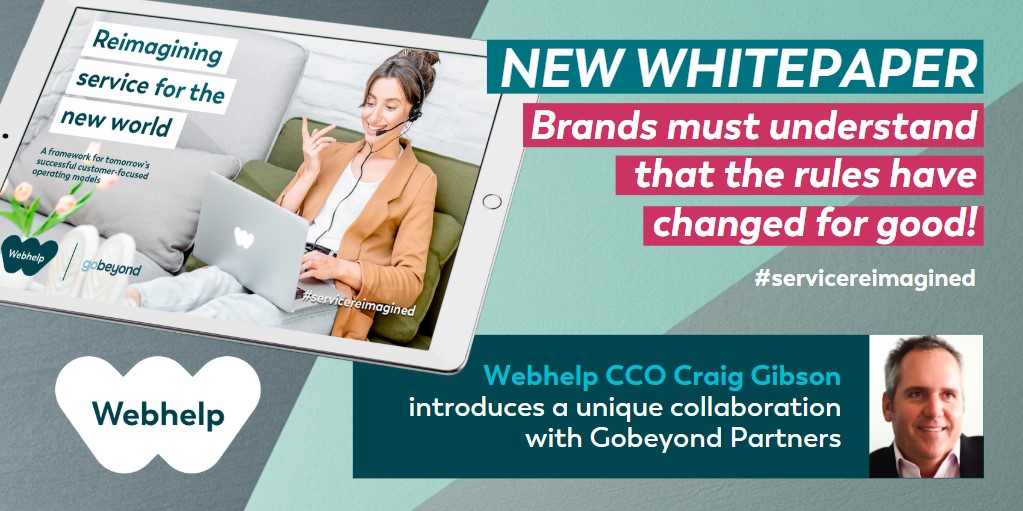 As the urgency for change and transformation intensifies in the post COVID landscape, Craig Gibson CCO for Webhelp UK, shares his thoughts on the launch of a new Whitepaper, a collaboration with Gobeyond Partners, part of the Webhelp Group. 
At Webhelp, we have a commitment to use customer experience management to create positive and emotionally significant consumer/client relationships. Many of our previous blogs have discussed the importance of brand humanity and the how the multitude of emotions consumers experience can influence the customer journey and change attitudes towards companies and brands.
And whilst this remains a clear focus, we can't ignore the impact that COVID-19 has had on both service delivery and development of the Customer Experience industry.
It is rapidly evolving, and as interactions have by necessity changed, customers' expectations have shifted and priorities have become significantly different to those that were drafted onto strategic plans at the close of 2019.
We have shared some of the ways we met the immediate challenge of COVID-19, including looking at our strong partnerships with brands like Yodel, but the business world is still adapting to this new way of working, and the way customers have traditionally acted and regarded customer service is changing.
As an industry, brands must understand that the rules have changed, for good.
And I am not alone in believing that customer experience will be pivotal in this future landscape, as Feefo's CEO, Matt West, agrees saying:
 "I think the 'new normal' will be more CX focused than ever. It will be all about fine-tuning right the way through the journey. Before all of this happened, evaluating the customer experience may not have been at the top of many businesses' to-do lists, whereas this situation has brought the real value of a brand right to the forefront of the consumer's minds. A refined CX is no longer a 'nice to have', it's an essential."[1]
It is time to tear up outdated plans and explore new and evolving needs which will drive future service development and innovation.
To this end, I have joined forces with Mark Palmer, Chief Executive Officer at Gobeyond Partners, part of the Webhelp Group, as we firmly believe that together we are able to provide a unique perspective.
There is no doubt that the need for transformation will only continue to intensify post COVID, and Mark hits the nail on the head, when he concludes that:
"COVID-19 is having a profound impact globally. Not only is it affecting our health, but it is fundamentally challenging and altering our political, social, and economic norms."
And as our normal shifts, some key questions must be answered:
How different will service look and feel in the future?
How will businesses and their operations need to adapt?
And how can employers engage and support their colleagues to deliver on new customer promises?
Our new Whitepaper, combining Webhelp's expertise in global customer management with Gobeyond Partners' Customer journey design and transformation experience is called Reimagining service for the new world. It provides a clear framework, or roadmap, for tomorrow's successful customer-focused operating models and is backed by the latest exclusive research from over 500 business leaders.
There is something wonderful about looking at the right map to explore the road ahead, as:
"Maps are like campfires – everyone gathers around them, because they allow people to understand complex issues at a glance, and find agreement."[2]
We hope that launch of this Whitepaper will provide the stimulus for many further blogs and events, and I would like to personally invite you to keep the campfire of innovation burning and join the Reimagining service for the new world mailing list, by connecting on LinkedIn and by becoming part of our future conversation. We'd love to hear what you think the future holds.