For years, consumer brands have promoted omnichannel strategies as a 'Holy Grail' for attracting and retaining customers. Many believe that integrating sales, communications and tech platforms is a magic wand for generating sales and improving customer lifetime value.
But with bricks-and-mortar retail suffering and direct online sales skyrocketing, those who have succeeded in managing demand effectively were not necessarily those who implemented full-scale re-platforming and omnichannel transformations but those who had a real understanding of their customers.
We have seen many brands – mainly medium-sized businesses – feel pressured into implementing or scaling e-commerce functionality as a way of pivoting around retail closures and lockdowns caused by COVID-19. There was panic and reaction – businesses scrambled to implement e-commerce strategies and manage influxes of online orders, as well as an exponential rise in customer service requests across multiple languages and time zones.
In our experience of working with over 50 global fashion brands, those who are most successful adopt a customer-first mindset. Using the same laser-focus that they use in their designs to identify exactly what their customer needs and pain points are. There's little debate – companies which are market or customer-focused are more profitable and enjoy better sales growth, customer retention and product success. That's according to the renowned global marketer John Narver.
By adopting a customer-first approach, brands can ensure that any digital solution will meet customer needs. Fashion businesses often have an intrinsic understanding of their consumer – and have a real opportunity to truly connect with customers, understand their needs, and get ahead on the service proposition behind any future digital offer.
We see this play out within strategic, digital-first brands such as ASOS, which traded around 35% higher year-on-year after combining an understanding of customers with a slick digital platform. In the 2021 State of Fashion report, McKinsey gives further hope, claiming that there will be another 20% annual digital growth during 2021.
What does a truly customer-first approach look like in practice?
With 3,000 professionals serving the fashion industry, we have seen that firms which marry customer understanding, data and analytics, see the best successes in maximizing brand profile, customer experience, and profits.
Most often, fashion brands come to us with the following needs in developing a customer-first approach:
1. Really get to know the customer – You wouldn't design ranges for a customer you didn't understand, and the same goes for designing service. Forget any assumptions you have made about your target customers, which can lead to a lack of understanding and a swathe of false and risky beliefs, which can be a fast-track way to waste money.
Data drives better decision-making, and the most advanced brands access millions of data points collected in real-time from across the whole industry – not just their businesses – to inform the next steps.
This approach also helps solve another problem we often see in fashion – where C-level directors and business owners are not close to the critical customer data and insights collected by less senior colleagues. Leveraging this data effectively will enable businesses to become far better informed and make more intuitive, proactive, and predictive decisions.
Armed with data, you can then create personas built on facts, enabling you to build better customer relationships and personalize experiences based on real insights about their preferences, behaviors, and purchases.
2. Understand the opportunities in your customer journey – In an increasingly complex sales environment, many brands need help mapping out the entire customer journey. Visualizing the current experience through the end-to-end process, from attraction to selection, retention, and upselling. This will help you identify areas that can be streamlined and opportunities for upselling and cross-selling.
3. Re-write what customer service means – Move the contact center from being a cost center to a profit center that reflects your brand values through positive customer experiences while supporting sales.
The smartest firms free up service teams to help customers to buy, not solve problems. This involves automating the maximum number of routine transactions and inquiries, enabling people to engage in personalized 1:1 conversations.
It also means listening to customers and giving them what they want. In a globalized industry like fashion, if someone wants to buy a handbag at 3 am, let them do that. Or, if they've purchased a jumper from a collection – show them the rest of the matching collection or items that are seen with that look to 'shop the outfit.'
For fast-growing firms, it can be challenging to recruit high-caliber customer service professionals to support these sales experiences effectively, particularly at scale. In our experience, the most advanced fashion brands tap into existing hubs comprising multilingual, trained call handlers to quickly achieve scale and ensure the highest standards.
4. Ensure organizational and operational support – Shifting to a customer-first approach is a strategic move that needs to be supported operationally within your business. You will need to scale, transform, and ramp up rapidly and efficiently to support customer demand. You may need support in changing your organizational structure.
5. Optimize commercials – While we strongly advocate putting the customer first, there's one caveat – it has to be commercially viable. Many firms need to balance their brand promise, meeting customers' needs, and ensuring they make a profit.
For some, shifting to e-commerce has not been a lifeline pivot – it's increased the cost to serve significantly. We help brands to develop a commercial strategy, which might include having to say no.
6. Create a frictionless user experience – Customers have high expectations and demand a quick, slick, frictionless experience. Nearly half of us won't wait even three seconds for a website page to load, according to Dynatrace, which monitors IT performance. Eliminate poor websites, glitches, payment issues, and bugs within apps to minimize frustrations and retain people on-site for as long as possible to maximize spend.
7. Future-proof solutions to avoid a constant cycle of change – Without care, digital offerings can become an area where you can waste money in rapid time.
In previous roles, I've seen firms spend millions on IT platforms that become obsolete almost the moment they're finished because the industry is moving so fast. Another common issue is brands that implement technology for technology's sake.
There is never a good time for a 'white elephant' IT project. But now, with all the unique challenges presented by COVID-19, it's a particularly bad time to drain your business's time, money, and team morale.
By implementing a customer-focused technology approach, you can deliver a digitized solution that saves not only time, effort, and money – but also positions you ahead of the competition for business growth.
Thinking customer-first helps you invest in the areas where you and your customers will derive the most value. Not only will this enable you to be both more effective and efficient in delivering your customer experience, with some irony, it's probably also the best way to give the optimum omnichannel experience in the long term.
Atif Rashid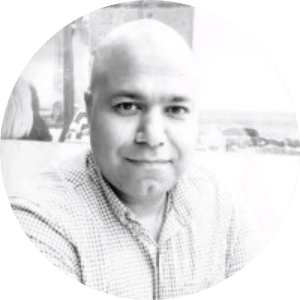 Solutions Director – Transformation
Gobeyond Partners (part of the Webhelp Group)
Fashion Subject Matter Expert
Talk to us today
---