ARTIFICIAL INTELLIGENCE: A LEVER TO INCREASE HUMAN CAPITAL [PROSPECTIVE OUTLOOK]
(Catherine Fauchoux – Global Innovation Research Manager)
As European market leader in customer experience, we are conscious that Artificial Intelligence is going to transform our sector in a lasting way. Moreover, our current use of Artificial Intelligence strengthens our conviction that this technology will help us to improve customer service, both to the benefit of advisors and to better meet the expectations of brands and their customers. We are already seeing a new concept emerge: that of the augmented agent. We are also convinced that this technology will heavily underscore what is at stake in the data services market. Through consumer expectations and regulatory oversight this market will provide companies and individuals the opportunity to better define their respective rights and obligations, but also to integrate the concepts of transparency, responsibility and security, conditions that are fundamental to the development of our operations.
According to Transparency Market Research, the global AI market today is worth 126 billion USD, and is projected to grow to 3 trillion USD by 2024.  Currently adoption has been driven by companies that are already mature in terms of digital transformation and data usage. Where as to date much of the attention about AI technology has focused upon the US and China we strongly believe that Europe is emerging as leaders in the field in terms of expertise, investment and public policy.
AI is attracting great deal of Buzz, with some recent applications feeling like gimmicks. Behind the buzz however AI is a real economic phenomenon with significant implications for all aspects of society and business. Whether it's the increased accuracy of medical diagnoses, autonomous vehicles on our roads, protecting us against fraud or fake news or using our faces for authentication AI is already making its presence felt.
Nevertheless, AI cannot currently function without humans; for the moment, it is best suited to assisting people and improving their experiences.

ARTIFICIAL INTELLIGENCE AT THE SERVICE OF HUMANS
Transformation map published online by the World Economic Forum, illustrating AI's contribution in terms of human assistance.
Source: World Economic Forum (2017)
AI today, and what it promises in terms of automation, underlines the need for a repositioning of human interaction with technology. As the scientist Joël de Rosnay describes, artificial intelligence represents the beginnings of a new world, built on «augmented collective intelligence». Seen as a catalyst for individual competencies, AI will still place the advisor at the heart of Customer Relations, and allow the automation of repetitive processes and tasks.
In a few years, the Customer Relations role has changed from being 100% face to face or phone based to a diverse, omni-channel means of managing interaction between organisations and their customers. This requires constant adapting to changing customers' needs and preferences.
As a Group Webhelp handles around 2 million conversations every day, across all channels, on behalf of our clients and partners. We expect this traffic is to grow and to evolve in terms of its nature and  purpose, creating opportunities for AI on several levels. This technology constitutes a productivity lever for all employees, benefiting brands and their customers.
Conscious of the opportunities that it can create and impacts that it can have on our activities, we have made Artificial Intelligence an investment priority in terms of innovation.
---
ARTIFICIAL INTELLIGENCE – THE ADVISOR AT THE CENTRE OF OUR APPROACH [VALUE PROPOSITION]
(Sebastien Vassort – Head of Global Products & Services Innovation)
At Webhelp, we examine new technologies to assess their potential in terms of customer experience and productivity. The customer service of tomorrow must operate as a platform: an agile and open structure that blends human and technology capabilities to adapt to the evolving needs of brands and customers, allowing companies to remain competitive in rapidly changing markets.
This thinking drives our innovation projects connected to Artificial Intelligence and Automation, we place the relationship between agents and technology at the heart of what we do.
Automation of the conversation
Working in front of the Agent we deploy automated conversational solutions, chatbots, voicebots, and digital assistants (using technologies such as  Alexa and Google Home) that interact directly with the customer (pre-qualification of needs, automation of questions/responses and self-care).
Automation of advisor coaching
Working alongside the Agent as they engage with customers, automated virtual assistants interact with our advisors, supporting them with contextual knowledge, personalised coaching and suggested responses. For example, we are working with a Mailbot that determines what the customer is asking within an email and suggests the best response which is validated by the agent or even sent directly to the customer.
Working behind the agent process automation robots  can execute high-volume repetitive tasks using tools such as Desktop Automation activities (identification, creation of tickets, reply/follow-up emails, etc.) and Robotics Process Automation (automation of back-office and administrative tasks,) and Real Time Operations Alerting (automated real-time monitoring of contact volumes and identifying the root-cause of unplanned demand and recommending corrective actions).

ARTIFICIAL INTELLIGENCE AND AUTOMATION INITIATIVES
Map of projects connected to Artificial Intelligence and Automation at Webhelp.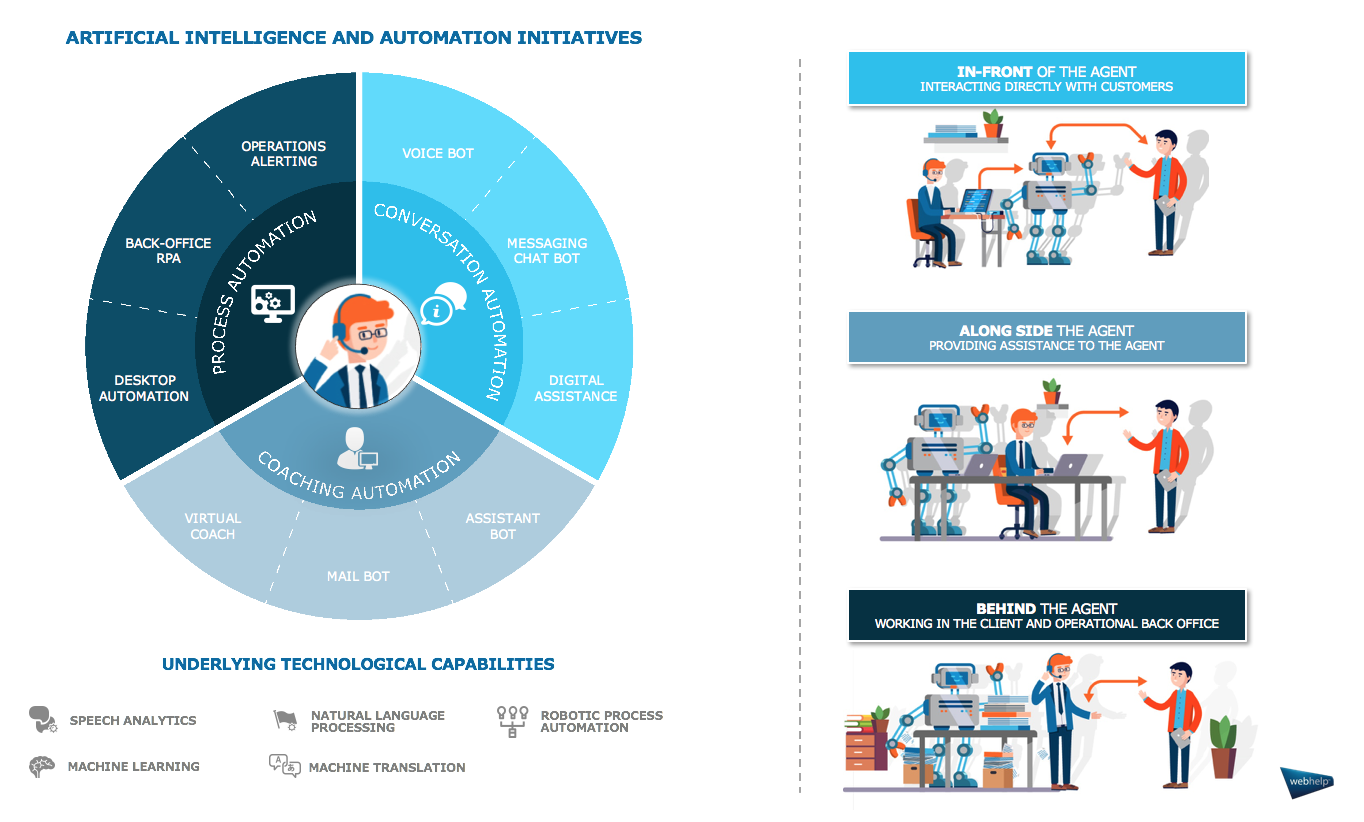 Source: Webhelp – Global Innovation (2017)
Many of the technologies underlying AI are already being used within Customer Relations, such as Speech Analytics (speech recognition and processing), Natural Language Processing and Machine Translation, Machine Learning (for modeling and prediction), Robotic Process Automation (for back-office processes)
---
CURRENT BENEFITS FOR CUSTOMER EXPERIENCE [CONCRETE EXAMPLES]
(David Pattman – Global Innovation Director)
At Webhelp, our approach to innovation is very empirical; we test ideas internally before recommending solutions to our clients.
To this end, our Global R&D efforts are currently focused on:
The partial automation of conversations, advisor coaching and processes

Automated omni-channel assistance, available 24/7

An improvement in predictive analyses to better anticipate customers' needs and define optimal engagement strategies

More sophisticated data analysis processes to better understand customers and increase their satisfaction

Improvements in the identification and security of transactions

The protection and security of processed data
Through our subsidiaries, we are currently developing projects relating to speech and image recognition and processing.

SPEECH RECOGNITION AND PROCESSING AT TELECATS
Webhelp's R&D efforts in the field of speech recognition and processing are being led by Telecats, a specialist speech technologies business acquired by Webhelp in 2017 and reflect our view that these capabilities are of increasing importance as a major player in BPO and Customer Relations.  Speech-based communications (phone calls) remain the single largest channel, and Speech analytics allows us to analyse calls historically and in real time on the basis of conversation content, quality and sentiment.
Legend's translation:
Example of usage: the system analyses the customer's speech (tone, emotion, words, etc.) and suggests to the advisor what tone and words to use. This automated coaching allows the advisor to adapt to the customer and personalise the response.
Source: Webhelp – Global Innovation (2017)
IMAGE RECOGNITION AND PROCESSING AT MYSTUDIOFACTORY
Image recognition and processing offers the possibility of creating new, richer, more immersive and personalised digital experiences. For example, MyStudioFactory, Webhelp's specialist digital agency  have developed an application that will allow the user to visualise in real-time what they would look like if they changed their hair or make-up colour using AI and image rendering technology .
Using AI capabilities such as Machine Learning, Deep Learning and advanced image processing allows us to support our clients to benefit from the  opportunities presented by new technologies on one hand, and a richer and more personalised conversation with an  expert advisor on the other.
From the perspective of the customer, AI allows for a richer experience by strengthening the engagement between customers and brands. The brand can now offer 24/7 support conversations via a chatbot and offer personalised responses thanks to the ability of AI to analyse and understand the customers intention and how best to respond to it. The ability for technology to learn and be taught has the potential to support and benefit the customer throughout their journey.
In the market, numerous case studies illustrate the use cases for these technological solutions. For example, the use of machine learning connected to AI has allowed the American media group Comcast to launch a program that detects subscribers' need for a visit from a technician to resolve connection problems. Initial indications are that the application can detect up to 90% of incidents. This would allow the saving of roughly 10 million dollars in unnecessary visits and technicians' time. Local energy supplier, Drift, based in Seattle, uses AI to predict its users' electricity needs, by collecting different kinds of data, such as working hours and internet usage. The service offered is reviewed every day, allowing the purchase of local energy in line with daily usage. There is even image recognition modules connected to deep learning that have allowed the creation of a chatbot that detects users' emotions.
And we are just getting started. At the Netexplo Forum 2017, the inventor of Siri stated that AI's current capabilities are limited to weak* AI, and that, we were not yet at the stage of strong AI without human interaction. It is therefore vital that we reflect on strong AI in the long term and act on weak AI in the short term. Doing so allows us to serve brands and their customers' needs in an agile way. For example, by using machine learning techniques, a contact centre can project call volumes in order to optimise call response times. By bringing together all these technologies on one platform, we can also create a virtual command centre, a dashboard that will offer an overview of a centre's activities, capable of analysing the situation in an automated way and providing assistance to advisors in real time.
---
ARTIFICIAL INTELLIGENCE WILL REDEFINE THE «DATA MARKET» [THE NEW DATA ECOSYSTEM]
(Boris Paulin – Data Protection Officer)
The real challenge of AI lies in the creation of an ethical model relating to data quality, which determines their value and processing. Whether the data is being processed by a human or by AI, what is important remains the same: the customer's voice. Companies able to structure, 'intelligently' use and secure data will give themselves a decisive competitive advantage. The truly impactful factor is the explosion in volumes brought about by automation; Customer Relations actors must now do their utmost to control huge quantities of data in order to continue to be trusted third parties. This new method of data processing will require companies to be more transparent and responsible. We are seeing this already in security breaches resulting in data leaks; it is not a question of reputation, but a duty of transparency that is the concern. Every responsible company must show accountability towards its partners, that is to say their duty to implement internal mechanisms and procedures demonstrating adherence to data protection rules.
THE OVEREXPOSURE OF DATA: A REALISATION
Certainly, AI increases our understanding of customers, however, it also puts them more at risk with all the data collected on them in a systematic and automated way. We can understand the doubt and indeed the concern held by some regarding the free will that can be exercised by machines without human interference. Take for example the racist Twitter posts by 'Tay', the untrained Microsoft chatbot, who ill-intentioned users were able to corrupt. It is humans who will control developments and systems, all the more so in the case of 'weak' AI technology.
The risks will accumulate, since it will be necessary to ensure that the information systems storing the data produced by new AI technologies and connected objects are reliable, and that their use conforms to the data collection purpose. We have seen it recently with Strava Labs, the fitness application with geolocation, used by professional athletes and the military to map their training. A researcher showed that public data being recorded in the app made it possible to identify the routes taken by military personnel in Syria, Iraq and Afghanistan, a useful source of information for terrorists. Certainly, AI will help to make cyber security more reliable, however, human vigilance and the ethical practices of different actors (companies, users) will play an essential role.
AI, SPEARHEAD OF A TRANSPARENT, RESPONSIBLE AND SECURE DATA ECONOMY
At the risk of going against the tide of fears and risks raised by some experts in the field, we have the personal conviction that AI will not only strengthen human capital, but will also contribute to establishing a structured and responsible data economy. Every individual will gradually become aware of the value of their data and their right to informational self-determination, outlined in the EU regulation which gives the individual the right to determine how and for what purposes their data are used. We may soon see the arrival of more targeted customer expectations, in the spirit of, «I am giving you my data, but in exchange, I want a personalised service from the brand to whom I am bestowing the right to use my data». We must anticipate and prepare for this. This data will hold a monetary value which will no longer be attributed by the brand alone, but also by the customer themselves. We are seeing, for example, think tanks such as Génération Libre, led by Gaspard Koening, which allows internet users to take back control of their personal data by deciding to either sell or keep them. And, as Customer Relations specialists, we will be responsible for managing this data.
In fact, beyond the 'intelligent' and automated management of tasks by the programs used, AI processes, structures and creates new data. In a way, we are moving out of the era of Big Data, where we focused on how to structure and analyse this mountain of data, to the era of 'Valued Data', where we look at how to use the data and guarantee Data Privacy.
There is now a need for transparency with regard to the customer. If we want to offer them a quality service, we need to better understand them by analysing their data. The more data there is on an individual, the more personalised and varied the service they receive will be. Nevertheless, the customer will have the right to decide whether or not to share their data, according to their view of the transparency and security of the trusted third party. This is what we need to work on together with the brands, this guarantee regarding the purpose of the data processing and the security of the data.
EUROPE WILL BE THE LEADER OF THE DATA MARKET
This investment in data extends to their protection, and Europe will have a powerful tool at its disposal when the GDPR (EU regulation on the Protection of Personal Data) comes into force on 25 May 2018. This regulation aims to secure guarantees regarding the processing and protection of this data at the European level and will allow actors in the region to generate profits from the data economy in a controlled way. Certainly, some proclaim the supremacy of the US and China in advances in AI, however, until their data markets offer a regulation identical to that of the EU, the data economy's centre of gravity will very quickly position itself in Europe and in all the countries and companies that have taken these commitments into account, in particular by putting in place Binding Corporate Rules. Some of the GAFA companies have recognised this and started to position themselves, like Facebook for example, who last January announced the opening of a global privacy centre to respond to the demands of the GDPR in particular. Of course, every actor must take a pragmatic approach in line with the realities of our operations.
THE DATA ECONOMY IN 2025 – IDC ESTIMATES
– In 2025, the quantity of data produced will reach 163 zettabytes (a billion gigabytes), 10 times the quantity produced in 2016 (16.1 zettabytes)
– Only 15% of this data will be indexed and only one fifth will be analysed
– 20% of the data will be essential in our daily lives
– Around 90% of the data produced will require protection (confidentiality, secret, private, conformity)
– Only one quarter of the data will be protected
Source: translated from "Data Age 2025: The Evolution of Data to Life-Critical, Don't Focus on Big Data; Focus on the Data That's Big" – 
Sponsored by Seagate – IDC White Paper © 2017



BCRs (BINDING CORPORATE RULES), WHAT ARE THEY?
A service company's BCRs constitute a code of good conduct for their client and a guarantee for the end user. They allow the transfer of data out of the European area, including to countries without adequate data processing and protection rules while maintaining the benefit of BCRs. With the GDPR, data protection will be standardised across the European Union, however, BCRs will offer an additional guarantee for multinational groups, who put the processing and security of data at the heart of their strategy. BCRs for subcontracting companies who manage data transfers on behalf of their client and on the instructions of someone in charge of data processing have existed since 2013.
The process of having BCRs validated by the competent authority (CNIL in France, or the official data protection authority of any other country) is very demanding and includes 8 stages, however, it offers an additional guarantee for the client.
Today, only around 80 groups have BCRs, which is not very many, particularly when you consider that there are around 500 European companies in the Forbes Global 2000 ranking.
*Strong AI is defined as: AI that aims to replicate human behaviour as closely as possibly, by beginning a program with simple intentions and then developing it towards more complex actions. This AI will have autonomy, even a conscience.