We support our clients either with a full BPO approach, thanks to our KYC experts working in their system, or with a managed services approach. It combines "End-to-End" proprietary platform and KYC experts for tailor-made KYC for an optimal customer onboarding experience.
Our approach to KYC Services:
Team of experts
A large pool of highly skilled agents operates in over 25 languages, processing over 2m documents in an average month. We provide clients with detailed account management and a dedicated project manager, using a flexible operating model for both SAAS and BPO.
Robust processes
Offering 24/7 document processing and flexible SLA, our proven methodology launches client projects within 7 weeks, providing tailor-made solutions which can be adapted to specific client management rules.
Specialist technology
Our platform combines automated & human document verification. It uses a simple API integration which offers flexibility and scalability. Live reports and accessible dashboards provide actionable community insights and monitoring capabilities. Our solution allows the bespoke design of a seamless and frictionless customer onboarding experience.

ID, driving licences, proof of address, pay-slip, legal status, bank details…
Automatic data extraction and verification enhanced by manual intervention
Complex and simple files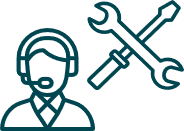 High-end technology platform with a mix of manual & automated checks
Full process coverage, End-to-End service (collection, extraction, analysis, scoring, notification, probative archiving)

Fully customized solution fitting clients' needs using on-demand parameters
Personalized back office tool and dashboards
Capacity to manage global and multilingual projects

Realtime Namecheck against sanction lists, Interpol, PEP
All processes and services compliant with AML, AFA, GDPR and eIDAS requirements
Compliance expert's advice for project implementation

Best in classes OCR technologies
E-signatures
API connection to multiple external database
Video streaming capabilities
10m+
Documents processed per month